Summary: It is important to understand the fee structure of the design program you are considering studying at Anant National University. Here is a brief article describing the fee structure.
Anant National University is a premier university offering various educational opportunities for students of all backgrounds.
Knowing the fee structure can help you budget for the program or service, compare different options, and determine if the cost is worth the value of the program or service.
Anant National University Fees is competitive in the market of design institutes.
There is a separate fee structure for students on and off campus, which is described in the article below.
Available Anant National University Design Courses 2023
B.Des and M.des courses are offered at UG and PG levels.
Students engage with a shared set of courses taught by designers, theorists, and artists from many fields of expertise to obtain a fundamental understanding of design and architecture.
The students are given practical skills and are introduced to an extensive yet in-depth interdisciplinary approach.
The course invites students to critically examine how politics, socioeconomics, and culture affect architectural and design practice. It introduces pupils to the following topics:
Design Text and Communication
Sustainability
World of Art
Visualisation and Representation
Technical Drawings
Elements of Design
World of Art and Design
Materials: Properties and Processes
Exploring Design Principles
World and India
Electives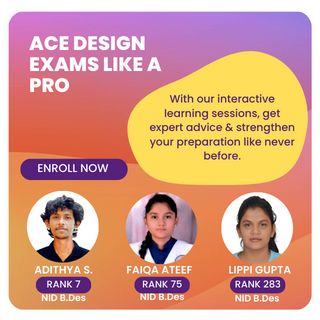 Anant National University Fees 2023
B.Des fee structure is as follows:
| | | |
| --- | --- | --- |
| Application Fee | Tuition Fee | Hostel and Mess Charges |
| ₹ 750 - one-time fee | ₹ 3,75,000 - per annum | ₹ 2,50,000 (On-campus) ₹ 2,20,000 (Off-campus) per annum |
Check: How to Draw Facial Features for Design Entrance Exams
M.Des (Integrated Product Design) is as follows:
| | | |
| --- | --- | --- |
| Application Fee | Tuition Fee | Hostel and Mess Charges |
| NA | ₹ 3,00,000 - per annum | ₹ 2,50,000 (On-campus) ₹ 2,20,000 (Off-campus) per annum |
Check: Beginners Preparation tips for Design Entrance Exam
Anant national university Financial Aid 2023
Finances based on need
The mission of AnantU is to provide top-notch education to gifted individuals who face financial obstacles in pursuing their higher education. We base our assessment purely on the family's financial situation.
Check: Top Design Exams in India
What does AnantU's need-based financial aid entail?
AnantU offers need-based scholarships, which, at the discretion of the financial assistance committee, may cover all or part of the cost of tuition. The candidate's financial aptitude is assessed based on the numerous financial resources available to the candidate's immediate family, including income, savings, investments, and education loans to fund the anticipated educational costs.
Conclusion
In conclusion, Anant National University's fee structure is competitive and affordable.
It is designed to provide quality education to its students while ensuring it is accessible to all.
The fees are structured to help students manage and plan their finances better, and the university is committed to ensuring students get the best education at an affordable cost.
Check: List of Design and Architecture Entrance Exams in India