From the time you are born, your parents often get suggestions about what profession they must choose for you as you grow.
Also, before you complete your Secondary Education, you often get advice about which stream to have a preference for and which career you must prefer, contemplating its scope.
With all these mind-boggling proposals and a plethora of opinions channeling, it is obvious to feel frustrated and muddled. Oftentimes, we choose a profession out of pressure without an interest in it.
A similar thing ensues when you consider law as an option, but people suggest otherwise. To eliminate confusion, check if you have these signs of becoming a lawyer.
Big Books Don't Scare You
Most of you might be wondering about How to Become a Lawyer in India? One of the 10 signs you should be a lawyer involves your interest in becoming an encyclopedia. Not kidding, we mean it.
You must have a love for those bulky books and a will to learn anything and everything those hardbound books encapsulate. We are saying this because the law includes lots of legal jargon.
Hence, you need to research and combine information to make notes. This is not possible if you are not biased towards books with legal terminologies, articles, sections, etc.
So, if you are someone who can dedicate a large chunk of your routine to reading books and skimming information out of the contents, then the law could be a suitable profession for you.
Download FREE Study Material for Law Entrance Exams by LegalEdge
You have a knack for investigating everything
Another sign which you must look for is that you have a knack for investigating everything. You always wish to leave no stone unturned.
A quick-witted mind who tries to read between the lines, who wishes to dissect the evidence just to gather that very last bit of information, is one of the most desired traits lawyers are expected to have.
So, if you carry that within you, then viola, you are the one!!
Read more: Most Popular Law Schools in India
You are skilled in presenting an argument
Retaining good communication skills and never relenting down in an argument before your point is proven? Congratulations, this is the fundamental trait a lawyer must have.
Lawyers have to be there in the courtroom where there's no way to abjure down from the arguments you are presenting.
Do you know why? Because of one ineffectual statement, you will relinquish your case against the prosecutor.
That's why you must be someone with substantial argumentative skills, and if you have that, then hey there, you have established the 3rd vital sign of a lawyer.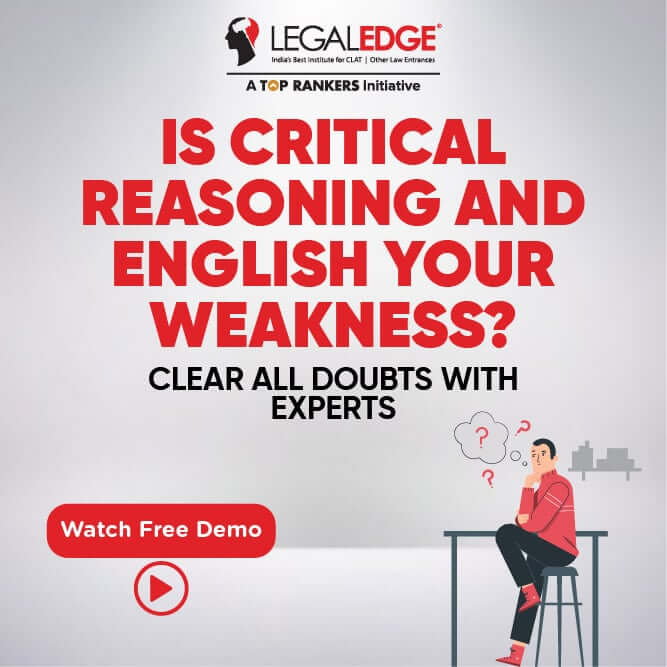 You stand for what you believe in
Having your voice and firm belief in whatever you think is right. It has to be morally right, be it a social cause or your opinion on certain things, then you will be the ideal lawyer for your clients.
A lawyer needs to remain to affirm the arguments he has created and the evidence he is presenting.
There's no room for if & buts. So if you are someone who strongly stands for your own sake and others, then it doesn't stop you from giving your law career a shot.
Read more: Placements at top law universities in India
Exude Confidence
Show a little exasperation and nervousness, and you are out of the crease. The law demands a personality that never shies away from facing challenges.
As a lawyer, you must be firm in your belief, with a strong voice backing your arguments and confidence in whatever you deliver within the courtroom. These are the traits of a quintessential lawyer.
Hence, if you unfurl this kind of temperament even in troublesome situations, then go on, and become a lawyer.
Read more: All about the professional experience in law
Have Ethics and Morality
Suppose you know how to differentiate between what's wrong and right; welcome to the league. To be a fantastic lawyer, you must know that you have to deal with numerous cases, some of which will Challenge your ethics and morality too.
However, you have to align your interest with what is ethically correct. As a lawyer, you are counted on to protect the rights and appeals of your client (legal interest only).
So if you are someone who doesn't prioritize their interest and make decisions based on what is morally correct, then you are likely to reach the pinnacle as a lawyer.
Have an eye for details
Are you one of those people who never settle on the facts presented to them but like to carry out their research? Who doesn't look at things in a broader sense but dive into minute details?
Then it is one of the 10 signs you should be a lawyer. A lawyer is required to search for every hidden detail which lies beneath the surface.
Lacking this skill might make you miss out on the most resourceful information. Therefore, if you have that keen eye for elements, then pick Law as a Career.
Love a good debate
Every argument should be backed up with logic, which is the debate's core principle. If someone loves to discuss facts based on nonsense instead of babbling nonsense, then the law can be your niche.
Given that courtroom procedure calls for argument concerning articles, sections, and Amendments made in the constitution.
These are the only grounds on which arguments will get accepted or rejected. Hence the love for a good debate is love for the legal profession.
Possess extraordinary time management skills
Managing multiple tasks comes in handy for you. Juggling between responsibilities is fun rather than a stressful situation. Then why not dive into a career in the legal domain?
Professionals in the law sector are supposed to handle multiple cases at a time. For this, they must be very disciplined and balance their time with their clients.
If you as an individual can do this without considering it as a big deal, then IT IS YOU!! The best candidate to become a lawyer.
Enhance your Law Exam Preparation by following the tips and tricks suggested by experts.
You are a secret keeper
Famous as a secret keeper among your friends and family? People trust you with their words without giving them a second thought? And you don't spill their beans?
Then what are you contemplating? The law career will welcome you with an open arm. As a lawyer, you have to deal with many clients who will share confidential information, which will be sensitive and crucial.
You have to keep them all with you. It is your moral responsibility as well as critical for cases too. And if you can do it, here are the 10 signs you are born to be a lawyer.
Read more: Best Online Coaching for Law Entrance Exams
Signs You should not be a Lawyer
Isn't it simple? If you don't have these traits, then simply eliminate law from your list.
Under confident attitude.
Least interested in intensive reading.
Not a secret keeper? Then a big nay.
Lacks management skills.
Hate debates.
Don't invest yourself in searching for details.
Care less about ethics and prioritize personal interest.
No interest in becoming an investigator.
Skip arguments.
Have no faith in yourself and have no voice of your own.