Summary: With our comprehensive guide, you can learn how to prepare for the CAT exam in two months. Dive into an organised approach for the VARC, DILR, and QA parts, maximising efficiency using practise tests and fine-tuning your preparation for best results.
Given the high competition and difficulty, conquering CAT 2023 in two months is a challenge. It is, nevertheless, doable with focus, devotion, and strategy. Spend enough time each day studying, practising, and taking mock tests. This 2-month plan is appropriate for people with adequate skills, time commitment, and tolerance for intensive study.
The Common Admission Test (CAT) is one of the most difficult admission exams in India. CAT candidates are highly motivated and will go to any length to ensure that their CAT preparation strategy is on the right path. As a result, candidates must ensure that they have a thorough preparation plan.
How to crack CAT in 2 months? According to experts, six months is the best amount of time to spend preparing for the CAT, therefore, one should always make sure they have enough time.
Is 2 months enough for CAT? It is important for students preparing for the CAT 2023 exam to remember that it is never too late to begin studying. CAT 2023 exam will be conducted on November 26, 2023. We provide some planning advice for your two-month CAT preparation in this article.
All About CAT Exam
The CAT (Common Admission Test), is an annual computer-based test for admission to Business Management institutions in India. The Exam consists of three sections, namely:
Verbal Ability and Reading Comprehension (VARC)
Data Interpretation and Logical Reasoning (DILR)
Quantitative Ability (QA)
They appear in the same order as mentioned herein, with a total duration of two hours, requiring you to complete each section in 40 minutes.
Because there is less time left, you need to understand a few essentials that will assist you in clearing your mind and bringing in streamlined clarity.
The CAT is not a knowledge-based exam; it is an aptitude examination that assesses a candidate's presence of mind, problem-solving abilities, and strength to remain cool and demonstrate the buckets of practise you put in while studying. So it's fine if the time is limited.

Read more: Cat 6 moth preparation strategy
Now, how to prepare for CAT exam in 2 months for each section or how to start preparing for CAT in 2 months? Let's begin.
First things first, here is a 2-month CAT preparation plan.
Developing the right strategy
You have 60 days. Begin by assigning these days among the three categories based on your strengths and shortcomings. Remember, the challenge isn't only how to prepare for CAT in 2 months at home, but how to do so efficiently.
Diagnostics Test: Start with a full-length

cat exam mock test

available online. This helps you understand your current proficiency level and the areas you need to focus on.
Study Plan: Once you've recognized your weak spots, draw up a study plan. Allocate more time to these areas, but ensure you're giving adequate time to every segment.
Read more: How to crack CAT exam in the first attempt?
2-Month CAT Study Plan
1. Verbal Ability and Reading Comprehension (VARC)
Week 1-2: Dive deep into the basics of grammar. Revisit fundamental rules, and begin daily reading sessions. The Hindu, Economic Times, and The Guardian can be your best companions.
Week 3-4: Ramp up your efforts. Dedicate time to critical reasoning and para jumbles. Practice reading comprehension daily and attempt to increase your reading speed.
Chjeck: How to prepare for CAT reading comprehension?
2. Data Interpretation and Logical Reasoning (DILR)
Week 1-2: Grasp the basics of data interpretation by practising tables, graphs, and charts. Simultaneously, indulge in puzzles and logical sequencing.
Week 3-4: Progress towards more complex data sets and intricate logical reasoning problems. Time yourself and ensure you're improving your speed.
Check: How to prepare for CAT logical reasoning?
3. Quantitative Ability (QA)
Week 1-2: Start with the basics. Focus on number systems, simple equations, and basic algebra. Ensure you're solidifying your conceptual understanding.
Week 3-4: Progress to advanced topics like mensuration, geometry, and algebra. Don't just solve problems, but understand the underlying concepts.
Check: How to prepare for CAT quantitative aptitude?
Mock Tests: These are the foundation of how to prepare for CAT exam in 2 months. Begin taking simulated tests in the fifth week. Initially, one test each week is sufficient. Increase this figure by the last two weeks. Spend a significant amount of time analysing your errors after each test.
Read more: CAT 2023 Exam Syllabus
Fine-tuning Your Preparation
Practice: The CAT isn't just about knowledge; it's about time management. Always practice with a timer. Aim to increase your speed with every subsequent test, while ensuring accuracy remains high. Practising under timed conditions helps replicate the pressure of the actual exam.
Concept Clarity: Before diving into intense practice, ensure you have clarity on all key concepts. This will not only speed up your problem-solving but also instill confidence. Revisit your notes and brush up on the fundamentals regularly.
Stay Updated: Regularly visit the official CAT website. This ensures you stay updated with any changes in the

exam pattern

or syllabus. Sometimes, the examination authorities introduce new types of questions or modify existing formats. Being aware can give you an edge.
Review and Reflect: After every study session, spend a few minutes reflecting on what you've learned. This helps in retaining information better. Also, regularly review your mistakes from mock tests to avoid repeating them.
Stay Healthy: Remember, a healthy mind resides in a healthy body. So, ensure you're eating right, exercising occasionally, and sleeping adequately. Incorporate brain-boosting foods like walnuts, blueberries, and fish into your diet. Physical activity, even a short walk, can break the monotony and refresh your mind.
Peer Learning: Engaging in group discussions or group studies can provide fresh perspectives and new strategies on tackling problems. Exchanging notes, discussing doubts, and teaching each other can reinforce your understanding.
Practice Mindfulness: Meditation and deep-breathing exercises can help calm your nerves and improve concentration. Even a short 10-minute meditation session daily can bring about a noticeable difference in your focus.
Stay Curious: Cultivate a curious mindset. Instead of just solving problems, delve deeper to understand why a particular method works. This conceptual understanding can help in tackling unfamiliar problems.
Stay Motivated: Keep your end goals in sight, whether it's getting into a top B-school or personal growth. Celebrate small milestones to maintain enthusiasm. Listening to motivational podcasts or reading inspiring quotes can provide a boost on challenging days.
Read more: CAT 3-month preparation strategy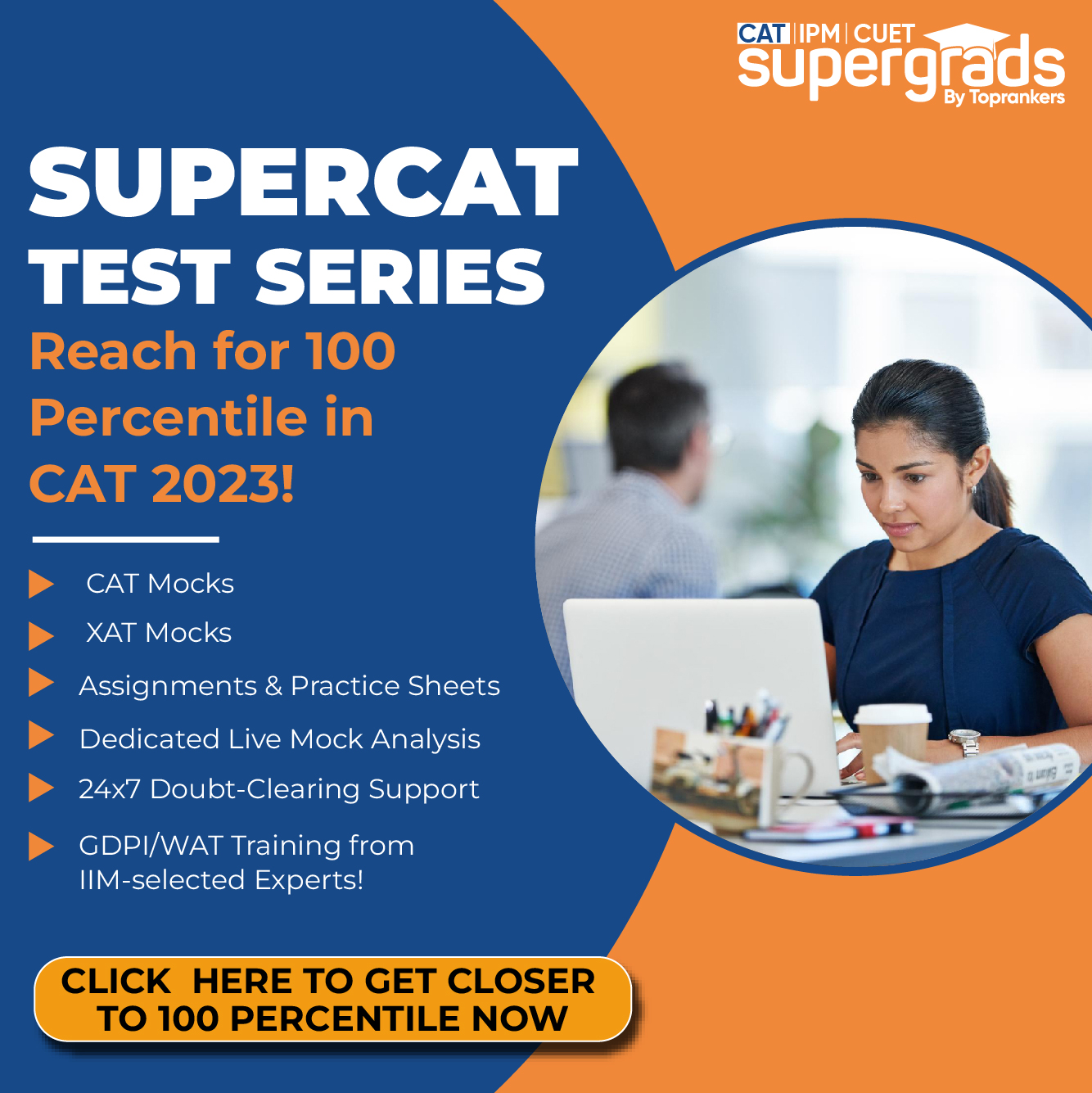 Making the Most of the D-Day
With your preparation in full swing, it's also critical to plan for the exam day. Here's a simple guidelines for preparing for the CAT exam in two months and maximising your effectiveness on exam day:
Sectional Time Management: Because each section is timed, make sure you're allocating minutes wisely to each question. If you become stuck, move on and return later if time allows.
Read more: CAT exam day guidelines
Conclusion
The most important aspect of how to prepare for CAT exam in 2 months is planned study, not rote memorization. It is all about grasping topics, practising carefully, and staying calm. Believe in yourself, stay constant, and keep in mind that this is a marathon, not a sprint. You're well on your way to passing the CAT if you have the appropriate plan and mindset. Best wishes!
Want to join CAT Coaching: Watch free demo Classes by SuperGrads