Subject Matter Experts
who make learning fun and accessible form the comforts of your home.
Harsh Gagrani Sir
(Subject Matter Expert (SME) – Legal and Critical Reasoning)
Say hello to Harsh, the legal wizard and Director of LegalEdge Tutorials! He's a proud NLIU Bhopal alumnus with 11+ years of teaching experience and a passion for student success. Harsh loves to unwind by binge-watching his favorite TV series, Friends, or catching up on the latest blockbuster movies.
Karan Mehta Sir
(Subject Matter Expert (SME) – Logical Reasoning)
Karan is the driving force behind LegalEdge Tutorials, and his expertise as a mentor is unmatched in the industry. With over a decade of experience mentoring CLAT aspirants, he's developed a teaching methodology that's as innovative as it is effective. Karan's motivational sessions and preparation planning have helped countless students achieve success, and his engineering background and impressive scores in CAT makes him a valuable asset to our faculty team.
Shazli Ul-Hussaini Ma'am
(Subject Matter Expert (SME) – English Language)
Passionate, experienced, and accomplished - that's Shazli. It is clear from her 12 years of experience and unwavering commitment to her students' achievements that she has a deep affection for teaching. With her impressive international training and track record of producing top-performing students, you can trust that you're in good hands with Shazli. And did we mention her green thumb? Her garden is a sight to behold!
Aasim Sir
(Subject Matter Expert (SME) – English Language)
He is a seasoned educator, an empathetic counsellor, a storyteller and a life coach. He has 15 years of experience in training competitive English. His teaching style meets individual needs, building a strong vocabulary, instinctive usage of the idiomatic expression for impeccable comprehension skills. His deep understanding of language acquisition principles produces superb results, be it improving your conversational skills or preparing for elite competitive exams.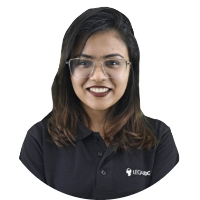 Sukanya Ma'am
(Subject Matter Expert (SME) - English Language)
Meet Sukanya, our literature enthusiast with a Master's in English Literature and over 6 years of teaching experience. She finds joy in facing a class full of eager learners and believes that making a difference, one student at a time, is the most rewarding aspect of her work.
Suyukti Seth Ma'am
(Subject Matter Expert (SME) – English Language)
Suyukti Seth, an Acedemician, Samaritan, Mental Mentor and a Personality development and Soft Skills mentor, is both a Legal and an English post-graduate respectively. Having done an array of diplomas and certification courses, she has a profilic understanding of Verbal and Critical Reasoning and has trained a gazillion students in the format of classroom training, workshops and seminars for qualifying CLAT, CAT, GMAT, IPMAT and other competitive examinations for 8years and counting.She has taken pride and etched herself not only in the field of education but also calls herself a welfare oriented person and runs a self established animal NGO called PAWCO based in Prayagraj. All this has helped her understand the need for hustle and continued determination to achieve the unattainable.
Siddhant Singh Sir
(Subject Matter Expert (SME) – Legal Reasoning)
Siddhant has trained over 10,000 students in the last 10 years. He loves to cook and explore new places. He is a qualified Lawyer and Company Secretary with practical experience of 5 years. Also his approach help's him to understand a students' thought process easily which helps him to mentor them easily.
Saurabh Kabra Sir
Subject Matter Expert (SME)- General Knowledge
Saurabh has trained over 30,000 students in the last 6 years. His interest lies in traveling, loves food and binge watching. He was NSS President and Student Council's Head during his college days.
Mukesh Rajput Sir
(Subject Matter Expert (SME) – Logical Reasoning)
Mukesh has trained over 10,000 students in the last 8 years. He loves watching movies and playing badminton. He has qualified for the Bank PO & Clerk written exam.
Pankaj Ajeete Sir
(Subject Matter Expert (SME) – General Awareness / General Knowledge)
Pankaj is a results-oriented training professional with a track record of success in developing effective programs, processes, and solutions. With over 11 years of experience in Training & Development, he's a true master of General Awareness / General Knowledge. He's proactive in assessing learning needs and tailoring programs to meet specific objectives, ensuring that his interventions have maximum impact.
Sonali Ma'am
Critical Reasoning
A pro in her field for a decade, she has helped innumerable students to improve their English and Critical Reasoning concepts. She is known for leaving no stone unturned for the preparation of the class.
Apoorva Ma'am
Legal reasoning
She has been helping CLAT aspirants to understand the legal jargon and complexities for the last 3 years. Her immense passion coupled with continuous diligence endears her to her students.
Amit sir
General Knowledge
Amit sir has been imparting quality General Knowledge lectures to students for 5 years. He has mastered the content relevant for Civil Services, Law and Management aspirants. His explanations coupled with anecdotes make his teaching riveting and relevant. He is always imbibed in delivering the concepts till the students sitting on the last bench of the class.
Rajiv sir
English Language
Innovation has been the mantra of his teaching for the last 19 years and the book "Interactive Vocabulary Drills" written by him has been the testimony of this. His constant endeavors has been to make the classes riveting by imparting unadulterated knowledge with the aid of relevant anecdotes.
Sumit Sir
Critical Reasoning
A consummate Quant trainer, Sumit Ochani has been imparting his quantitative skills and logical reasoning from the last 14 years. Known as "Live Wire" in the class, he enthralls the students with his profound knowledge and penetrating wit.
Laxmikant Sir
Subject Matter Expert (SME)- Logical Reasoning
Laxmikant is an exceptional Reasoning Faculty with over 10 years of teaching experience. He's coached students for all major competitive exams and has inspired countless teachers along the way. Laxmikant is known for his ability to make reasoning easy and accessible to his students, creating his own tricks and techniques to help them excel.
Ashwini Sahu Ma'am
(Subject Matter Expert (SME) – LEGAL REASONING)
Meet Ashwini Sahu, our passionate and knowledgeable faculty member! With an LL.M. in IPR and multiple successful judiciary prelims under her belt, she brings a wealth of legal expertise to the classroom. Ashwini's commitment to sharing her knowledge and helping students achieve their goals is truly inspiring!
Nikita Sharma Ma'am
(Subject Matter Expert (SME) – LEGAL REASONING)
Remember that teacher in school who would make you sit up and pay attention, regardless of how much you loathed the topic? The aura that captures you as soon as they begin speaking? Nikita has got it. Nikita is an Nlu-grad with a gold medal in mining law. She has completed her Masters in Intellectual Property rights Laws from HNLU Raipur and qualified UGC NET JRF. She enjoys cooking, singing, gardening and is a creative nut who loves making best out of the waste things. Her passion for learning and teaching law is what drives her here!! So, If you don't see her in action, you are missing out.
Arvind Bhargava Sir
(Subject Matter Expert (SME) – Quantitative Techniques)
Meet Arvind Sir, our math guru! With 12+ years of experience teaching quants for various exams, he delivers lectures in an intuitive fashion that students can readily appreciate. But what makes him truly special is his unwavering devotion to students, always ready to lend a helping hand.
Antriksh Bhatnagar Sir
(Subject Matter Expert (SME) – Quantitative Techniques)
Meet Antriksh Sir, He is a B.E. Graduate, worked across different firms across India. He has 10+ years of teaching experience. He has mentored numerous students to crack different national level entrance exams.
Gaurav Patel Sir
(Subject Matter Expert (SME) - Quantitative Techniques)
Meet Gaurav, our math whiz! With a Master's in Computer Applications and a degree in Mathematics, he's been teaching for 8 years. Whether he's helping students ace calculus or mentoring them in coding, Gaurav always brings his A-game.
Danish Ali Sir
(Subject Matter Expert (SME) – Logical Reasoning)
Danish Ali, the master of verbal communication, is a skilled teacher with over 14 years of experience in teaching for competitive exams. His impressive academic background and exceptional scores in IELTS and CMAT Verbal have cemented his expertise in the field. His students' success is his top priority, and he connects with them effortlessly, bringing passion and liveliness to the classroom.
Amitabh Mishra Sir
Subject Matter Expert (SME) – Logical Reasoning
Amitabh is an education professional with 18 years of experience. His honed communication skills and analytical abilities make him an expert in managing critical reasoning challenges. With his knack for developing customized learning solutions, you can trust that Amitabh will produce measurable outcomes for every student.
Utkarsh Pandey Sir
Subject Matter Expert (SME) – Legal Reasoning
Meet Utkarsh Pandey, is a legal wizard who knows just how to make complex concepts easy to understand. With over 5 years of experience teaching and mentoring CLAT and Judicial Services Examination aspirants, he's a true pro. When he's not in the classroom, you might find him keeping a close eye on the stock market or tuning in to the latest cricket match.
Dinesh Warude Sir
(Subject Matter Expert (SME) – Analytical Reasoning)
Dinesh Warude sir has more than 12 years of experience in the field of Education. Due to a lot of interest in Logical and Analytical Reasoning, he started teaching in the Institute. He has completed his Post Graduation in Engineering Field. Sir has worked as Assistant Professor and Assistant Head of Department in Engineering Colleges. He has also published international papers on cancer in the medical field.
Brinda Ma'am
(Subject Matter Expert (SME) – English Language)
With over 18years plus experience of mentoring students for various competitive exams such as CLAT, AILET, IPMAT Indore, Rohtak, JIPMAT, CUET, NPAT, and IELTS, Brinda ma'am is renowned for her love not only for English language but for her students as well.