Preparing for the law entrance exams like CLAT requires a lot of dedication and planning for better results. Many of you might be appearing for the CLAT exam next year, and if you don't know, when is the right time to start your preparation? Continue reading!
Remember, each student's grasping power and understanding capacity vary. Therefore, starting your preparation at least one year before the exam is advised. In this way, you can cover all the topics as per the syllabus, and you will also get time for revision.
Aspirants of CLAT but don't know how and when to begin? Well, read through the post that will guide you on how to prepare for CLAT 2024 in 1 Year.
When Should I Start my Preparation for CLAT Exam?
CLAT is one of the highly competitive law exams conducted by the Consortium of National Law Universities.
If you are an aspirant for the CLAT exam, you must start your preparation well in advance to get admission to top law colleges in India.
When you start early, you will have ample time to finish the syllabus and do a thorough revision.
Also, you can gain in-depth knowledge about all the entrance exam subjects with sufficient preparation time.
CLAT Preparation Plan for One Year
One of the common questions running through all your minds is How to prepare for the CLAT 2024 in one year? Well, the best tip to crack the exam in one year is to plan your preparation smartly.
With a proper study plan, the right study resources, hard work, and time management, you can easily crack the exam on the first attempt
To smooth out your preparation, we have curated the best CLAT Preparation Tips to help you prepare well for the exam in one year.
Join Online Coaching
According to experts, joining online coaching is one of the best preparation methods to perform well in the exam.
With the help of online coaching, you can understand all the fundamentals and clear all your doubts.
You can watch our

FREE Demo for CLAT

to understand how our experts will help you understand the concepts easily.
Also, you will get guidance throughout your preparation.
Know the Syllabus
The questions asked in the exam are now comprehension-based. So, being aware of the CLAT Syllabus make it easier to pay additional attention to topics that carry more weight.
Also, it will help you identify the important topics from the exam point of view.
Know the Exam Pattern
Before starting your preparation, go through the detailed exam pattern, as this will help you understand the number of questions and their weightage for each section, the marking scheme, the type of questions, and more.
Also, CLAT Exam Pattern will help you manage your time and understand the approximate time needed to crack the CLAT 2024.
Make a Study Plan
After knowing the syllabus and pattern of the exam, create a study plan and stick to it.
Divide the topics from most important to least important as per the weightage of each subject.
Make sure you prepare a

CLAT Study Plan

that includes all the topics as per the syllabus.
If you are already well versed in any topic, then give less time to that topic. Instead, allot more time for the topic you are weak in.
Keep sufficient time for revision at the end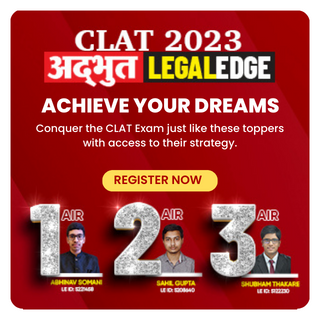 Practice Sample Papers
When you solve the previous year's papers, you will get a fair idea about the difficulty level of the actual exam.
Also, you will get an idea about the difficulty level and the type of questions asked in the exam.
Practising

CLAT Question Papers

will help improve your time management skills and problem-solving skills.
Solving at least 1-2 sample papers once every 15 days is advised.
Attempt Mock Tests
Taking up mock tests is one of the best methods to test your preparation levels.
With the help of

CLAT Mock Tests

,

you can improve your speed and accuracy.
You can know in which area you are weak and put extra effort into overcoming it.
Learn Time Management
Knowing your strengths and weakness is a must to manage your time for the preparation.
Practising mocks, and samples will help improve your time management skills.
After completion of each mock, analyze how much time you are taking to complete each question.
Also, follow

CLAT Time Management Tips

to better understand how can you manage time in the final exam.
Which Books Should I Consider for CLAT Preparation in 1 Year?
With lots of books available for CLAT, it might be difficult for you to choose the correct one. You can include the following best books for CLAT during your preparation.
| | |
| --- | --- |
| Subject | Author |
| English | Objective General English by N. Khurmi and George |
| Quantitative Aptitude | Legal Aptitude for CLAT and other Kaw Exams: Workbook by A. P Bhardwaj |
| Reasoning | Logical Reasoning by Jain Prateek |
| General Awareness | Legal General Knowledge by R. K Gupta |
| Previous Year Papers | Previous Year Papers by A.P. Bhardwaj |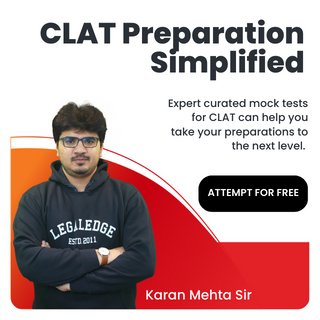 What are the Subject-wise CLAT Preparation Tips for 1 Year?
In the CLAT exam, the questions are based on five subjects: English, Maths, Legal Aptitude, Logical Reasoning, and GK/Current Affairs.
To ease your preparation, we have provided section-wise preparation tips for CLAT 2024. Follow these tips and enhance your preparation to score better in the exam.
How to Prepare for CLAT Logical Reasoning in 1 Year?
You can allot 2-3 hours per day for the logical reasoning section.
Most of the questions are asked from topics like Critical and Verbal Reasoning, Analogies, Number Series, and Fact inference judgment.
Clear your concepts and understand the foundation of the topics included in the syllabus.
Practice puzzles that demand more logic.
Read More: Short Tricks to Solve CLAT Logical Reasoning Questions
How to Prepare for CLAT Legal Aptitude in 1 Year?
You can apply a time management strategy while solving legal aptitude questions which are based on legal matters, public policies, and moral philosophies.
Make sure you allocate 2-3 hours of your daily time for the legal aptitude section.
Improve your legal vocabulary by reading the newspaper or watching the news.
You must begin with the theory first and then move on to practice questions.
Also, focus on improving your language skills.
Read More: Top 10 Tricks to Solve CLAT Legal Aptitude Questions
How to Prepare for CLAT Mathematics in 1 Year?
You just need to have a correct approach to answering these questions, as the difficulty level of the Mathematics section is easy to moderate.
The questions are from basic maths that you have learned till class 10.
Note down the important formulas and revise them regularly.
Practice more and more questions from the previous year's papers.
Go through NCERT Mathematics textbooks of class 9 and class 10
Read More: Simple Techniques to remember Maths formulas
How to Prepare for CLAT English in 1 Year?
Read the Newspaper editorial and opinion columns daily to improve your vocabulary.
Try to learn at least 5-10 new words and their meanings daily.
Practice grammar from some well-approved and acclaimed grammar books.
Solve previous year's papers to know the difficulty level of questions.
Read More: Short Tricks to Improve your Vocabulary
How to Prepare for CLAT GK in 1 Year?
Allot 2-3 hours of your daily time for the GK section
Make a habit of reading the newspaper daily.
Do not cram dates or events. Rather, understand why something happened. Get an idea behind these matters.
Try to cover topics related to History, Geography and Science.
Read More: Short Tricks for CLAT GK