Reader's Digest - Are you aiming to crack CLAT 2024 and wondering how to make the most of your preparation time? Look no further! In this blog, we will guide you on effectively preparing for CLAT 2024 in just one year, ensuring you're equipped with the right strategies and resources to succeed. So, let's dive into the ultimate roadmap for your CLAT journey!
Preparing for the law entrance exams like CLAT requires a lot of dedication and planning for better results. Many of you might be appearing for the CLAT exam next year, and if you don't know, when is the right time to start your preparation? Continue reading!
Remember, each student's grasping power and understanding capacity vary. Therefore, starting your preparation at least one year before the exam is advised. In this way, you can cover all the topics as per the syllabus, and you will also get time for revision.
Aspirants of CLAT but don't know how and when to begin? Well, read through the post that will guide you on how to prepare for CLAT 2024 in 1 Year.
When Should I Start My Preparation for CLAT Exam?
CLAT is one of the highly competitive law exams conducted by the Consortium of National Law Universities. It is attempted by over 65,000 students each year, with the number increasing.
It grants you admission to 26 National Law Universities, the flag bearers of excellence in legal academics in the country and the world. To gain admission to institutes of this level, dedication, work put in, and sincerity are key factors.
If you are an aspirant for the CLAT exam, you must start your preparation well in advance to get admission to top law colleges in India. You will have ample time to finish and thoroughly revise the CLAT syllabus when you start early. Also, you can gain in-depth knowledge about all the entrance exam subjects with sufficient preparation time.
If used carefully and wisely, the time you take can prove very rewarding. When used to the fullest, the year of CLAT preparation consists of understanding topics and concepts, practising sectionals, thoroughly doing current affairs, and, most importantly, mocks.
Watch this video by Legal Edge, which guides aspirants through the strategy for the entrance examination.
CLAT Preparation Plan for One Year
One of the common questions running through all your minds is How to prepare for the CLAT 2024 in one year? Well, the best tip to crack the exam in one year is to plan your preparation smartly.
You can easily crack the exam on the first attempt with a proper study plan, the right study resources, hard work, and time management. All you need to do is work sincerely and learn from your mistakes.
To smooth out your preparation, we have curated the best CLAT Preparation Tips to help you prepare well for the exam in one year.
Join Online Coaching
According to experts, joining online coaching is one of the best preparation methods to perform well in the exam.
With the help of online coaching, you can understand all the fundamentals and clear all your doubts.
Watch our

FREE Demo for CLAT

to understand how our experts will help you understand the concepts easily.
Also, you will get guidance throughout your preparation.
Legal Edge offers the best online and offline CLAT classes to make your preparation well-rounded and fit to take the exam head-on.
Know the Syllabus
The questions asked in the exam are now comprehension-based. So, being aware of the CLAT Syllabus make it easier to pay additional attention to topics that carry more weight.
Also, it will help you identify the important topics from the exam point of view.
Know the Exam Pattern
Before starting your preparation, go through the detailed exam pattern, as this will help you understand the number of questions and their weightage for each section, the marking scheme, the type of questions, and more.
Also, CLAT Exam Pattern will help you manage your time and understand the approximate time needed to crack the CLAT 2024.
Make a Study Plan
After knowing the syllabus and pattern of the exam, create a study plan and stick to it.
Divide the topics from most important to least important as per the weightage of each subject.
When it comes to dividing topics for your study plan, don't focus primarily on weightage, but focus on the weaknesses you have encountered yet.
Ensure you work on the places and sections you are having trouble with, and try to keep practising every section's sectional tests regularly, as it helps keep track of errors and rectification.
Make sure you prepare a

CLAT Study Plan

that includes all the topics as per the syllabus.
If you are already well versed in any topic, then give less time to that topic. Instead, allot more time for the topic you are weak in.
Keep sufficient time for revision at the end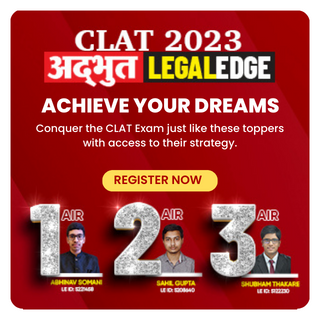 Practice Sample Papers
When you solve the previous year's papers, you will get a fair idea about the difficulty level of the actual exam.
Also, you will get an idea about the difficulty level and the type of questions asked in the exam.
Practising

CLAT Question Papers

will help improve your time management and problem-solving skills.
Solving at least 1-2 sample papers every 15 days is advised.
Attempt Mock Tests
Taking up mock tests is one of the best methods to test your preparation levels.
You can improve your speed and accuracy with the help of CLAT Mock Tests.
You can know in which area you are weak and put extra effort into overcoming it.
Figuring out your problem areas and working on them is how you will find yourself doing well.
Learn Time Management
Knowing your strengths and weakness is a must to manage your time for the preparation.
Practising mocks and samples will help improve your time management skills.
After completing each mock, analyze how much time you take to complete each question.
Also, follow

CLAT Time Management Tips

to understand better how to manage time in the final exam.
Which Books Should I Consider for CLAT Preparation in 1 Year?
With lots of books available for CLAT, it might be difficult for you to choose the correct one. You can include the following best books for CLAT during your preparation.
| | |
| --- | --- |
| Subject | Author |
| English | Word Power Made Easy by Norman Lewis |
| Quantitative Aptitude | Quantitative Aptitude for Competitive Examinations (English) by RS Aggarwal |
| Legal Reasoning | Important Judgement That Transformed India by Alex Andrews George |
| Reasoning | Modern Approach to Verbal and Non-Verbal Reasoning by R.S Aggarwal |
| General Awareness | The CLAT Post by Legal Edge |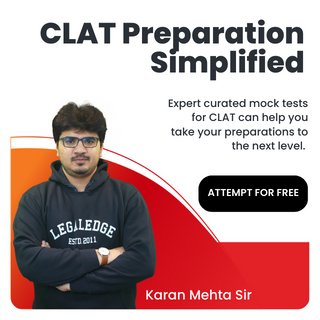 What are the Subject-wise CLAT Preparation Tips for 1 Year?
The CLAT exam's questions are based on five subjects: English, Maths, Legal Aptitude, Logical Reasoning, and GK/Current Affairs.
To ease your preparation, we have provided section-wise preparation tips for CLAT 2024. Follow these tips and enhance your preparation to score better in the exam.
How to Prepare for CLAT Logical Reasoning in 1 Year?
Logical Reasoning as a section can be prepared by reviewing the various concepts and gauging a clear understanding of them.
Concepts like assumptions, conclusions, statement-based question types, strengthen and weaken questions, etc., must be understood well to comprehend this section.
Usage of verified resources on websites like GMAT Club, especially level 700 CR questions, helps boost your understanding of these concepts and thus boosts your score. Keep up the practice of solving the various sectionals.
Read More: Short Tricks to Solve CLAT Logical Reasoning Questions
How to Prepare for CLAT Quantitative Aptitude Section in 1 year?
The Quantitative Aptitude section is one that most CLAT aspirants have polarized views on. They are either extremely comfortable with it or dread it like no other.
However, it is necessary to perform to the best of one's abilities in all the sections of the CLAT. At the onset of prep, the various concepts that encompass the section need to be mastered, and as prep continues, consistent practice of DI sets and math questions helps propel your prep for this section forward.
How to Prepare for CLAT Legal Reasoning Section in 1 Year?
Legal Reasoning is the most reading-intense and long section in the paper. Hence the longevity of text can sometimes extend the time an aspirant takes to solve it.
To start, aspirants must familiarize themselves with legal concepts often tested in the paper, along with jargon that the CLAT exam uses in its passages.
If you are a Legal Edge student, your RSMs outline everything you need to familiarize yourself.
Since no prior legal knowledge is required to solve the section, simply acquainting yourself with words and terminology you rarely hear is enough to make you confident that whatever you read isn't alien to you. You do not need to memorise or learn these concepts or maxims.
Read More: Simple Techniques to Remember Maths Formulae
How to Prepare for CLAT English in 1 Year?
Read the Newspaper editorial and opinion columns daily to improve your vocabulary.
Try to learn at least 5-10 new words and their meanings daily.
Practice grammar from some well-approved and acclaimed grammar books.
Solving RCs and English sectionals is an important tool to ensure your English section is done correctly.
Solve previous year's papers to know the difficulty level of questions.
Read More: Short Tricks to Improve your Vocabulary
How to Prepare for CLAT GK in 1 Year?
Allot 2-3 hours of your daily time for the GK section
Make a habit of reading the newspaper daily.
Do not cram dates or events. Rather, understand why something happened. Get an idea behind these matters.
Compendiums and CA sets like Clat Post and GK Fiesta by Legal Edge are great sources, so utilise them.
Try to cover topics related to History, Geography and Science.
Read More: Short Tricks for CLAT GK