Management is one of the most sought career options beyond engineering and medicine among students after completing their class 12.
Before targeting any exam, you should be clear about the particular field of study you are interested in. If you aspire to enter the management industry, write the entrances associated with the management field.
Most of the aspirants preparing for the management entrance exams might be worrying about which other exams they can attempt alongside IPMAT.
If you fall into this category, you can focus on exams related to management and exams in fields related to your other interests.
Read through the post that will give you a complete insight into alternative BBA entrance exams with IPMAT.
Management Entrances Exams After 12th
Every field has several career opportunities, but choosing the one in which you believe you are interested in it is crucial. Management is an excellent stream of education for those interested in business and related fields of study.
If you are someone who is dreaming of pursuing your career in management, you should be aware of the list of management entrance exams after the 12th.
Admission to management bachelor courses is often based on your merit in the entrance exam.
The following are some of the most popular BBA entrance exams that you can opt for after your class 12th.
IPMAT Exam
IPM is a fantastic opportunity for those interested in pursuing a career in management. It is a dual degree course, which means students will be given a degree in graduation and post-graduation.
Upon successful completion of the course of 5 years, the participant will be awarded a BBA and Master of Business Administration (MBA) degree.
Currently, IPM is offered by IIM Indore, Jammu, Bodh Gaya, Rohtak, Ranchi, and NLU NALSAR. You must appear for the IPMAT Entrance Exam to get admission to these colleges.
This program will also aid in your overall development, as the environment at IIM will make you a brighter and more confident person.
The IPM course is designed to provide you with a rich skillset required in the industry.
The first three years are foundation courses, and the last two years are devoted to Business Management.
The following are some of the alternative BBA entrance exams alongside IPMAT.
Entrances Exams for IPM Courses
If you wish to pursue your career in IPM at one of the best colleges in India, you need to clear the respective entrance exam for that college.
IPMAT Indore, for getting admission into IPM Indore, IPM Ranchi, and IPM program of NALSAR and Nirma University.
IPMAT Rohtak for getting admission into the IPM program of IIM Rohtak.
The

JIPMAT Exam

(Joint Integrated Programme in Management Admission Test) is the aptitude test to offer admission to the IPM program at IIM Jammu and IIM Bodh Gaya.
CUET (Christ University Entrance Test)
Christ University Entrance Test is a common entrance test conducted by Christ University for providing admission to different undergraduate programs.
You must have passed class 12 or equivalent examination with a minimum of 55% marks from a recognized university, and your age should be between 18-20 years to apply for the CUET entrance exam.
If you plan to appear for the exam, then target only the Bangalore Campus, like the fees, placement, and higher education opportunities are synced at CU Bangalore.
CU Bangalore can deliver good placements and opportunities based on its fee structure. Other campuses are pretty new and are yet to gain recognition.

SET (Symbiosis Entrance Test)
Symbiosis Entrance Test is conducted by Symbiosis International (Deemed University) to provide admission to different undergraduate programs at Symbiosis institutes.
You can also target the SET entrance exam for taking admission in management courses like B.Com, BBA (Management), BBA(H), etc.
You must have completed class 12 or equivalent exam from a recognized board with a minimum of 50% marks to be eligible for this exam.
DU JAT (Delhi University Joint Admission Test)
Delhi University Joint Admission Test is a national-level entrance exam offering admission in various UG Courses such as Bachelor of Management Studies (BMS), Bachelor of Business Administration (Financial Investment Analysis) (BBA (FIA), and B.A. (Honours) Business Economics (BBE).
Shaheed Sukhdev College of Business Studies, one of the best colleges for management, admits students based on the DU JAT entrance exam scores.
The final selection is based on a merit list prepared by a cumulative entrance test score and class 12th exams. The DU JAT score is given 65 percent weightage, and marks obtained in class 12th board exams are 35 percent weightage.
St. Xavier's Exam
St. Xaviers' College, Mumbai, conducts the St. Xaviers Exam every year to offer admission to Bachelor in Management Studies (BMS) programs.
The final selection is based on a merit list prepared by a cumulative entrance test score and class 12th exams.
Weightage is assigned to entrance test scores at 60% and marks obtained in class 12th board exams at 35%.
Read more: Best career options after PCM apart from engineering
NPAT Exam
Narsee Monjee Institute of Management Studies or the NMIMS University holds the responsibility for conducting the NPAT Exam annually.
Through NPAT Entrance Exam, you can get admissions to courses like BBA, BSc, B. Tech, B. Des, B. com, B. A. (Hons) Liberal Arts, and other integrated courses.
To apply for the exam, your minimum age should be 17 years and the maximum age should be 25 years. Also, you must have completed a 10+2 or equivalent exam from a recognized university or board.
Management-related Entrances Exams after 12th
Selecting the right course and college can be most challenging for most of you after the 12th, as you can go for plenty of options, irrespective of your stream.
Remember, the choice you make after the 12th will be the one that will decide your future. Also, there will be a little scope for changing your career after joining the graduation.
So, you should be smart enough while choose the right career option after completing class 12th.
NCHMCT JEE (National Council of Hotel Management and Catering Technology Joint Entrance Examination)
National Council of Hotel Management and Catering Technology Joint Entrance Examination is a national-level test conducted for the admission of 10 + 2 eligible students to the B.Sc. in Hospitality and Hotel Administration Programs.
It is definitely worth the choice if you are getting admission to one of the top three institutes of hotel management.
The Pusa Campus of Hotel Management is one of the finest colleges in the country. If you are preparing for the IPMAT, NCHMCT JEE is a simple exam to pass.
Read more: Reasons to choose IPM after class 12th
NTA CUET (Common Universities Entrance Test)
CUET is a national-level entrance test offering admissions to UG and integrated programs in 45 central universities across India.
Admission to diverse courses at different central universities, like journalism, management, arts, commerce, and science is solely based on your performance in the exam.
Note that the eligibility and courses offered will remain college-specific. Those who wish to apply for the exam must check the required eligibility of the desired university for selecting the UG programs being offered.
Mass Communication
Many students preparing for management entrances also appear for mass communication entrance examinations as they have strong speech and a depiction.
Bachelor of Arts in Mass Communication and Journalism is one of the top courses offered by St. Xaviers Mumbai.
To take admission to BA courses, you need to qualify either for the St. Xaviers entrance test, the Symbiosis Entrance Test (SET), or the Christ University Entrance Test (CUET).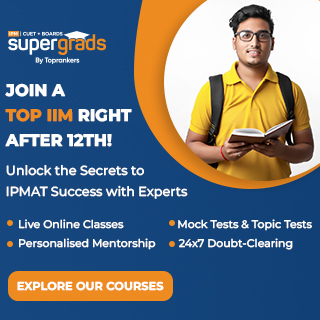 College Preference
Never compromise on your college or institute choice, as if you are graduating from a renowned and infrastructurally strong college, it adds value to your life. The right college will help you make your career.
The subjects taught in college are useful in professional life; therefore, choosing the right college that gives importance to their academics as well as extra-curricular activities is fruitful for a good career.
Another important aspect is the alumnus tag. The pride of being an Indian, IIM graduate, etc. can help you provide the initial lift required for your career.
Some colleges are really influential and well-respected. Getting into one of them can help you in your job interviews and higher education opportunities like MIT, Stanford, etc.
Read more: Hotel management entrance exams after 12th