Summary:
If you have completed your LLB and contemplating pursuing LLM? You are at the right place!
Oftentimes, research on LLM entrance exams can take a lot of effort and time, as various LLM entrance exams have been introduced in recent years. You will need to explore all the possible opportunities before you conclude with any decision.
The article has summed up all the information you need to know.
LLM, commonly known as Master of Laws, is a globally recognized postgraduate degree pursued by candidates with a legal background. LLM programs are ideal for individuals who desire to broaden their legal expertise in a specific field of law. There are specific eligibility requirements you must fulfill in order to take these LLM entrance exams.
The LLM is a two-year postgraduate degree in law and makes it most appealing as it offers desiring specializations helping you have great career prospects.
A Master of Laws degree permits you to gain an in-depth grasp of a certain subject of law by conducting significant research in that area of law.
International Law, Corporate Law, Business Law, and Criminal Law are among the specializations available in Master of Laws programs. Having an LLM degree comes with many benefits, and this requires you to know all about the LLM entrance exams 2023.
.
Download FREE Study Material for CLAT PG 2023 by LegalEdge After College
Why pursue an LLM?
After graduating from a prominent law school, continuing your study with an LLM is critical. An LLM program will prepare you for the start of your legal career.
The following are some of the most compelling reasons to pursue an LLM.
LLM degrees with a specialization in international law can help students build a name for themselves in the international arena and, eventually, a profession in the international legal area, ensuring a bright future.
Unlike undergraduate legal classes that generally study law, the LLM course allows you to focus on a specific area. This progressively improves your capacity to concentrate on the issue and devote more time to it, helping you become an expert.
The diversity of specializations accessible in LLM courses will let students choose a career route from a wide range of specializations such as international law, corporate legal affairs, labor, human rights, and other relevant subjects.
After earning an LLM in your chosen specialization, you will find work in legal writing and research. After completing an LLM, you may seek an LLD to pursue a legal writing and research career.
Earning an LLM will also increase your earning potential and open additional chances in the legal area.
If you wish you work abroad, there are job openings in first-world countries like Australia, and Canada, where Indian LLM holds good.
LLM is a ladder that you have to climb in order to pursue your Ph.D.; having a Ph.D. can land you a teaching job in NLUs if teaching is your thing!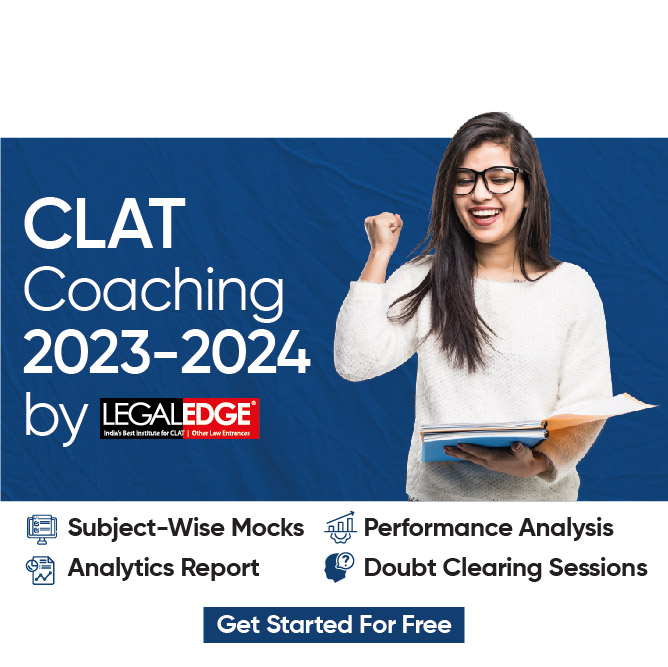 ~Now that we know about the benefits of LLM, let's understand what it takes to be eligible to write the exam~
Eligibility criteria for LLM 2023
You must have earned a minimum of 55-60% in your LLB degree (or equivalent) from a recognized university.
The aggregate required may change with the entrance exam since there are many entrance exams to get into various colleges.
Check: How to prepare for LLM entrance exams?
~What are your options?~
CLAT PG 2023
CLAT is a national-level entrance test used to gain admission to the 22 NLUs. It is vital to remember that many self-financing universities consider CLAT scores when admitting students.
CLAT PG 2023 assesses comprehension ability. The test will last 120 minutes, including 120 objective-type questions in the first portion. The test will cover the topics covered in the undergraduate program. The compulsory topics are:
Jurisprudence
Constitutional Law
Administrative Law
Law of Contract
Torts
Family Law
Property Law
Criminal Law
Company Law
Tax law
Public International law
CLAT PG eligibility for LLM entrance exams:
Candidates must hold a three-year law degree, a three-year integrated law degree, or an equivalent law degree from a recognized university. Ace your preparations with the best CLAT PG online coaching center and take mock tests to know where you stand with your preparations.
55% for General/OBC/SAP, 50% for SC/ST (marks required applicable as per your category)

LSAT 2023
The Law School Admission Test, also known as the LSAT, is a prominent admission exam that is approved by over 76 law schools in India. Pearson VUE administers the exam on behalf of the Law School Admission Council (LSAC).
LSAT exams are typically taken offline. OP Jindal Global University, VIT School of Law, and Adamas University are among the prestigious universities that accept the LSAT.
LSAT 2023 Eligibility:
Candidates must have achieved a graduate degree in law to be eligible. Some universities provide LLM courses.
Delhi University LLM Entrance Test (DU LLM) 2023
The Delhi University (DU LLM) entrance test, which is administered by the University of Delhi, aids in gaining admission to LLM programs. The National Testing Academy administers the exam on behalf of DU. Students can use this to get admission to law-related postgraduate, undergraduate, and doctorate programs.
The syllabus for DU LLM Entrance Exam is
Indian Constitution
Contracts
Criminal Law
International Law
Jurisprudence
Company Law and Partnership
The constitutional law of India
Criminal Law
Cyber Law
Environment Law
Family Law
IPR
Jurisprudence
Law of Contracts
Law of Torts and Consumer Protection
Public Interest Litigation
Sale of Goods Act
Transfer of Property
DU LLM Eligibility 2023:
Students must complete either a three-year or five-year LLB degree with a grade point average of 50% for general, 45% for OBC, and 40% for SC/ST.
All India Law Entrance Test (AILET PG) 2023
The All India Law Entrance Test (AILET) is administered in the country by the National Law University, Delhi, for both undergraduate and postgraduate programs.
AILET has 150 questions to be solved in 90 minutes. However, the broad AILET Syllabus contains subjects from the undergraduate programs. The exam includes questions based on
Several topics from these are included, which are as follows
Constitutional Law
Criminal Law
Jurisprudence
Property Law
Administrative Law
Company Law
Law of Contract
Public International Law
Law of Torts
Tax Law
Family Law
Environmental Law
TISS NET 2023
TISSNET is a test administered by the Tata Institute of Social Sciences for admission to different undergraduate, postgraduate, and doctorate programs, including law. TISS provides LLM programs that are well-known throughout the country.
The TATA Institute of Social Sciences accepts TISSNET results.
TISS NET 2023 eligibility requirement:
Candidates must have completed the LLB Degree from any accredited university recognized by the UGC of India in order to be eligible for TISSNET. TISSNET is also open to candidates in the last year of their Bachelor's degree.
Learn more about CUET LLM 2023
PU CET LLM Entrance Exam 2023
The Punjab University LLM entrance test is held for admission to the university's LLM programs. The PU CET Exam is given just once a year. Students who want to enroll in Punjab University's various programs must take the PU CET Exam first. Punjab University is the only university that accepts PU CET results.
The exam syllabus includes
Service Law
Environmental Law, and
Constitutional and Administrative Law
Civil Liberties
The Indian Penal Code (IPC), the Criminal Procedure Code, and the Law of Evidence
Jurisprudence
Family Law
Contract Law
Tort Law
Public International Law
Labor Laws
Company Law
PU CET LLM Entrance Exam Eligibility: Candidates must have passed the LLB qualifying examination (bachelor's degree program or equivalent from a recognized university) with a minimum of 50%-55% marks.
~Other possible options~
Other Popular LLM Entrance Exam List
These are the most popular entrance exams for LLM, but more exams like these are conducted by universities. Here is a complete list of other LLM entrance tests.
Acharya Nagarjuna University LLM Entrance Exam
Aligarh Muslim University LLM Entrance Exam
Allahabad University LLM Entrance Exam
Amity University - Amity Law School Entrance Exam
Andhra Pradesh Post Graduate Law Common Entrance Test (AP PGLCET)
Banaras Hindu University LLM Entrance Exam
Bangalore University LLM Entrance Exam
Bharati Vidyapeeth University LLM Entrance Exam
Bundelkhand University - Babu Jagivan Ram Institute of Law LLM Entrance Exam
Chanakya National Law University Entrance Exam
Chaudhary Charan Singh University LLM Entrance Exam
Christ College of Law Entrance Test
CLAT - Common Law Entrance Test
Cochin University of Science and Technology LLM Entrance Exam
Common Law Admission Test-LLM (CLAT-LLM)
D.G.B. Dayanand Law College LLM Entrance Exam
Dayanand College of Law LLM Entrance Exam
Devi Ahilya Vishwavidyalaya LLM Entrance Exam
Dr Ambedkar Law University Entrance Exam
Dr. Ram Manohar Lohiya National Law University Entrance Exam
Delhi University LLB Entrance Exam
Faculty of Law of Banaras Hindu University LLM Entrance Exam
Gauhati University LLM Entrance Exam
GNLU - Gujarat National Law University Entrance Exam
Government Law College Maharashtra LLM Entrance Exam
Government of Kerala Law Entrance Examination
Gulbarga University LLM Entrance Exam
Hidayatullah National Law University (HNLU) LLM Entrance Exam
Himachal Pradesh University LLM Entrance Exam
HNLU Entrance Test
Indian Law Institute Common Admission Test
Jamia Millia Islamia University LLM Entrance Exam
Karnataka University LLM Entrance Exam
Karnataka State Law University LLM Entrance Exam
Kerala Law Entrance Examination
KLSAT ( KIIT Law School Admission Test )
Kurukshetra University LLM Entrance Exam
Law School Admission Test (LSAT)
Law School Banaras Hindu University (BHU) LLM Entrance Exam
Maharaja Sayajirao University Of Baroda LLM Entrance Exam
NALSAR University of Law Entrance Exam
National Entrance Test ( NET ), National Law University Jodhpur LLM Entrance Exam National Law School of India University Entrance Exam LLM Entrance Exam
National Law University, Jodhpur LLM Entrance Exam
NLIU Entrance Exam, Bhopal LLM Entrance Exam
NLU - National Law University Entrance Test
NUJS - W.B. National University of Juridical Studies Entrance Exam
O. P. Jindal Global University - Jindal Global Law School LLM Entrance Exam
Osmania University LLM Entrance Exam
Panjab University OCET LLM Entrance Exam
Punjabi CET University Law Common Entrance Test
Rajiv Gandhi National University of Law Entrance Exam,
S.K. Acharya Institute of Law LLM Entrance Exam
Symbiosis International Educational Centre (SIEC) LLM Entrance Exam
Symbiosis International University Entrance Exam
The Tamil Nadu Dr. Ambedkar Law University LLM Entrance Exam
The University of Burdwan LLM Entrance Exam
The W.B. National University of Juridical Sciences (NUJS) LLM Entrance Exam
University of Calcutta LLM Entrance Exam
University of Delhi (DU) - Faculty of Law LLM Entrance Exam
University of Kerala LLM Entrance Exam
University of Mumbai - The Government Law College LLM Entrance Exam
University of Mumbai (Bombay) - Department of Law LLM Entrance Exam
West Bengal National University of Juridical Sciences Entrance Exam