In recent years, many law schools started offering postgraduation legal courses through correspondence education methods.
These online PG LLM programs are offered online for eligible LLB graduates from recognized universities.
These LLM programs are offered for a course duration of 1-3 years, and in-depth knowledge transfer happens for the chosen specific specialization offered at these law schools.
You must look at the colleges offering valid course certificates, specializations in demand, and placement opportunities authorized by the UGC.
Let's check the list of colleges, programs, and specializations in demand for the LLM program in 2022.
Download FREE Study Material for CLAT PG 2023 by LegalEdge After College
How can I do LLM through Correspondence?
Firstly, understand the benefits of taking the LLM program through correspondence and if learning online or through hybrid mode is more useful.
Firstly, check if you satisfy eligibility requirements by visiting the respective website of the university offering

LLM

through correspondence.
Check the course duration and desired specializations offered if you satisfy the eligibility requirements.
Fill out the application form online for the desired LLM program.
Some colleges conduct the distance LLM entrance exam; you must clear the respective entrance exam (if any) to be admitted to the LLM program through correspondence.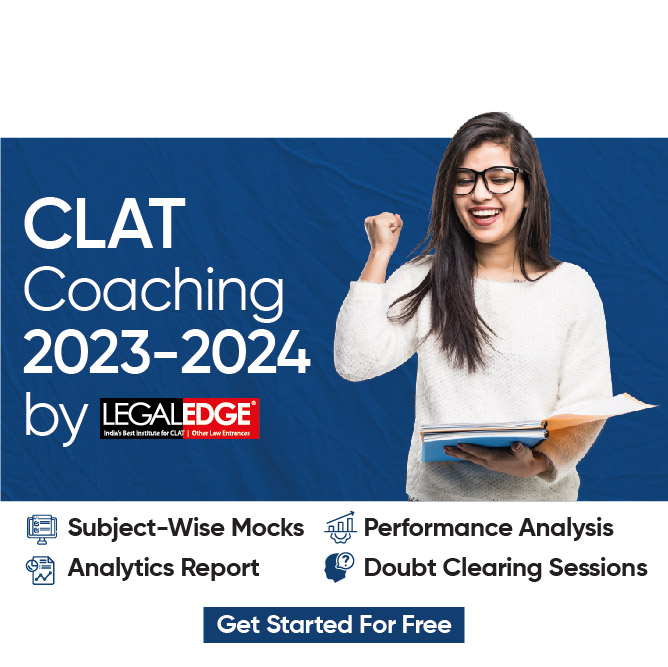 List of LLM Colleges by Distance Learning 2022
List of LLM colleges by Distance Learning 2022:
Mahatma Gandhi University School of Distance Education
Sri Venkateswara University Directorate of Distance Education
Kurukshetra University
Annamalai University
India Law Society
Tamil Nadu Dr. Ambedkar Law University
Karnataka State Open University (KSOU)
Kuvempu University
Andhra University
Acharya Nagarjuna University
Berhampur University
Kakatiya University
Acharya Nagarjuna University Centre for Distance Education
Bhuvaneshwari Correspondence College
Kakatiya University
Pondicherry University
Sri Padmavati Mahila Visvavidyalayam
The Dr. Ambedkar Law College
Check: Is one year LLM Program scrapped by BCI?
There can be other universities offering LLM PG correspondence. However, you must be sure if they offer a valid LLM course completion certificate.

NLSIU's Best Distance Learning LLM Programs
These programs are provided in the hybrid online format for 1-2 years at NLSIU.
Master of Business Laws (P.G. Degree) [2 years program] – MBL
One year Post Graduate Diploma in Human Rights Law – PGDHRL
One year Post Graduate Diploma in Medical Law and Ethics – PGDMLE
One year Post Graduate Diploma in Environmental Law – PGDEL
One year Post Graduate Diploma Intellectual Property Rights Law – PGDIPRL
One year Post Graduate Diploma in Child Rights Law – PGDCRL
One year Post Graduate Diploma in Consumer Law and Practice – PGDCLP
One year Post Graduate Diploma in Cyber Law & Cyber Forensics – PGDCLCF
Check: What are the Eligibility Criteria to pursue LLM?
If you satisfy the eligibility criteria, you can apply for the specializations offered below:
| | | |
| --- | --- | --- |
| Contract Law | Banking Law | Corporate Law |
| Industrial Relations Law | Environment Law | Investment Laws |
| Insurance Laws | International commercial transactions and foreign trade | Jurisprudence |
| Enforcement of Human rights | Law and enforcement of Human Rights | Law and legal systems |
| Law and Health | International environment law | Copy rights and designs |
| Trademarks and geographical indications | Child Rights | Consumer protection law |
| Regulatory Authorities | Mediation & Drafting | Cyber Technology |
| Cyber Wrongs & Cyber Laws | Law of Cyber Crimes and Cyber Forensics | Legal Aspects of Cyber Space etc. |
Check: Is pursuing LLM necessary?
LLM through Correspondence Eligibility Criteria 2022
The common eligibility requirement to obtain an LLM program is as follows:
If you have passed an LLB from a recognized university, then you are eligible to seek admission to the LLM course.
Note that eligibility requirements may differ for each law school. Visit the respective website of the law school to know more about the admission process.
Check: Best CLAT PG Online Coaching 2023
LLM through Correspondence Benefits
LLM through Correspondence fees is less compared to regular mode, and the course can be done within INR 50,000 or less.
It is considered a great option if you are working already and want to increase your skills and qualifications.
If the program is accepted by UGC and BCI, you will have great career opportunities and better earning potential.
You don't have the hassle of purchasing books as the college usually sends the books online.
Check: CLAT PG Mocks 2023