How to attempt CAT in NIFT 2024
In NIFT 2024, there are some noteworthy changes. With the new notification, NIFT 2024 has taken a big U-turn. You will be taking the NIFT exam from your home this time around! Yes, it's true.
Keeping the safety measures in prime focus, IIT Bombay has decided to conduct the NIFT exam online in remote proctored mode on February 6.
Now, since the NIFT 2024 Exam will be conducted online from remote locations, there is a particular set of NIFT Exam Day Instructions: rules and regulations to ease the invigilation process.
NIFT Exam format for BDes and MDes admissions include Creative Ability Test (CAT) and General Ability Test (GAT).
In this article, we have talked about previous year trends, types of questions asked in the NIFT CAT part, and what should be your approach
Let us first understand some of the aspects on which you will be evaluated in the NIFT Entrance Exam 2024:
| | |
| --- | --- |
| Creativity | Use of Colors |
| Observation Power | Illustration Skills |
| Innovative | Concept Design |
Types of Questions asked in CAT part:
Transitions based questions:
For Example:
Depiction of transition
The transition of a cocoon to butterfly
Dawn to dusk
Life of Leaves
Human emotions
Life cycle
How to scratch out a saree pallu
Table lamp
2-D questions
Geometrical shapes
Traditional designs
Analogous designs
Motifs
Download NIFT Previous Year Question Papers PDF Here
NIFT 2024: How to attempt CAT in remote proctored mode
While showing transitions, the use of correct color is the key. Each of you has your approach while depicting such transitional scenes. However, The experts of creative edge recommend a thoughtful approach here.
Example: Draw Dawn to dusk.
Now, let us look at the image given below:
While many of you begin coloring from the first to the last box, considering the first box as Morning and the last box as night.
But through do you know, you could get confused with your color choice in the middle !!
Instead, if you draw the precursor and post cursor simultaneously, you won't lose track, as shown below in the image:

Things to remember while drawing and coloring:
Use correct division of space
Balance the design
Visual weight balancing
Colour balance
Connectivity and overlapping
Color connectivity
Rhythmic lines
Be ready with your arsenal: Pen, Pencil and colors
Use poster colors but do not use them in corners to avoid spills. Pencil colors can cover corners.
Be mindful with your colors and keep color, Micro liner handy
Poster color gives the advantage of variety. You can create any color by adding white or any primary color.
Use Analogous colors: 2 secondary and one primary color. Examples of Analogous colors are given below in the image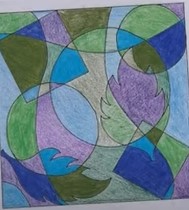 Practice with NIFT Previous Year Question Papers
As the exam will be conducted, you can keep your water during the exam.
You can take the NIFT 2024 exam from your location, and you will be in your comfort zone.
In such a situation, you must take care of strict time management.
As per the NIFT Previous Year exam trend, we have compiled one more list of topics from which maximum questions are asked in the NIFT entrance exam
| | | |
| --- | --- | --- |
| Design Theory | Color Terminology | Inspiration & Design Development |
| Color Psychology & Optical Illusions | Elements & Principles Of Design | Mood, Theme & Color Inter-relationship |
| Natural & Geometrical Form | Creative thinking & writing | Optical Illusion |
| Innovation in Design | Principles of Composition | Understanding Light & Shade |