Summary: BBA entrance exams typically ask various questions from different subject areas, including English, Maths, General Knowledge and Reasoning. This article will help you understand - What type of questions are asked in BBA entrance exam?
Bachelor of Business Administration (BBA) is a three-year undergraduate program opted after the 12th. BBA is popular among students who take the administration or business management path.
To get into the top colleges offering BBA, there is usually an entrance exam or merit to clear.
There are several entrance exams you can take that offer admission to some of the top colleges. Even though there are different entrance exams, the structure and syllabus are similar.
This article will describe what type of questions are asked in BBA entrance exam?
Various entrance exams for BBA
Here is a list of various entrance exams for BBA:
This table lists the most popular entrance exams. Many universities conduct their own entrance exams, like Manipal and IIM Rohtak.
To understand the types of questions that would appear in the BBA entrance exam, it is important to know what kind of syllabus such exams have.
Exam Name

Syllabus

DU JAT Exam Syllabus

English
Logical Reasoning
Business and General Awareness
Quantitative and Numerical Ability

IPMAT Exam Syllabus

Quantitative Ability and Aptitude
Data Interpretation
Logical Reasoning
Verbal Ability

CUET Exam Syllabus

Logical and Analytical Reasoning
Mathematical Aptitude
English
Current Affairs

NPAT Exam Syllabus

English
Quantitative and Numerical Ability
Reasoning and General Intelligence

Symbiosis Entrance Exam Syllabus

General Awareness
Logical and Analytical Reasoning
Quantitative Aptitude
General English

AIMA UGAT Exam Syllabus

Numerical & Data Analysis
Reasoning and Intelligence
General Knowledge
English

IPU CET Exam Syllabus

Arithmetic
Business and General Awareness
English Language
Reasoning and Analytical Ability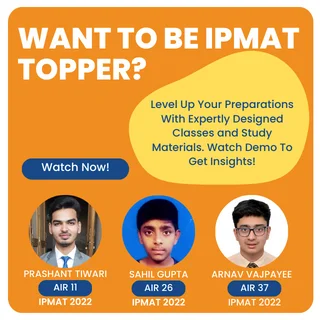 The Syllabus for all these exams has certain things in common, like the English language test, logical reasoning and aptitude, General Knowledge and, in many cases, Business and General Knowledge.
Check: Entrance Exam for BBA After 12th
What type of questions are asked in BBA entrance exam?
Depending on the exam, the syllabus might slightly change, but each topic's type of question remains quite similar.
Check: IPU BBA CET Eligibility Criteria 2023
What type of questions are asked in BBA entrance exam? - Numerical Abilities/Quantitative Aptitude
It normally consists of questions ranging from Class 6 to Class 10. This section is simple for a learner who understands the fundamentals of mathematics. Before taking the BBA admission exam, you should review your fundamentals. Some of the topics covered in the Numerical Abilities/Quantitative Aptitude portion are as follows:
Number Theory
Logarithms
Square Roots
Fraction and Decimals
HCF and LCM
Commercial Math
Data Sufficiency Test
Ratio and Proportion
Profit And Loss
Data Interpretation
Surds and Indices
Compound and Simple Interest
Simplification
Partnership
Percentage
Mensuration Area
Approximation
Volume
Quantitative Comparison
Data Comparison
Average
Discounts
What type of questions are asked in BBA entrance exam? - English
This part of the entrance exam assesses a student's command of the English language. To do well in this area, one must have a good knowledge of the English language. While studying for the entrance exam, you should concentrate on your vocabulary. Most of the questions in this section are based on vocabulary, reading paragraphs and answering relevant questions. Some of the most common types of questions appear in BBA entrance exams.
Reading Comprehension
Para-jumble
Idioms and Phrases
Fill in the Blanks
Rearrangement of words in sentences and paragraphs
Spotting errors, spelling errors and checking for inappropriate usage of words
Para Completion
Antonym, Synonym, Confusing Words
Idioms and Phrases
Analogies
Check: BBA Entrance Exam Solved Question Papers 2023
What type of questions are asked in BBA entrance exam? - Logical Reasoning/Reasoning Ability
The logical reasoning portion assesses your aptitude for business studies. It is not intended to assess your textbook knowledge but rather your general ability. This section requires preparation to score well. You can prepare for the entrance test by practising logical reasoning problems from past years' samples and practice papers. Some of the common types of questions are listed below
Number Test
Logical Diagram (Venn Diagram)
Relationship Test
Insert Missing Sequence Test
Classification (Odd Man Out) Test
Time Sequence
Coding & Decoding
Statement Arguments
Mathematical Operations
Statement Conclusion
Data Sufficiency Test
Data Arrangement Test
Logic Test
Raking Test
Statements Assumptions
Check: BBA vs BCom
What type of questions are asked in BBA entrance exam? - General Knowledge/Awareness
It is critical to be aware of what is going on around the globe, especially if you are taking a BBA entrance exam. BBA admission examinations assess both general knowledge and business knowledge. Make it a habit to stay current by watching news channels and reading newspapers. Pay close attention to the subjects covered in this section.
Business and General Awareness
Computer Science
Trade awareness of the world and India
Geography
Awards
Economic Study
Current Affairs
General polity
History
Please note that the types of questions are not only limited to this. Some exams may have scope for topics and questions beyond the ones given here. You should check the syllabus for the specific entrance exam you are preparing for.
Check: Preparation Strategy for BBA Entrance Exams in India
Conclusion
The entrance exam for BBA exams is not very difficult. Most topics are basic concepts, and with enough practice, scoring good marks on the exam is easy. The competition might increase depending on your chosen entrance exam, but the difficulty level remains more or less the same.
Check: Career After BBA