Summary: This article explores some of the iconic buildings and the architectural details about them. Let's examine the list of Top 20 Buildings for Architecture Exams!
Explore the 20 Most Famous And Iconic Buildings in the World, as well as the reasons for their fame and iconic status, via inspiration and ideas! At least once in your life, be sure to visit a few of these renowned locations brimming with the most outstanding architectural art.
If you are aspiring to pursue architecture courses in top colleges across India, then clearing the entrance examinations is a must.
These building details will be helpful for your architecture exam preparation. Some of the top architecture exams are NATA, JEE Main Paper 2, and many more.
Top 20 Buildings for Architecture Exams
Check out the Top 20 Buildings for Architecture Exams listed below:
Asian Games Village

The Asian Games Village is located near Hauz Khas in New Delhi, India, in the Siri Fort area. The location was built like an athlete village during the Asian Games in New Delhi in 1982 created by Raj Rewal. In the Games series, the town is the first of its type.
This residential area was built on the ruins of the 15th century Khilji Dynasty's Siri Fort over 800 acres (3.2 km2).
Palace of Assembly

In Chandigarh, India, the Palace of Assembly is a legislative assembly building. Le Corbusier, a modernist architect, designed it. The Legislative Assembly, Secretariat, and High Court are all part of the Capitol Complex. A circular assembly chamber, a venue for discourse and commerce, and stair-free circulation are all elements of the Palace of Assembly.
Lotus Temple

Fariborz Sahba constructed the Lotus Temple in Delhi, India, in December 1986 as a Bahá House of Worship. It has become a popular tourist destination in the city due to its flowerlike form. The Lotus Temple, like all other Houses of Worship, is available to everyone, regardless of their faith or other qualifications.
Check: Career Options in Design and Architecture
Bharat Bhavan
The Government of Madhya Pradesh created and sponsored Bharat Bhavan, an autonomous multi-arts complex and museum in Bhopal, India. Charles Correa is the designer of the Bharat Bhavan. It contains various art galleries, a graphic printing factory, a ceramics workshop, an open-air amphitheatre, a studio theatre, an auditorium, and a tribal art and culture museum. It was founded in 1982 and faced the Upper Lake in Bhopal.
Embassy of Belgium
Belgium's diplomatic representation to India is housed in the Belgian Embassy in New Delhi. Shantipath, Chanakyapuri is the location of the embassy. India, Sri Lanka, Bangladesh, the Maldives, Bhutan, and Nepal are all covered by the Belgian Embassy in New Delhi as designed by Satish Gujral.
Check: Best Books for Architecture Entrance Exams 2024
Brooklyn Bridge
The Brooklyn Bridge spans the East River between Manhattan Island and Brooklyn, Long Island, in New York City, and is a hybrid cable-stayed/suspension bridge. With a primary span of 1,595.5 feet (486.3 metres) and a deck 127 feet (38.7 metres) above mean high water, it was the world's longest suspension bridge at the time of its opening.
The bridge was previously known as the New York and Brooklyn Bridge or the East River Bridge, but in 1915 it was formally renamed the Brooklyn Bridge.
Early 19th-century proposals for a bridge linking Manhattan and Brooklyn were made, eventually leading to the building of the present structure, designed by John A. Roebling.
Tube House
Ahmedabad's "Tube" home took first place in an all-India competition for low-cost housing. These are row homes with a high density without sacrificing living room size. The apartments have no doors.
Burj Khalifa
Prior to its inauguration in 2010, the Burj Dubai was known as the Burj Khalifa, a skyscraper in Dubai, United Arab Emirates. The Burj Khalifa is the world's tallest structure and skyscraper, with a total height of 829.8 m and a roof height of 828 m (2,717 ft) (excluding antenna). It was designed by Adrian Smith.
Check: Best Architecture Schools in India That You Should Target
Connaught Palace
Connaught Place (formally Rajiv Chowk) is one of New Delhi's most important financial, commercial, and business districts. Connaught Place, CP, and Rajiv Chowk are all colloquial terms for the same area. It is a large retail, nightlife, and tourism attraction in New Delhi, housing the headquarters of numerous well-known Indian companies. Robert Tor Russell was the designer.
Petronas Towers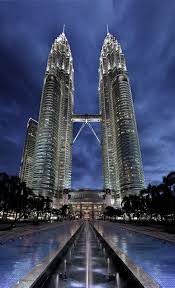 The Petronas Towers are twin buildings in Kuala Lumpur, Malaysia, that stand 170 metres above the ground. The structures, which held the title of world's highest between 1998 and 2004, are a symbol of the capital city.
Under the guidance of JC, architects Cesar Pelli and Achmad Murdijat, engineer Deejay Cerico, and designer Dominic Saibo developed the distinctive postmodern style.
Check: Is NATA necessary for Architecture 2024?
Eiffel Tower
On the Champ de Mars in Paris, France, the Eiffel Framework is a wrought-iron lattice tower. It is named after Gustave Eiffel, an engineer whose firm planned and built the tower. It was built from 1887 to 1889 and was first criticised by certain French artists, but it has since become a global cultural icon of France and one of the most popular tourist spots in the world.
Hiranandani Garden
Hiranandani Gardens (or simply Hiranandani) is an upmarket township in Powai, Mumbai, consisting of condominiums, penthouses, bungalows, and commercial complexes. Hiranandani was built by the Hiranandani Group and is accessible from both the north and south via JVLR and LBS Marg.
Check: Sir JJ College Architecture Cut Off Marks
Jawaharlal Nehru Stadium
In New Delhi, India, Jawaharlal Nehru Stadium is a multi-sports venue. It was given that name in honour of India's first Prime Minister. It is an all-seated 60,254-capacity stadium that was planned and built to satisfy the international criteria for stadiums stipulated by the International Federation of Association Football (FIFA), the Asian Football Confederation (AFC), and the International Olympic Committee (IOC).
High Court
On October 31, 1966, the Delhi High Court was founded. Chief Justice K. S. Hegde, Justice I. D. Dua, Justice H. R. Khanna, and Justice S. K. Kapur were among the four justices that founded the High Court of Delhi. At the moment, the High Court has 45 regular justices and 15 extra judges on its roster.
Check: List of Design and Architecture Entrance Exams in India
Kanchenjunga Apartments
The Kanchanjunga Apartments were built by Indian architect Charles Correa. The 32 luxury apartments are located southwest of downtown in an affluent suburban environment, representing the features of the highest tier of society within the neighbourhood, in Mumbai, the US equivalent of New York City in terms of population and variety.
LIC Building
Charles Correa built the LIC building in Connaught Place in 1986. The LIC building is the sole landmark in Connaught Place that provides a sense of direction. With a glass façade and a space frame construction, the outside walls are covered with red Agra sandstone.
Check: Jobs after Architecture JEE Main Paper 2
Parliament House
The Indian Parliament is housed in the Parliament House in New Delhi. It is located on Sansad Marg, which spans the Central Vista and is surrounded by the India Gate, war memorial, prime minister's office and home, cabinet buildings, and other administrative divisions of the Indian government, at a distance of 750 metres from Rashtrapati Bhavan.
The structure was built between 1921 and 1927 and was designed by British architects Sir Edwin Lutyens and Sir Herbert Baker.
Rashtrapati Bhavan
The Rashtrapati Bhavan or Presidential Palace (formerly Viceroy's House and subsequently Government House) is the President of India's official home, located on Rajpath in New Delhi, India. Rashtrapati Bhavan may refer to simply the 340-room main structure, also known as the mansion, which houses the president's official home, including reception halls, guest rooms, and offices.
Check: Architecture Entrance Exams After 12th
World Trade Centre
The first World Trade Center was a huge complex of seven skyscrapers in New York City's Lower Manhattan's Financial District. It was first inaugurated on April 4, 1973, and was demolished after the September 11th attacks in 2001. The World Trade Center was a symbol of New York City during its time. It had a significant part in popular culture, with 472 films depicting it, according to one estimate.
Taj Mahal
The Taj Mahal was created by Mughal Emperor Shah Jahan and is known as India's "jewel of Muslim art." This renowned structure, which is sometimes mistaken for a palace, was actually erected as a mausoleum for the Emperor's wife after she died giving birth to their 14th child.
The Taj Mahal is considered one of the most beautiful examples of Mughal architecture, which combines Persian, Turkish, and Indian influences.