Summary: Are you interested in pursuing a career as a graphic designer? You don't need a degree in graphic design to become a successful graphic designer, but you should take some key steps to ensure success. This article answers the question - How to become a Graphic Designer 2023?
Are you an aspiring artist or designer looking to get into graphic design? Then you've come to the right place! Graphic design is a great profession for creative people who are passionate about art.
Graphic design is an ever-evolving profession that requires a combination of creativity, technical skill, and an eye for detail.
In this guide, we'll explain how to become a graphic designer, from the essential skills to the best ways to make a name for yourself in the industry.
So, if you're ready to start your journey, let's get started!
What is Graphic Design?
Graphic design is a creative process that combines art and technology to communicate ideas and information. It creates a visual representation of a message, idea, or product. Graphic design is used in various industries, including advertising, publishing, fashion, film, television, and video games.
Graphic design involves creating visual elements such as logos, illustrations, layouts, and typography to convey a message or create an experience.
Graphic designers use various design tools, such as software programs, to create these elements.
They must also have an understanding of colour, composition, and the principles of design.
Check: Is Fashion Designing a Good Career in India 2023
How to Become a Graphic Designer 2023?
Graphic design is an important part of today's visual culture. It is used to create engaging experiences and convey complex ideas in a way that is both attractive and easy to understand. Graphic design can create a powerful impression and influence people's opinions and behaviour.
Here are steps to How to become a Graphic Designer 2023?
1. Learn the Basics
Before diving into the graphic design world, educating yourself on the basics is important. Familiarize yourself with design software such as Adobe Photoshop and Adobe Illustrator, as well as the principles of design such as colour theory, typography, and layout. You can get the basics right by taking online courses, reading tutorials, and exploring the work of other designers.
You can find courses to learn the following concepts:
Introduction to Graphic Design
Photoshop
Illustrator
InDesign
Typography
Branding and Identity Design
Colour Theory
Digital Imaging
Layout and Composition
Vector Graphics
Interactive Design
Web Design
Motion Graphics
Packaging Design
3D Modeling
Photography
Printmaking
Video Editing
User Experience Design
UI Design
Check: What does Fashion Designer do?
2. Develop Your Style
Graphic design is all about creating visuals that capture the attention of your target audience. As such, it's important to develop your unique style of design. Experiment with different mediums and techniques and determine what works best for you. Keep an eye on the latest design trends and use them to inspire your work.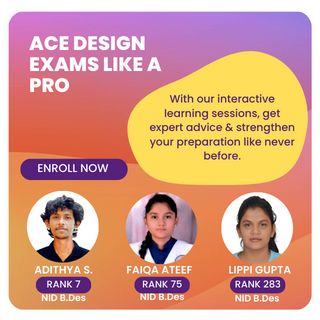 3. Network
Networking is an important part of any profession but essential in graphic design. Connect with other designers, join design communities, and attend industry events. This will allow you to show off your work, find potential clients, and gain valuable insights from other professionals.
Check: Career in Fashion Designing
4. Build a Portfolio
A portfolio is essential for any graphic designer. It's a great way to showcase your skills and demonstrate your capabilities to potential clients. You should create an online portfolio highlighting your best work and making it easy for people to view and contact you.
5. Market Yourself
Once you have a portfolio and some experience, it's time to start marketing yourself. Create a website, create social media accounts, and use them to promote your work. Take advantage of freelance sites and job boards to find potential clients. Participate in design contests and take on pro bono projects to build up your skills and your portfolio.
Skills Required to be a Graphic Designer
Here are how to become a great graphic designer. Let us check the various skills required to be a Graphic Designer:
Soft Skills Required for Graphic Designers
Creativity
Communication
Strategy
Problem-solving
Time management
Check: What does Fashion Designer do?
Skills required for Graphic Designing
Graphic design is used to create both physical and digital products. Examples of physical products include books, magazines, packaging, posters, and signage. Digital products include websites, mobile applications, and animations. Graphic designers work with clients to create products that reflect their brand and communicate their message effectively.
Here are the skills required to be a Graphic Designer:
Creative thinking and problem-solving
Adobe Creative Suite
Color theory
Photography
Typography
Drawing and sketching
Print and web design
Digital illustration
User interface design
Animation and motion graphics
Different fields in Graphic Design
Brand Identity Design: Brand identity design develops a unique and recognisable visual style that communicates a brand's values, purpose, and personality. It involves creating a logo, typography, colour palette, and other visual elements that will be used consistently across all media outlets to create a recognisable presence for the brand.
Marketing and Ad Design: Marketing and ad design are essential for businesses to create engaging and effective campaigns. By combining creative visuals with a well-crafted message, businesses can create memorable advertisements that will help them reach their target audience and drive sales.
Packing Design: Packing design should be creative, eye-catching, and easy to read and understand. Bold colours and clear labelling can help make your product stand out on the shelf and draw in customers.
Print Design: Print design is important to any successful business strategy. It is an effective way to create tangible materials that can be used to draw attention to your brand and reach potential customers. Print design can range from simple flyers and brochures to more complex business cards, posters and packaging.
Check: How to learn Fashion Designing at Home 2023
UI/UX Design: UI/UX design creates user-friendly and aesthetically pleasing interfaces that are easy to navigate and interact with. It involves research, testing, and creative problem-solving to create interfaces that provide an optimal user experience.
Graphic illustration: Graphic illustration is a powerful visual tool to communicate ideas and concepts creatively and meaningfully. Using shapes, colours, and textures, graphic illustrations can bring stories to life and provoke viewers' emotions.
Lettering and Type Design: Lettering and type design are essential graphic design elements. Lettering is an art form of creating unique and aesthetically pleasing letters that are custom designed. In contrast, type design creates typefaces and fonts for digital and printed media use. Both elements are essential components of creating effective and visually appealing designs.
Check: Who is the best Fashion Designer in India?
Graphic illustrations: Graphic illustrations can help to communicate complex ideas effectively and engagingly. They can also capture attention and bring stories to life, allowing readers to experience something beyond words.
Data Visualisation: Data Visualisation transforms raw data into meaningful visuals that can be interpreted quickly. It is an effective way to communicate information and uncover valuable insights from data.
Conclusion
By following these steps on how to become a Graphic Designer 2023? you can become a successful graphic designer.
Remember to stay creative, network, and market yourself; you'll be on your way to a successful career.