Summary: If you are one of those students not looking for a traditional career path in engineering or medicine, fashion designing is one good option. If you are wondering - Is Fashion Designing a Good Career in India? Find the answer here!
Fashion designing is a popular career choice in India, and the industry shows no signs of slowing down.
With its ever-growing demand in India, fashion designing has become a viable and attractive career option for many.
It offers a wide range of opportunities to those looking to explore their creativity and succeed in the fashion industry.
This article will delve into the different aspects of fashion designing and discuss - Is Fashion Designing a Good Career in India?
Is Fashion Designing a Good Career in India?
Let's understand is Fashion Designing a good career in India? and its benefits
Fashion designing is one of the most sought-after careers in India today. It has become a popular choice among students with an eye for fashion and style.
Several Opportunities
The Indian fashion industry is growing tremendously, and fashion designers have several opportunities to make a name for themselves.
Wide range of design fields
Fashion designing offers a wide range of creative opportunities.
Fashion designers have the opportunity to express their creativity through the creation of clothing and accessories. It also allows them to work with various materials and fabrics and explore different styles and trends.
Increasing Brands
Fashion designers have the chance to work with leading fashion labels, as well as up-and-coming designers.
This allows them to create unique and innovative designs that will help to set them apart from other designers.
They can also develop a portfolio of their work, which can be used to demonstrate their skills to potential employers.
Check: Career in Fashion Designing
Good Salary
In addition to the creative possibilities, fashion designing also offers a good salary.
Fashion designers can earn a comfortable living simply by creating clothing and accessories for different fashion labels.
This is a great way to make a living and enjoy a successful career in the fashion industry.
Check: How to Create an Effective Fashion Portfolio as a NIFT Student
Latest Trends
Fashion designing is not only an exciting and rewarding career, but it is also a great way to stay up-to-date with the latest trends.
Fashion designers attend fashion shows and industry events to stay abreast of the latest trends.
They can also network with other designers and industry professionals, opening various career opportunities.
Check: NIFT Fashion Designing Courses 2023
Many fashion design colleges
For those interested in pursuing a career in fashion design in India, various educational options are available.
Many fashion design schools, colleges, and universities offer courses in fashion design.
Those who pursue a degree in fashion design will find that it is an excellent way to gain the necessary skills and knowledge to pursue a career in the fashion industry.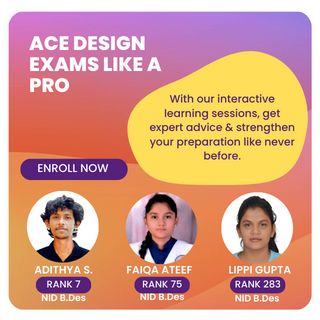 Scope of Fashion Designing in India
The need for fashion experts has grown dramatically due to the emergence of numerous fashion e-commerce businesses like
Myntra, Amazon
Jabong
Flipkart
Voonik
Limeroad etc
Also, the nation has several flourishing local fashion centres and giving the Indian fashion industry a significant boost. The business has also consistently gotten support from various fashion journals and media.
With wild globalisation, the potential for fashion design in India is enormous, especially considering the aforementioned allied fields.
At the finest regarded institute in India, JD or NIFT, any student with a creative mind may now pursue fashion as a career and become a professional star.
Check: NIFT MFM Exam Pattern 2023
Fashion Designing Career Prospects in India
Here are some Fashion Designing Career Prospects in India:
1. Growing fashion industry
Fashion designing is an exciting and rewarding career, and India is emerging as an important hub for the fashion industry. With Indian culture and traditional artistry being embraced by all, the fashion industry is one of the fastest-growing sectors in India. India is home to many fashion designers, from the high-end to the small-scale.
Check: Scope of Fashion Technology through NIFT
2. Opportunities for small scale designers
From traditional weavers and tailors to the latest digital designers, the fashion industry in India is diverse and vibrant.
Various career opportunities are available in fashion design in India, ranging from designing clothes and accessories to pattern making, styling, fabric selection and more. With the growing fashion industry, there is a huge demand for creative minds with an eye for detail.
Check: How to Prepare for the NIFT Situation Test 2023
3. More lucrative career options in trend
The fashion industry in India is also growing exponentially, making it one of the most lucrative career prospects in the country.
Many fashion designers in India have become household names, and many others have made a name for themselves in the international fashion industry.
The fashion industry in India is also becoming increasingly competitive, making it important for aspiring fashion designers to be well-equipped with the knowledge and skills required to succeed.
With a good mix of creativity and business sense, fashion designers in India can go a long way in making a mark in the industry.
Check: NIFT Drawing Questions
4. Several branches of fashion design offer employment
In addition to the career prospects in fashion design, there are many other industry opportunities, such as fashion journalism, fashion blogging, fashion event management and more. With the right qualifications, potential and dedication, anyone can make it big in the fashion industry in India.
Salary offered in fashion design fields
Average fees for fashion designing in India vary per specialisation and college.
The fees may depend on the institute and the course duration too. Most of the institutes also offer part-time and correspondence courses.
The average cost of a fashion design course is between INR 9,000 and INR 3,000,000.
This is the average salary to expect in a fashion design career:
| | |
| --- | --- |
| Level of Experience | Average Salary Per Month |
| Entry-level | INR 10,685 |
| Mid-career | INR 36,700 |
| Senior-level | INR 51,600 |
| Late-career | INR 56,900 |
Check: Fashion Technology from NIFT
Conclusion
Fashion designing is a great career option for those with an eye for fashion and style. With the right education, creative eye and training, fashion designers can succeed in the Indian fashion industry.