Reader's Digest: Planning to become a civil Judge but have no idea about the profession? Don't know about the perks and challenges it includes? Well, we have got you covered. Here you will find everything you need to know about this profession. 
Hey there, fellow law enthusiasts! Have you ever wondered who exactly a civil judge is and what they do in the complex world of the legal system?
Grab a cup of coffee, and let's embark on a little quest together to unravel the mystery behind the role of a civil judge and discover how they help shape our society. Trust us; here are doubts of students on what is a civil judge:
Who exactly is a civil judge?

A civil judge is a judicial officer responsible for presiding over civil cases, ensuring fair trials, and interpreting and applying the law.

What kind of cases do civil judges handle?

Civil judges handle non-criminal disputes, such as contract disputes, property disputes, and family law matters.

Are there any prerequisites to becoming a civil judge?

Aspiring civil judges typically need a law degree and relevant legal experience and must pass a competitive examination or selection process.

How do civil judges contribute to society?

Civil judges play a vital role in maintaining social order by resolving disputes, interpreting laws, and ensuring justice is served in civil matters.
Who is a Civil Judge? 
A Civil Judge is an important persona responsible for rendering crucial judgments in the court. The Civil Judge makes the final call and has the most power in court. Apart from the jury room, other responsibilities include, among other things, researching laws. 
The state appoints civil judges after they go through certain stages of examination. These Judges play a crucial role in upholding justice and protecting the right of the citizens. 
Civil judges are important in the legal hierarchy because they are responsible for trials, setting penalties, and giving out judgments. Also, they can dismiss a case and protect the rights of the individuals.
Writing off the cases at the District/State levels without a civil judge won't be possible. Also, civil judges are appointed at both District and High Court.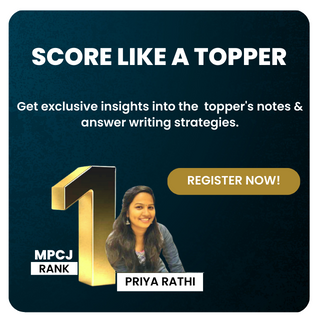 What are the Roles & Responsibilities of a Civil Judge
The role of civil judges is not packed with benefits but also responsibilities they need to fulfil. So, if you are looking forward to acquiring this position, you must know the career trajectory of a civil judge:
Presiding over civil cases in court: A civil Judge is responsible for discussing, hearing the arguments, analyzing, and finally giving judgment over the civilian cases brought in the court by the applicants. 
Applying and interpreting the law to resolve disputes: A civil judge is responsible for applying for the laws and orders and using them in the right context to resolve the issues presented to him in the courtroom. For that, you must have a thorough knowledge of the Indian constitution.
Decision Making: Making decisions on damages, compensation, etc. Issues like contract disputes, property disputes, medical malpractice, and other such cases are often brought up in Civil Court. A civil judge is responsible for deciding these matters according to the prescribed law. 
Ensuring fair and impartial trials: The court is responsible for ensuring justice. Civil Judges are responsible for making a fair and impartial judgment after a careful trial. Only then can they be considered as someone performing their duty rightfully. 
Maintaining order and decorum in the courtroom: Civil judges are responsible for maintaining the peace and decorum of the courtroom while handling cases. They must maintain the protocols and discipline to avoid chaos during decision-making. 
 Other Minor Roles of a Civil Judge 
A civil judge records the evidence of both sides' witnesses.
A Civil Judge records the allegations made by both sides that are suing and being sued.
A civil judge makes decisions determined by the evidence and testimony given.
A civil judge decides whether the defendants are guilty or innocent.
A civil judge instructs the jury and determines the penalty for the party who committed the crime.
Qualifications and Requirements to Become a Civil Judge
Before you become a civil judge, you must fill in certain Judiciary eligibility criteria like education, age, Nationality, and other mandatory parameters mentioned below. 
Educational Qualifications
You must have a law degree issued by the University recognized by the UGC and BCI. 
You need to have no remaining paper for your appearance. In other words, your results should incorporate a score for all previous exams with no carryover.
You must have gotten it three years before the submission deadline. 
Furthermore, your score may climb by more than 50% but may not decline by more than 45% (due to the final restriction). 
Age Limit
For the Civil Judge position, attorneys must be continuously practising.
They must be under age 35 at the point of appointment (General), whereas applicants from SC/ST must be under age 40. 
Every category's minimum age for new law graduates is 22 years.
Nationality
You must be of Indian origin and have at least one government certificate establishing it.
Also, if you are a domicile candidate of any state, carry your residential credentials.
Domiciles are given preference over contenders from other states.
Other Criteria
Apart from the criteria listed above, you need to ensure a few more qualities in you, or you might fall into a questionable situation. What are they? Let's know it below:
You should only have a single partner at one point in time. If you haven't dissolved your first spouse by the time you marry your subsequent spouse, the application will be considered null and void.
If you were a government employee and prevented from taking government examinations or positions. 
If you are prohibited from the rolls by any bar or council, you will not be eligible for the position of District Judge.
If your documents are discovered to be counterfeit or obtained illegally, your candidature will be revoked.
Read More - Most Important Essay Questions for Judiciary Exams
How to Become a Civil Judge: Complete Process
Becoming a civil judge is a long and tedious process. It Includes several stages you must clear before getting appointed as a civil judge. Here we have discussed it all in detail.
Preliminary Exam
This is the first stage you will come across.
The preliminary exam is considered a qualifying examination.
The questions in this examination generally have a weightage of 1 mark and a penalty of 0.25 marks and cover topics like reasoning, Current affairs, GK, language, and Comprehension. 
| | | |
| --- | --- | --- |
| Particulars  | Maximum Marks  | Time Limit  |
| Prelims Examination  | 100 | 3 hours  |
Judiciary Mains Paper
In addition to 15 MCQs, the remaining topics are subjective.
It is divided into three sections, the first of which contains MCQs, the second of which has short-answer questions, and the third of which contains some long-answer questions. 
To advance to the Interview rounds, you must qualify for each paper separately. 
Each paper will give you three hours to prepare. 
You must learn the answer writing tips for Judiciary Mains Exam to boost your score.
| | | |
| --- | --- | --- |
| Criterion  | Aggregate Score  | Time Duration  |
| Language Translation  | 100 | 3 hours |
| Law 1 | 100 | 3 hours |
| Law 2 | 100 | 3 hours |
| Law 3 | 100 | 3 hours |
​​​Judiciary Exam Viva Round 
Types of Cases Handled by Civil Judges
Being a Civil Judge, you will get to handle cases of different natures. It makes this profile more versatile and challenging than it seems. So what kind of cases does a civil judge have to handle? Check it out. 
Contract disputes: 
A contract dispute is a situation where both parties are about to agree to have some dispute over the terms and conditions mentioned in the documents. The civil judge is responsible for resolving it according to the contract law. 
Property disputes: 
In India, a property disagreement is a legal disagreement about property. Property disputes account for around 66% of all cases in India.
It is solved under the property and family settlement law. Hence, a Civil Judge has to conduct a thorough investigation and resolve the same. 
Family law matters:
Family law is a set of regulations that govern relationships between families, encompassing marriage and divorce, child care, and associated economic issues.
Wardship and illegality in marriage are two connected subjects. Legalization via an attorney in the absence of parents. A Civil Judge makes decisions in these cases too. 
Personal injury cases:
Cases involving personal injury are judicial problems that develop when an individual suffers damage due to an accident or injury, and another person may be legally accountable for the damage or tort.
Employment disputes, etc.
an official squabble involving an employer and a staff member, usually about the staff member's rights, counts as an Employment dispute and comes under the marking of a Civil Judge. 
Civil Judge: Perks & Benefits
Now here comes the best part of being a Civil Judge. The perks and benefits of a Civil Judge make it one of the most desired and prestigious jobs. What are those perks? Know here:
Enhanced Reputation: Being a civil judge, you can enjoy power and prestige within the social structure. Hence, it makes it one of the most desired jobs among law aspirants. 
No Office Burden: The position's autonomy has been presented to a civil magistrate. This implies that the judge is in charge of the Judiciary and retains freedom in its administration while remaining subject to the operational and supervisory power of the higher Court.
Handsome Salary Package: The Salary of a civil judge is equivalent to the IAS and IPS, which ranges between INR 60,000 to INR 80,000. This salary also has some additional perks like pension plans. Hence, it is good to have a job as a Civil Judge. 
Life Insurance and Additional Perks: Along with their high pay, any judicial administrator has the right to a government flat, a car, covering for phone and power charges, a travel reimbursement, life and medical insurance, and so on.
Workshops and Training: Upon being selected for the services following a hard three-stage process, a newly hired Civil Magistrate must complete a difficult 11-12 month training program under the guidance of the Judiciary Institute.
During this period, the collective of new officials attended classes and workshops given by famous lawyers to become acquainted with the realities and judicial processes in the sector. They are educated on the nuances of the field of forensics, the procedure of an investigation conducted by the police, and so on.
Following this, the freshly appointed magistrate will take several department examinations before proceeding with the case.
Don't Miss - How to Crack Civil Judge Examination
The Downside of Being a Civil Judge 
Being a judge doesn't only come with perks and benefits. It has certain Downsides and Challenges which a Civil Judge requires to face. Here we have listed those situations you might face, and of course, you have to know the best way to handle them!! 
Heavy workload and a backlog of cases.
Dealing with emotional and contentious cases.
Balancing the interests of both parties.
Managing time and resources effectively.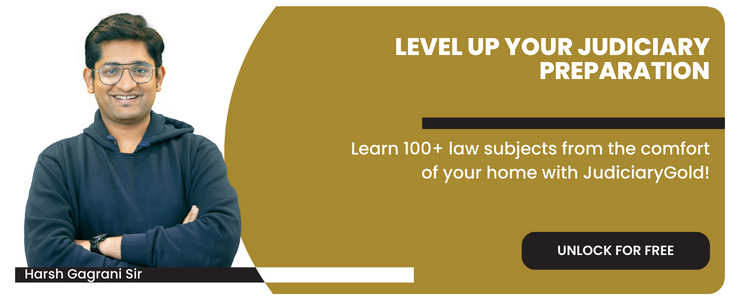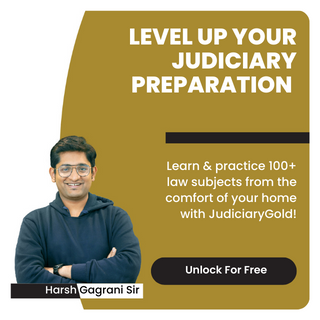 Conclusion
Now you must have understood who a civil judge is and the perks and drawbacks associated with Civil judges. Also, you must have received an overview of the role, responsibilities, and power that a Civil Judge can exercise. From here, we wish you all the best in becoming a Civil Judge, Good luck!! 
A law is valuable not because it is a law but because there is "right" in it.  - Henry Ward Beecher