Summary: You'll learn about the IPM scholarships Indore and education loan options available. The scholarships are based on financial needs and academic performance, while banks can offer education loans. Exploring these opportunities and understanding the eligibility criteria and repayment terms is important.
Are you dreaming of studying at the prestigious Indian Institute of Management (IIM) Indore? The cost of education can be a significant hurdle for many students. But don't worry, IIM Scholarships Indore offers in the form of financial assistance to make your education more affordable. Let's explore the various IPM scholarships available at IIM Indore and how they can support you.
Read more IPMAT Placements 2024
IIM IPM Scholarships Indore Programs
1. Need-Based Financial Assistance (NBFA) Scheme:
At IIM Indore, we understand the importance of providing financial aid to participants who require assistance. The Need Based Financial Assistance (NBFA) scheme aims to ensure that no participant is deprived of education at our institute due to financial reasons.
Eligibility Criteria for NBFA
If you have been admitted to the Post-Graduate Programme in Management (PGP), PGP HRM (PGPH), or Integrated Programme in Management (IPM) at IIM Indore, you may be eligible to apply for financial aid through the NBFA scheme. To qualify, your annual family income should be below INR 9,00,000.
Application Process for NBFA
To apply for the NBFA scheme at IIM Indore, you need to follow a simple process. Eligible applicants can obtain the prescribed application form from the PGP/IPM Office. It is important to use the form provided by the respective office. If you have applied through the EWS quota but secured a seat through the general or any other quota, you can still apply for NBFA. Participants who have applied through the SC, ST, OBC, or physically handicapped quota and meet the eligibility criteria can also apply.
Read more Which IIMs Are Going To Start The IPM?
2. Central Sector Scholarship for SC/ST Students
This scholarship is awarded to students whose parents' annual income in the previous financial year is less than INR 4,50,000. It covers various expenses such as tuition fees, non-refundable charges, lodging and boarding charges, books and stationery charges, as well as the cost of IT equipment for the first year through reimbursement.
3. Minority Welfare Scholarship (Merit-cum-Means)
The Ministry of Minority Affairs, Government of India, awards this scholarship to students whose family income does not exceed INR 2,50,000 per annum.
4. Post Matric Scholarship for Minorities:
Under this scholarship, eligible students can receive full fee reimbursement for their studies at IIM Indore.
Read more Life at IIM Indore - Campus Review, Hostels, Events

5. Other Scholarships Offered by Private Corporations:
IIM Indore also collaborates with various private corporations to provide additional scholarships. Some of these scholarships include:
Academically strong students in the first year can receive this scholarship, and if they rank among the top 25 students based on their CGPA, they can continue receiving it in the second year as well. The scholarship amount is INR 1,75,000 per year.
Top 20 students from the second year, based on their first-year CGPA, are eligible to apply for this scholarship. Selected students need to clear a written test and sit for a personal interview. The scholarship amount is INR 1,25,000.
SBI offers a merit-based scholarship on a yearly basis, provided there is a qualifying student. The scholarship amount is INR 1,50,000.
This scholarship is awarded to a deserving student and provides an amount of INR 50,000 every year.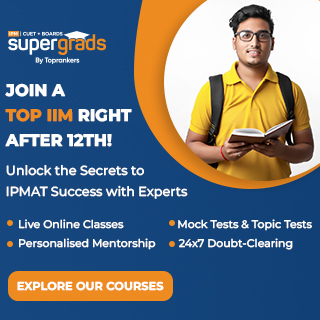 Read more How to Crack IPMAT
Conclusion
IIM IPM scholarships Indore are designed to make quality management education more accessible to students like you. The Need-Based Financial Assistance, Merit cum Means, and SC/ST Need-Based scholarships consider your financial needs and academic performance. Alongside scholarships, exploring education loan options can help you finance your education journey at IIM Indore. Don't let financial constraints hold you back—apply for scholarships and make your dreams a reality.
Read more Reasons to Choose IPM after Class 12