Summary: CUET legal studies admit students into bachelor's in law programs in various central universities across India. This comprehensive guide explains how to prepare for CUET legal studies.
CUET Legal Studies Preparations is a comprehensive guide to help you prepare for legal studies examinations.
It provides an overview of the legal concepts, other components, guidance on approaching the exam, what topics to study, and strategies to score well.
CUET Legal Studies reference books include practice questions and guidance to crack the CUET exam.
With this guide, you can build a strong foundation of knowledge and develop the skills necessary to succeed in your exams.
How To Prepare For CUET Legal Studies
Check the CUET Legal Studies preparation tips below.
CUET Legal Studies
Familiarize yourself with the syllabus and CUET exam pattern: Ensure you know the syllabus, structure, duration and other details of the CUET Legal Studies exam. Familiarize yourself with the topics covered and the weightage of each.
CUET Legal studies reference books
Read CUET books and study materials: Read up on the topics covered in the exam. Refer to books and study materials for a more in-depth understanding of the topics.
CUET (Legal Studies) Exam Practice Set Book (Hindi)
CUET (Legal Studies) Exam Objective MCQ in Hindi (Book) + (FREE) Online Mock Test Series
CUET (Legal Studies) Exam Practice Set Book (English)
Important Legal Studies concepts
Build a strong foundation in the core topics: Make sure you have a strong foundation in the core topics of law, such as constitutional law, criminal law, civil law, international law, etc.
Units to cover
Judiciary
Topics of Law
Arbitration, Tribunal Adjunction, and Alternative, Dispute and Resolution
Human Rights in India
Legal Profession in India
Legal Services
International Context
Legal Maxims


Mocks test and the previous year's paper
Practice mock tests: Practicing mock tests is a great way to understand the exam and how effectively you can manage your time in the exam.
Solving mocks for CUET Legal Studies is important because it helps you become familiar with the actual exam pattern and syllabus.
Mock papers allow you to practice various topics you may need to answer in the exam. Regular practice lets you identify and understand your weaknesses and find ways to improve them.
This will help you to score better in the actual exam. Furthermore, mock papers also help build confidence and reduce anxiety, which is essential for performing well in the exam.
Check: CUET 2024 Exam Pattern For NIIT University
Current Legal Issues
Stay informed about current legal issues: Stay up-to-date with the latest developments in the legal world.
This will help you to answer the questions related to current legal issues.
Revise the topics
Make sure you revise the topics regularly to ensure that you remember all the concepts and facts.
Revising for CUET Legal Studies is important because it might involve concepts which are memory based as well.
It is essential to have a solid foundation in the legal system to make informed decisions and understand the law when making decisions.
The topics covered in the legal studies course are very broad, so it is important to ensure you are familiar with all the key concepts and terms. Revising will also help you to remember the material and to be able to apply it when necessary.
Check: CUET Syllabus 2024
Sample CUET Legal Studies Questions 2024
1. The Supreme court of India came into being on:
(a) 29 January 1950
(b) 28 January 1950
(c) 28 January 1947
(d) 28 January 1949
2. India consists of _ High state and union territory courts.
(a) 22
(b) 23
(c) 24
(d) 25
3. The _ is the highest judicial authority below a high court judge.
(a) Senior civil judge
(b) District Judge
(c) Junior civil judge
(d) Chief judicial magistrate
Check: Important Questions for CUET 2024 Logical Reasoning
4. Indian courts follow?
(a) Adversarial model of dispute resolution
(b) Inquisitorial model
(c) Neither (a) or (b)
(d) None of the above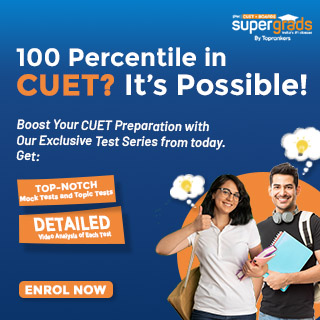 5. The attorney general of India is appointed by _ under the article of the constitution of India.
(a) Law ministers & 77
(b) Solicitor general of India & 76
(c) President & 76
(d) Governor & 76
6. Courts advisory jurisdiction sought by the president under Article 143 of the constitution is turned as _
(a) Speakers reference
(b) Courts reference
(c) Governors reference
(d) Presidential reference
Check: CUET Expected Cut off
7. As per the Indian constitution, the age of retirement in the case of a High court judge is _
(a) 62, 65
(b) 60, 62
(c) 65, 62
(d) 62, 60
8. Among the following, which is not the type of intellectual property?
(a)Trademarks
(b) Graphics
(c) Designs
(d) Copyrights
9. Goods displayed in a shop with a price tag is an.
(a) Offer
(b) Invitation to offer
(c) Counteroffer
(d) None of the above
Check: CUET History Important Topics
10 ... are words which appear innocent but have a latent defamatory meaning
(a) Libel
(b) Slandar
(c) None of the above
(d) None of the above
Conclusion
In conclusion, the preparation for CUET Legal Studies can be quite challenging, but it can be manageable with the right resources and strategies.
It is important to stay organised, review the material regularly, and practice as much as possible.
Additionally, seeking outside help, such as tutoring or test prep courses, can be beneficial in ensuring success on the exam.
With the right preparation, you can achieve your goal of passing the CUET Legal Studies exam.