Summary: The exam pattern for CUET NIIT University for 2023 will consist of various courses and respective subjects. If you are unaware of the CUET 2023 pattern, you must check it out before starting your CUET preparations. Here we have mentioned all the exam patterns with course-wise distribution, so do check it out.
Established in 2009, NIIT University (NU) is located on a sprawling 100-acre campus in the lap of the Aravali Hills in Neemrana. Our campus is easily accessible by road, air, and rail.
NU was born out of the vision of our founders to create a model institution of learning, research, innovation, and sustainability built on the bedrock of our four core principles of providing an industry-linked, technology-based, research-driven, and seamless education.
The university's vision is to be the role model of learning, research, innovation and sustainability for the knowledge society."
The 'University of the Future foundation rests on four main pillars – the core principles of Industry-linked, Technology-based, Research-driven and Seamless education.
NU focuses on creating great careers for its students that match their aspirations and talents. At the same time, it incubates research that is devoted to meeting societal challenges and impacting society in a positive manner.
In this article, you will get to know about the CUET 2023 Exam pattern of NIIT University.
CUET NIIT University Exam Pattern - Course Wise
NIIT University
The table below shows the domain/general/optional languages required for different undergraduate courses NIIT University offers.
| | | |
| --- | --- | --- |
| Degree | Programme / Course offered | Domain / General / Optional Languages mapped to the Programmes |
| B.Tech. | B.Tech. Computer Science and Engineering | Mathematics or Physics |
| B.Tech. | B.Tech. Bio-Technology | Biology or Mathematics or Biotechnology |
| B.Tech. | B.Tech. Cyber Securities | Mathematics or Physics |
| B.Tech. | B.Tech. Data Science | Mathematics or Physics |
| B.Tech. | B.Tech. Electronics and Communication Engineering | Mathematics or Physics |
| BBA | Bachelor of Business Administration | General Test |
| I M.Sc. | Integrated M.Sc. | Mathematics or Physics or Biology or Chemistry |
| I MBA | Integrated MBA | General Test |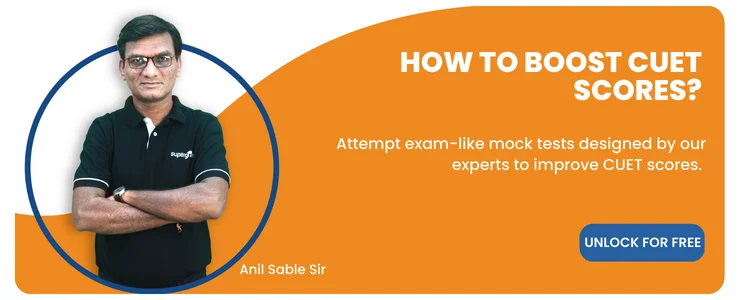 Conclusion: Getting admission to NIIT University is tough, and you must be very determined with your CUET Preparations. However, if you need assistance, SuperGrads, the best CUET coaching in India, is the best place to look. SuperGrads has the best faculties to help you ace the CUET exam easily.