Summary: The NMIMS NPAT exam is conducted all over India for admissions of students opting for management courses in SVKM NMIMS Institute. The exam centres are decided and allotted by the officials. Here we will be listing out all the centres where students can apply for and choose to appear for the NPAT exam.
Are you planning to appear for the NMIMS NPAT exam in 2023? Well, knowing the exam centres before filling out your application form is essential. The NPAT exam is conducted in various cities across India, ensuring accessibility for aspiring management students. So, let's dive into the details!
NMIMS, a renowned institute for management studies, conducts the NPAT exam to select the brightest minds for admission. During the application process, you'll be required to select at least three preferred exam centres from the available options. It's crucial to choose wisely, considering factors like proximity and accessibility.
Did You Know?
NPAT 2023 exam will be held in a total of 64 cities across India, ensuring widespread coverage. Don't worry about remembering the exam centres, as the information will be mentioned on your admit card. Once you download your admit card, you can check the exact venue, timings, and other essential details.
During filling out the application form, you are required to choose an exam centre that is located nearest to you or where you can have easy access. So, before you select the exam centre, make sure to check which are the available centres where you can appear for the NPAT exam.
So here, we will be listing out all the cities and towns where the official NPAT exam centres are located. Go through the article to discover all the exam centres.
Download Free Study Material for NPAT 2023 Exam by SuperGrads
NMIMS NPAT 2023 Exam Centre Allotment
The NPAT exam is conducted in a total of 64 cities across India. Any student filling out the NMIMS 2023 application form is allowed to choose at least 3 exam centres where they prefer to appear for the exam. So students are suggested to choose their exam centres carefully.
You don't need to remember the exam centres, as after the release of the NPAT 2023 admit card, your preferred exam centres will be mentioned in it. You can download the admit card and check all your details like venue, timings, etc.
NMIMS NPAT 2023 Exam Centre List
Here, we will provide you with the list of NPAT exam centres, and you can find out the nearest place you can access within time. Considering your nearest exam centre is quite far away, you must prepare your travel accordingly to get there on time.
Here is the list of the exam centres according to the state they fall under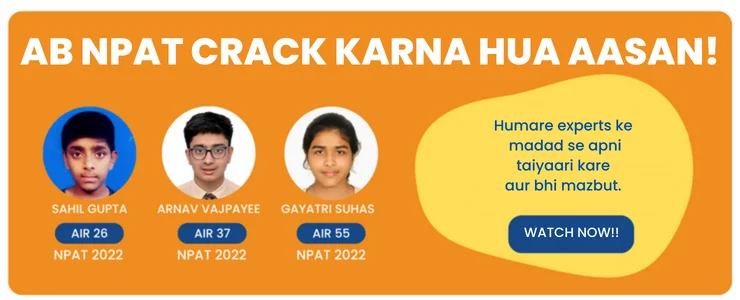 Exam Centre

State

Lucknow, Kanpur, Agra/ Mathura, Ghaziabad, Greater Noida, Meerut, Varanasi

Uttar Pradesh

Kolkata

West Bengal

Delhi, New Delhi

Delhi

Indore, Bhopal, Jabalpur

Madhya Pradesh

Bhubaneswar

Orissa

Patna

Bihar

Ahmedabad, Surat, Vadodara, Rajkot, Changa

Gujrat

Bengaluru, Mysuru

Karnataka

Vijaywada, Rajahmundry

Andhra Pradesh

Mumbai, Navi Mumbai, Thane, Shirpur, Pune, Aurangabad, Nashik, Sangli/Kolhapur,

Nagpur, Kalyan

Maharastra

Jaipur, Udaipur, Kota, Jodhpur

Rajasthan

Dehradun

Uttarakhand

Goa

Goa

Chennai, Coimbatore, Nagercoil, Salem

Tamil Nadu

Raipur

Chhattisgarh

Chandigarh, Ludhiana, Amritsar

Punjab

Faridabad, Gurugram, Ambala Cantt., Karnal

Haryana
Guwahati
Assam
Solan
Himachal Pradesh
Jamshedpur, Ranchi
Jharkhand
Kochi, Trivamdrum, Ernakulam, Thissur, Kohikode, Kottayam
Kerala
Pudducherry
Pudducherry
Hyderabad, Secumdrabad
Telangana
NMIMS Exam Centres For Physically Challenged
The officials at NMIMS to have a special help desk for physically challenged aspirants. If you are physically challenged and want help reaching the exam centres, you can opt for it. During your NMIMS NPAT 2023 application process, you can attach your physically abled certificate and send it to the official help desk Gmail ID for NMIMS. You will be provided assistance during your travel to and forth the exam centre.
Any application for this kind won't be entertained after the window for registration closes.
Conclusion
In conclusion, the NMIMS NPAT exam offers various exam centres across India, providing convenience and accessibility to aspiring management students. By carefully selecting your preferred exam centres during the application process, you can ensure a smooth and hassle-free experience. Remember to check your admit card for the exact details of your allotted exam centre. Best of luck with your NPAT journey, and may you excel in the exam!
Enhance your preparations for NPAT 2023 from now with the help of SuperGrads. SuperGrads is one of the best online coaching providers for management aspirants, helping them ace major exams like IPMAT, NPAT, SET, etc.