Summary: Does the title of this article sound too good to be true? We want this article to be a fun read, therefore introducing any imaginary character who has started his CUET preparations late. Read through the article to know if Rahul (imaginary character) can cover the CUET syllabus in a period of one month. If yes, let's know how?
How to prepare for CUET in one month asked Rahul? Rahul is a CUET applicant who started off with his CUET preparations quite late. Similarly, many CUET aspirants would have the same question popping up in their minds.
Thankfully, you can complete the syllabus in just 30 days. Rahul is also amazed to know that working on fundamental concepts from his NCERT books, English grammar, and General Test is more than enough to crack the Common Universities Entrance Test and get admission to his desired college.
This article provides the timetable to follow and the steps to be taken in order to cover every section in one month.
How to Prepare for CUET in One Month?
Generic Plan
Mocks: Dont wait to finish all chapters to start taking mocks; ensure you start taking mocks after you finish each concept.
Daily Plan: During the last month's preparation, make sure to distribute all the subjects equally in your daily plan.
Notes: Jot down the essential points from each subject that will help you during your revision time.
Revision: The last few days have to be separately allotted for revision.
Adequate rest: Advice to all students like Rahul is to get an adequate amount of sleep to stay fresh during the daytime while preparing for their Common Universities Entrance Test exams. This helps you focus better and will prevent you from being lazy!
Check: What is General Test in CUET
How to Prepare for CUET in One Month: What to study?
The NTA has explained how is exam pattern will be, and here's an idea of the topics you must focus on:
Rahul wishes to study B.A. (Hons.) Journalism in DU. For which he must satisfy eligibility, pick the right domain subjects in the CUET entrance exam and check his shift, and so will you!
Languages
Domain-Specific Syllabus
Mathematical Aptitude
General Awareness
Analytical Skills
~ Just one month left for the exam!! Are you wondering how to prepare for the logical reasoning section? Don't panic. Read through the detailed preparation plan provided by the SuperGrads team. ~
How to Prepare for CUET in One Month: 1 Month Time Table for CUET Preparation
Without having a proper study plan, it isn't easy to complete the syllabus of the NTA CUET Exam 2024.
So here is a small idea for Rahul and students like him to kick-start their Common Universities Entrance Test preparations. With a good study plan, you will always reap good results!
Timetable:
| | |
| --- | --- |
| Topic | Preferred Time Limit |
| Reading NewsPaper | 30-45 minutes |
| Maths | 2 hours |
| Domain-Specific Subjects | 2 hour |
| Logical Reasoning | 2-2.5 Hours |
| English/ Languages | 1-1.5 Hours |
| Current Affairs/ GK | 1-1.5 Hours |
You spend nearly 8 hours on preparations every day to score good marks.
Also, focus on the topics you find quite difficult to prepare.
For example, Rahul is not really good with Maths, so he gives extra attention and prepares for Maths, dedicating more of his time to this section.
Let's further check the preparation strategies applicable to study each section.


How to Prepare for CUET in One Month: Quantitative Section
Basics: Elementary-level mathematics is all you need to know to clear this section.
Time: You must allocate 2-3 hours of your daily time for preparing the Maths subject.
Topics: Focus more on the topics like averages, profit & loss, measurement, number systems, geometry, simplification, quadratic equations, time & work, time, speed, and distance.
Books: Quantitative Aptitude by R.S Aggarwal is one of the best

CUET Preparation Books

for preparing for the quantitative section of the Common Universities Entrance Test Exam.
Practice!!!
You cannot read maths! Practising mocks everyday is the only way to help you score good marks!
Spend extra hours and practice more; it will build your confidence and speed.
You will also be able to understand the difficulty level of the questions and the different types of questions that can be expected.
Check: CUET Mocks 2024
How to Prepare for CUET in One Month: English Language
As per the CUET Exam Pattern, you can expect a maximum of 7-8 questions from the English subjects.
One month's preparation is more than enough to improve your vocabulary.
However, you require a lot of hard work. Rahul seems to be doing quite with his basic parts of speech in English. He can choose to dedicate lesser time to this section.
Time to spend learning English section: Allocate 2-2.5 hours for preparing English, including reading the newspaper.
Book to refer to: English is Easy by BSC Publications is one of the highly recommended books for preparing for the English Language.
Daily activity: Try to learn at least 15-20 new words and their meanings. You should improve your grammar and reading skills to score well in this section.
Type of questions: Most of the questions are based on comprehension.
Sample Papers: Try to attempt more and more questions from the previous year's papers.
Revise: Revise the topics that you find comparatively tricky daily.
Check: CUET 2024 Syllabus
How to Prepare for CUET in One Month: Logical Reasoning
The logical reasoning section is divided into two parts: Analytical Reasoning and Critical Reasoning.
The CUET Syllabus for logical reasoning includes number series, seating arrangement, syllogisms, blood relations, etc. You can quickly learn logical reasoning with practice. Rahul and others like him can follow the steps below.
Time spent to study Logical Reasoning: You can allot 2 hours per day for logical reasoning subjects in the last month of your preparation.
Sample papers: When you are done with the syllabus, put your brain practising questions from previous years' papers.
Revision: During the last ten days, identify the topics you need to work on again and focus more on them. The last preparation days must be purely dedicated to revision.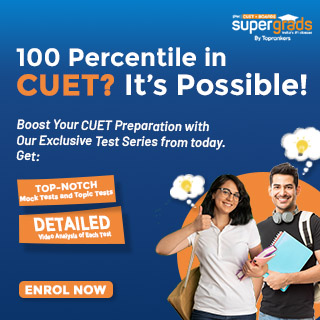 How to Prepare for CUET in One Month: Domain Subjects
Choose any six from the following topics below:
Accountancy/Bookkeeping
Biology/ Biological Studies/
Biotechnology/Biochemistry
Business Studies
Chemistry
Computer Science/ Informatics Practices
Economics/ Business Economics
Engineering Graphics
Entrepreneurship
Geography/Geology
History
Home Science
Knowledge Tradition and Practices of India
Legal Studies
Environmental Science
Mathematics
Physical Education/ NCC /Yoga
Physics
Political Science
Psychology 20.Sociology
Teaching Aptitude
Agriculture
Mass Media/ Mass Communication
Anthropology
Fine Arts/
Visual Arts (Sculpture/ Painting)/Commercial Arts,
Performing Arts – (i) Dance (Kathak/ Bharatnatyam/
Oddisi/ Kathakali/Kuchipudi/ Manipuri (ii) Drama- Theatre (iii) Music General (Hindustani/ Carnatic/ Rabindra
Sangeet/ Percussion/ Non-Percussion),
Sanskrit [For all Shastri (Shastri 3 years/ 4 years Honours) Equivalent to B.A./B.A. Honours courses, i.e. Shastri in Veda, Paurohitya (Karmakand), Dharmashastra, Prachin Vyakarana, Navya Vyakarana, Phalit Jyotish, Siddhant Jyotish, Vastushastra, Sahitya, Puranetihas, Prakrit Bhasha, Prachin Nyaya Vaisheshik, Sankhya Yoga, Jain Darshan, Mimansa, Advaita Vedanta, Vishihstadvaita Vedanta, Sarva Darshan, a candidate may choose Sanskrit as the Domain].
Allocate 2 hours of your time to study any six domain-specific topics in which you choose to pursue your studies.
It will be advised that you pick domain subjects that you are familiar with, so your CUET preparations can go easy!
Prepare from the NCERT textbooks word by word!
Check: NTA CUET Aptitude Preparation Tips 2024
How to Prepare for CUET in One Month: Current Affairs/ GK
General knowledge is something that you need to work on every day. Make sure that you are spending at least half an hour reading the newspaper.
Following

Daily Current Affairs

is one of the most innovative ways to cover all the topics as per the syllabus.
Make sure to study at least the past 1-2 years of current affairs.
For current affairs, refer to major newspapers and monthly magazines.
Try to attempt at least 2-3 mock tests to test your preparation levels.
After completing the test, analyze your performance and work on the weaker areas.
Never Take Your Health for Granted!!
Make sure that you do not stress yourself too much while studying. Believe in your preparations. Give enough time to relax and take breaks. Get proper sleep, eat healthy food, and stay hydrated. Don't waste time on bad health.
For Students Aiming for 100% in CUET
Revision Intensity: Devote significant time to revisit all concepts word by word. Prioritize your strengths but don't neglect weaker areas.
Mock Tests: Take full-length mock tests regularly. Analyze your performance to identify areas needing improvement.
Time Management: Practice time-bound test-taking. Aim for accuracy while increasing your speed gradually.
Focus on Mistakes: Analyze incorrect answers in mock tests. Understand your errors to avoid repeating them.
Stay Calm and Confident: Maintain a positive mindset. Believe in your preparation and your ability to perform well.
Last-Minute Revisions: In the final week, focus on quick revision of key formulas, concepts, and important topics.
Check: CUET Total Marks
For Students Aiming for 80% in CUET
Selective Revision: Identify your strengths and concentrate on them. Ensure you are well-prepared in a few topics rather than skimming through all.
Focused Mock Tests: Take mock tests focusing on specific sections or topics. This will help improve your accuracy and speed.
Clarify Doubts: Reach out to teachers, peers, or online platforms to clarify doubts that might be hindering your performance.
Consistent Practice: Practice a mix of questions from different topics. The idea is to strike a balance between depth and breadth of knowledge.
Positive Approach: Believe in your abilities and stay positive. Consistent effort can help you achieve your target score.
Check: How much is 99 percentile in CUET
For Students Feeling Lost with their CUET preparations
Basics First: Prioritize understanding of the basic concepts before delving into advanced topics. Strong fundamentals make tackling questions easier.
Focus on Strong Areas: Identify the subjects or topics that you are comfortable with and practise more to gain more confidence.
Consult Experts: Seek help from teachers, mentors, or online resources and try to practise concepts that are sure shot to appear in the exam.
Structured Study Plan: Start your day preparing interesting concepts that you like. Create a study schedule flexible for you by allocating time for different subjects. Break complex topics into smaller, manageable sections.
Practice Gradually: Start with easier questions and gradually move to more challenging ones as your understanding improves.
Stay Motivated: Remind yourself of your goal and the potential rewards of performing well in CUET. Stay motivated to work consistently. The only place where your dreams becomes IMPOSSIBLE is in your own thinking ~ Robert Schuller
Conclusion
With focused efforts, a one-month preparation period can yield significant improvements in your CUET readiness. Tailor your approach to your individual goals, whether you're aiming for perfection, striving for a good score, or trying to regain confidence. Remember, consistency, dedication, and smart planning are the keys to success in CUET.