Reader's Digest - Applying for the SLAT Exam 2023 requires submitting an application form with essential details and submitting it. So if you are looking forward to taking the SLAT and want to know more about the application process, read on to find out all the information you need!
The SLAT is a vital entrance examination for students aspiring to pursue a law degree from the prestigious Symbiosis International University. It is the first step towards a successful career in law.
The SLAT Application Form guides you through the registration process for the Symbiosis Law Aptitude Test (SLAT). The SLAT 2023 application form will be available online.
Candidates must fill in the necessary details and attach the documents to the form. The application fee will vary based on the course and mode of payment.
With the SLAT exam being conducted in May, the registration process will commence on April 12, 2023. If you are interested in getting admission to law courses at Symbiosis International, complete the SLAT Application Form 2023 at the earliest.
Download Free Study Materials For SLAT 2023 by LegalEdge
SLAT Application Form 2023 - Important Dates
As a prerequisite for admission to Symbiosis Law School, appearing in SLAT (Symbiosis Law Admission Test) is mandatory.
The SLAT Application form will be out on 12 April 2023. Other important dates for SLAT Exam 2023 are given below in the table:
| | |
| --- | --- |
| Events | Important Dates |
| Registration and Payment End Date | April 12, 2023 (Wednesday) |
| Admit Card Live on (www.set-test.org) | April 22, 2023 (Saturday) for SET Test 01 April 28, 2023 (Friday) for SET Test 02 |
| Test 01 - May 06, 2023 (Saturday) | SLAT: 09.00 am to 10.00 am SET: 11.30 am to 12.30 pm SITEEE: 02.00 pm to 03.00 pm |
| Test 02 - May 14, 2023 (Sunday) | SLAT: 09.00 am to 10.00 am SET: 11.30 am to 12.30 pm SITEEE: 02.00 pm to 03.00 pm |
| Announcement of Result | May 24, 2023 (Wednesday) |
Check: SLAT 2023 Expected Questions with Answers
When to Appear for SLAT Exam 2023?
Candidates can appear for the dates, i.e. May 06, 2023 (Saturday) and May 14, 2023 (Sunday). Please note these dates and the respective test timings carefully.
| | | | |
| --- | --- | --- | --- |
| Day and Date | Time | Entrance Test | Institutes |
| May 06, 2023 (Saturday) and May 14, 2023 (Sunday) | 9:00 AM to 10:00 AM | SLAT | Symbiosis Law School [SLS] - Pune Symbiosis Law School [SLS] - Noida Symbiosis Law School [SLS] - Hyderabad Symbiosis Law School [SLS] - Nagpur |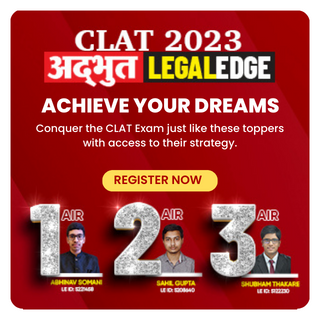 Prerequisites for SLAT Application Form 2023
You require the following documents for SLAT Application Form 2023:
A soft copy of your recent passport-size photo in .jpg, .jpeg, .png or .gif formats.
The size of the photo must be between 10 KB to 500 KB.
The photo should not be more than three months old.
Steps to Fill SLAT Application Form 2023
Although filling out an application form is not an arduous task; however, there are important details that many of you overlook while filling out an application form, which can cancel the application.
Below, we have detailed the procedure and highlighted the typical errors made while filling out the application form.
Part 1 of the SLAT application form is for the SLAT application procedure, and part 2 is for applying to law courses at SLS Pune, Hyderabad, Noida, and Nagpur.
The steps to complete the application process are as follows:
Step 1: Register for the SLAT exam
Click on the "Direct Link to SLAT 2023 Application Form" button shown below, or click on the "Register now" button through the official website.
Click on 'new registration,' and a registration form opens.
Here you need to enter the details required under:
Registration information - Your name, Gender, Category, and Date of Birth
Address for communication - Mobile phone number, primary email id
Class 12th details - Select the stream of education from Science, Commerce, Arts, or others
Select the program -SLAT/SITEEE/SET General/non-SLAT
Preferred test city - Select three cities as the preferred location to appear for SLAT 2023
You must register for the SLAT exam to receive a SLAT ID.
Step 2: Fill Slat 2023 Application Form And Upload A Scanned Photo
In the next step, you need to fill in your personal, professional, educational, and contact details in your SLAT application form.
You also need to upload your latest scanned photograph.
Step 3: SLAT 2023 Application Fee
There are two types of Fee to be paid in SLAT:
| | |
| --- | --- |
| SLAT Registration Fee | INR 1950 |
| The program fee for each program | INR 1000 |
SLS Pune payment INR 1000/- per program (i.e., B.A. LL.B (Hons.) or/and BB.A. LL.B (Hons.)) while filling out the SLAT registration form.
Note: It is mandatory to Register & Pay to both SLAT & SLS Pune. If you have registered for SLAT and not registered for SLS, Pune, by paying above mentioned fee, you will not be eligible for the next phase of the PI-WAT process at SLS, Pune.
Mode of Payment for SLAT Application Form
Payments for SLAT and SLS Pune can be made using the credit card, debit card, net banking, RTGS, NEFT, and online banking options listed on the SLAT Registration Form, or precisely, you have four choices of payment modes:
Billdesk Payment Gateway
Easebuzz Payment Gateway
Indian Bank Payment Gateway
Demand Draft:
You can send a Demand Draft (DD) of Rs. 1000/- per program to the "Symbiosis Test Secretariat", payable in Pune from any nationalised bank.
Select the "Make Payment" tab "DD Payment" as the payment method. Print the payment advice form, fill in the DD Details, sign it, and send it to the Symbiosis Test Secretariat [STS] only at the following:
SYMBIOSIS TEST SECRETARIAT [STS], SYMBIOSIS INTERNATIONAL (DEEMED UNIVERSITY), Gram: Lavale, Tal: Mulshi, Dist.: Pune – 412115, Phone: 020-28116226/27.
The Symbiosis Test Secretariat will verify the Demand Draft information and email you confirming the payment.
You can view your Admit Card only after payment has been received.
Note: The most typical errors while filling out the application form:
If you took the HSC this year and are awaiting results, select "Appeared" from the "marks" option.
Any changes in the online application form (except test city preferences and admission category) will be entertained only up to the closing date of registration.
No changes shall be permitted after the closing date under any circumstances.
No requests for a change of test city or category will be entertained once you have completed the online SLAT 2023 payment.
Check: Important Topics for SLAT Personal Interview 2023
SLAT Eligibility Criteria: Educational Qualification
Refer to the SLAT eligibility criteria from the following:
Passed Standard XII (10+2) or equivalent examination from any recognised Board with a minimum of 45% marks or equivalent grade (40% marks or equivalent grade for Scheduled Caste / Scheduled Tribes).
Suppose you have appeared for the class XII final examination and are waiting for your results. In that case, you are also eligible to apply, subject to submitting a passing certificate at the time of the last admission.
SLAT 2023 Seat Intake
Go through the below-mentioned points to know the SLAT seat intake:
Separate Merit Lists for BB.A. LL.B (Hons.) and B.A. LL.B (Hons.) programs will be prepared and published.
At the time of SLAT registration, it shall be mandatory to indicate the program to which you wish to apply clearly.
You are free to choose ONE or BOTH programs.
College accepting SLAT
Course Offered
Seat Intake
Symbiosis Law School (SLS), Pune
BBA LLB (Hons)
180 seats
BA LLB (Hons)
120 seats
Symbiosis Law School (SLS), Noida
BBA LLB
180 seats
BA LLB
120 seats
Symbiosis Law School (SLS), Hyderabad
BBA LLB
120 seats
BA LLB
120 seats
Symbiosis Law School (SLS), Nagpur
BA LLB
120 seats
BBA LLB
120 seats
Total
-
1080 seats
Check: SLAT Syllabus 2023
Seat Reservation Within the Sanctioned intake
25% (Twenty-five percent) of seats are reserved for the Nagpur domicile (Only applicable for SLS, Nagpur )
Other than this, there are some other reservations also,
| | |
| --- | --- |
| Scheduled Caste | 15% |
| Scheduled Tribe | 7.5% |
| Differently Abled | 3% |
| Children/wards of Defence Personnel | 5% |
Check: Legal Reasoning preparation for SLAT 2023
Reservation Over and Above Sanctioned Intake:
| | |
| --- | --- |
| Kashmiri Migrants | 2 seats per Program |
| International Students | 15 % (including Foreign Nationals, PIO, and NRI) |
SLAT Exam Centers 2023
SLAT is conducted in CBT mode across 74 cities all over India. A candidate may choose three preferences of test cities of the following:
| | |
| --- | --- |
| City | City |
| Patna | Vijayawada |
| Dhanbad | Visakhapatnam |
| Jamshedpur | Belagavi(Belgaum) |
| Ranchi | Bengaluru |
| Bhubaneshwar | Mangaluru(Mangalore) |
| Cuttack | Mysuru(Mysore) |
| Port Blair | Hyderabad |
| Dibrugarh | Ernakulam - Kochi |
| Guwahati | Kottayam |
| Shillong | Kozhikode |
| Gangtok - Bardang | Thiruvananthapuram |
| Asansol | Thrissur |
| Hooghly - Kalyani | Chennai |
| Kolkata | Coimbatore |
| Siliguri | Madurai |
| Delhi - Gurugram | Panaji - Madgaon |
| Faridabad | Ahmedabad - Gandhinagar |
| Noida - Greater Noida - Ghaziabad | Rajkot |
| Meerut | Surat |
| Agra | Vadodara |
| Aligarh | Ahmednagar |
| Bareilly | Amravati |
| Jhansi | Aurangabad |
| Kanpur | Kolhapur |
| Lucknow | Mumbai |
| Prayagraj (Allahabad) | Nagpur |
| Varanasi | Nashik |
| Dehradun | Navi Mumbai |
| Roorkee | Pune |
| Ajmer | Thane District |
| Jaipur | Bhilai Nagar |
| Jodhpur | Bilaspur |
| Kota | Raipur |
| Ambala | Bhopal |
| Bilaspur | Indore |
| Jammu | Jabalpur |
| Chandigarh, Mohali | —------------- |
| Jalandhar | —------------- |
SLAT Application Form 2023 - Whom to Contact?
For any query, you can connect with the help desk:
Symbiosis Test Secretariat
Symbiosis International Deemed University
Gram: Lavale, Tal: Mulshi
District: Pune - 412115
Phone: +91-020-61936226 / 27
Toll-free number: 18001231454
Whatsapp No.: +91-7709328908
Email id to info@set-test.org
Check: SLAT Exam Analysis
Facts About Symbiosis Law University
Symbiosis Law University is one of the prominent private law colleges for the undergraduate program offered at the four law schools: Symbiosis Pune, SLS Noida, SLA Hyderabad, SLS Nagpur (the newest addition)
In 2019, the NIRF ranking of Symbiosis Pune was 7th among the top ten colleges, indicating the college's relevance.
There are three more colleges as well, other than Symbiosis Pune, that accepts SLAT score:
SLS Noida
SLA Hyderabad
SLS Nagpur
Conclusion
In conclusion, we say that the Symbiosis Law Aptitude Test (SLAT) Application Form is a great way to get a head start on the process of applying for law school. We hope this blog cleared up all your doubts regarding the SLAT Application Form.