Summary: The blog analyses the average and highest CUET scores over the years, compared with other entrance exams. The article answers to - Is 650 a Good Score in CUET? Remember these as you prepare for the exam and aim for a well-rounded profile.
Students who want to enrol in different undergraduate programs at reputable universities throughout India must take the difficult CUET or Common University Entrance Test.
A good CUET score is essential to get admitted to your chosen program.
Because of this, it's crucial to understand what a good CUET score is and how it affects your chances of being admitted.
In this blog, we will examine - is 650 a good score in CUET?
What is a Good Score in CUET?
The scoring system in CUET is such that you get a +5 mark for each correct answer, and there is a -1 for incorrect answers.
The total marks in the exam are 800. To determine what constitutes a good score in CUET, you need to understand the average and highest scores in the exam.
On average, a score of around 400-550 is considered decent in CUET. However, a score of 650 and above can be considered exceptional and will undoubtedly increase your chances of getting into a good college or university.


It is important to remember that various colleges and universities could have varied requirements for CUET results.
For instance, a more prominent institution or university can have greater requirements for a score. As a result, it is wise to learn the minimum scores necessary by the colleges and universities in which you are interested and make your preparations appropriately.
Additionally, certain colleges and universities may emphasize the CUET score more, while others may place equal weight on other considerations, including extracurricular activity and board exam results. Therefore, you must pay attention to your CUET results and the overall admission requirements of the institutions and universities you are applying to.
While a good score in CUET is subjective, a score above 650 can be considered excellent.
However, it is essential to research the expectations of the colleges/universities you are interested in and focus on all aspects of your application, not just CUET scores.
Is 650 a good score in CUET?
Based on past trends, a CUET score of 650 or more might be considered good. The highest and average CUET scores do, however, change from year to year, so it's crucial to remember that.
The highest score on the CUET in recent years was approximately 700–750, while the average score was between 500–550. Consequently, getting a 650 or above puts you in a good position.
A score of 650 on the CUET is comparable to achieving the 95th to 98th percentile on tests like the JEE Main, NEET, or CAT. Your performance was strong, and you will likely be admitted to prestigious institutions and universities.
Check: CUET exam pattern 2024
It's crucial to realize that CUET scores are the primary consideration for admission. Other factors, like academic achievement, extracurricular activities, personal statements, and interviews, are also considered by some colleges and universities. As a result, even if your CUET score is lower than you had planned, you may still get admitted based on your entire profile.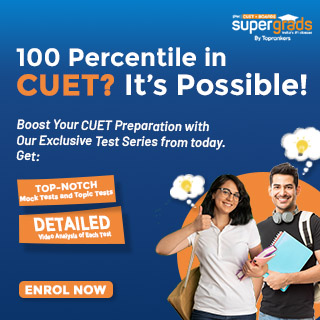 Additionally, many schools and universities have varied expectations for CUET scores depending on their programs' competitiveness. To establish your goal score appropriately, examining the typical CUET scores of the institutions and universities you are interested in applying is crucial.
Generally, a CUET score of 650 or above may be regarded as a good score, but it's vital to remember that other factors besides CUET scores also play a big part in the admission process.
Check: CUET 2024 Syllabus
Conclusion
While a CUET score of 650 is good, your chances of getting into the college or university you're applying to rely on their requirements ultimately. Avoid letting the test stress overwhelm you; concentrate on getting the most out of your CUET preparation. You may boost your chances of getting into your selected university by working hard and achieving a high score on the CUET.
Check: What is General Test in CUET