Summary: If you are targeting to study law only in NLUs, take a pause to explore! Top universities like BHU, Assam University etc., offer admissions into undergraduate law programs through CUET 2023, which is a good option too. Examine and thoroughly prepare the CUET Legal Studies Syllabus 2023 to get admissions into these law schools.
National Testing Agency (NTA) is responsible for publishing the Legal Studies syllabus for applicants taking the national-level CUET entrance exam to gain admission to law schools.
The curriculum for the CUET law exam is designed to examine your knowledge in the following areas.
The legal aptitude section
Logical thinking
Legal Reasoning
Analytical abilities etc
Did you know NTA published the CUET 2023 dates on December 15, 2022? Continue reading to learn more.
Download CUET Legal Studies Syllabus 2023 PDF
CUET 2023 Important Update: Did you know the CUET 2023 dates have been released? NTA issued a public notice on 15 December for CUET, NEET, and JEE Mains aspirants notifying the important CUET 2023 Exam Dates for the next academic year. Application process to begin from 1st week of February.
NTA has clearly prescribed the list of chapters and the units to cover for Legal Studies, which is explained in this article.
Do not fail to watch the attached video and practise the top 50 legal questions prepared by our experts at SuperGrads.
Eligibility Requirements to Take the CUET Legal Studies
The eligibility criteria clearly differ for all the universities offering LLB or integrated LLB programs. However, most colleges prefer students with 50% marks in class 10+2 with English as a compulsory subject..
We encourage you to visit the official website of the respective colleges to learn more about the specific eligibility requirements.
Relaxation applies to SC/ST/OBC/PWD/EWS category students.
You can complete the CUET application form if you satisfy the eligibility requirement. Ensure you check the exam pattern and proceed to complete the applications.
Check: CUET Online coaching 2023
Finest Textbooks for CUET Legal Studies Syllabus
Refer to the relevant CUET Book Collection to ace your CUET preparations.
For CUET Legal Studies Curriculum, you can refer to the following.
Ritwiz Gaur and Radhika Aggarwal authored the Legal Studies textbook for CBSE Class 12.
CUET Legal Studies Syllabus 2023
CUET Legal Studies is one paper with 50 questions, out of which 40 must be attempted.
Check out the CUET Legal Studies Syllabus 2023 below:
Part I: Judiciary
Structure and Organization of Indian Courts and Legal Offices
Constitution, Functions, and Neutrality
Judge Appointments, Training, Retirement, and Removal
Courts and judicial oversight
Check: Domain Subjects in CUET
Part II: Legal Subjects
Property Law
Contract Law
Tort Law
Introduction to Criminal Laws in India
Part III: Arbitration, Tribunal Adjudication, and Dispute Resolution Alternatives
Inquisitorial and Adversarial Systems
Introduction to Alternative Dispute Resolution
Types of ADR
Arbitration, Administrative, Tribunals
Mediation and Conciliation
Lok Adalats
Ombudsman
Lokpal and Lokayukta
Part IV: Human Rights in India
Introduction – Context International
Constitutional framework and Related laws in India
Complaint Mechanisms of Quasi-judicial Bodies in India
Check: Why Choose Delhi University through CUET?
Part V: The Indian Legal Profession
Introduction - Lawyers and Professional Ethics, The Advocates Act of 1961, The Bar Council of India Promotion by Lawyers, Possibilities for law school graduates, Legal Training in India, In India, the Liberalization of the Legal Profession, Women, and the Legal Profession
Part VI: Legal Services
Legal context - Free Legal Aid under Criminal law, State Legal Aid, Legal Aid under the Indian Constitution, NALSARegulations, 2010
Conditions for Free Legal Services
Lok Adalats
Legal Assistance within the Context of Social Justice and Human Rights
Check: Topper Strategy to Crack CUET 2023
Part VII: Global Context
First Course in International Law
International Law Sources: Treaties, Customs, and ICJ Decisions
International law and India
International Institutions, International Human Rights
Customary International Law
International law & Municipal Law
International Law & India
Dispute Resolution — International Court of Justice, International Criminal Court, and Other Dispute Resolution Mechanisms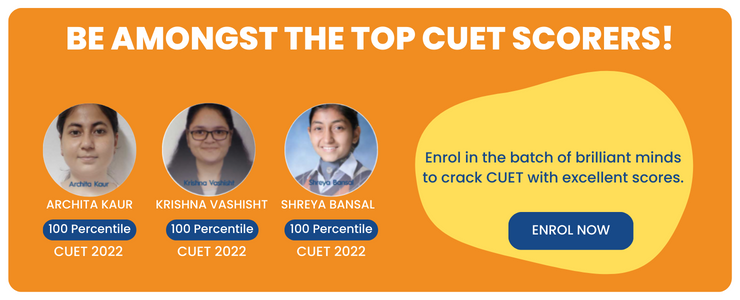 Part VIII: Legal Maxims
Important Legal Maxims.
Meaning with illustrations of the following:
- Actus non facit reum nisi mens sit rea
- Ad valorem
- Amicus Curiae
- Audi altered partum
- Assentio Mentium
- Bona fide
- Bona Vacantia
- Caveat Emptor
- Corpus Delicto
- Damnum Sine Injuria
- De Die in Diem
- De Minimis Lex Non Curat
- Doli Incapax
- Ejusdem Generis
- Ex Post Facto
- Ignorantia Facti Excusat – IgnorantiaJuris Non Excusat
- Injuria Sine Damnum
- Locus Standi
- Nemo Debet Esse Judex in Propria SuaCausa
- Nemo debt non quad habit
- noscitur a sociis
- Obiter Dicta
- Part Material
- Per Incuriam
- Qui Facit Per Alium Facit Per Se
- Quid pro quo
- Ratio Decidendi
- Res ipsa loquitur
- Res Judicata Accipitur Pro Veritate
- Salus Populi Est Suprema Lex
- Stare Decisis
- Ubi Jus Ibi Remedium
Check: DU Admissions to Minority Colleges through CUET
Conclusion
If you haven't studied law subjects in class 12, it can be quite challenging to plan your preparation to clear Legal Studies. Therefore, we encourage you to seek help from experts.
You can take a free mock test for legal studies and watch the free demo to understand how SuperGrads can help you effortlessly prepare CUET Legal Studies Syllabus 2023.