Summary: Have you obtained your MBA through CAT, and are you looking for employment? To understand more about CAT Exam Jobs, continue reading this blog!
The Common Admission Test (CAT) is a highly competitive entrance exam that opens the door to some of India's premier business schools, including the Indian Institutes of Management (IIMs).
However, the impact of a high CAT score extends beyond MBA admissions. The exam's rigour and respectability make it an effective indicator of a candidate's aptitude for strategic thinking, decision-making, and managerial skills - qualities highly sought after by employers.
Consequently, CAT exam scores can facilitate various exciting job opportunities.
This article explores the career paths that CAT aspirants can pursue and provides tips for a successful career post-CAT. Let's explore the CAT Exam Jobs!
CAT Exam Jobs: Career Opportunities After CAT
MBA (Master of Business Administration) programs play a significant role in facilitating entrepreneurial pursuits for aspiring entrepreneurs.
Here are career opportunities after CAT:
CAT Exam Jobs
1. Management Consulting
Management consulting is a popular choice among CAT aspirants, particularly those who graduate from top-tier B-schools. Consulting firms like McKinsey, Boston Consulting Group (BCG), and Bain & Company highly value the analytical and problem-solving skills that a management degree imparts. These firms often recruit directly from premier B-school campuses, offering roles as business analysts, management consultants, and strategy consultants.
Check: Why CAT Exam is Important?

2. Investment Banking and Financial Services
Investment banks and financial service companies, such as Goldman Sachs, JP Morgan, and Credit Suisse, actively seek MBA graduates from top B-schools. Roles in these organisations require strong quantitative skills, financial acumen, and the ability to work under pressure – skills honed during an MBA program.
Check: What to do after CAT Exam?
3. Corporate Leadership Programs
Several multinationals offer leadership or management trainee programs to groom fresh MBA graduates for future leadership roles. These programs provide exposure to various business functions and geographies. Companies like Aditya Birla Group, Mahindra & Mahindra, and Reliance Industries Limited are known for such initiatives.
4. Entrepreneurship
While not a job per se, entrepreneurship is a viable career path after an MBA. Top B-schools offer incubation centres, networking opportunities, and mentorship programs to support students interested in starting their own ventures.
Check: CAT 2023 Mock Test Series
5. Roles in Tech Giants
Tech giants like Google, Amazon, and Microsoft seek MBA graduates for roles in product management, sales and marketing, operations, and more. These roles require a mix of technical understanding and managerial skills, making MBA graduates ideal candidates.
CAT Exam Jobs: Top Recruiters for MBA Graduates
Top recruiters for MBA graduates giving CAT exam jobs are renowned companies which are as follows -
Company
Amazon
Apple
BCG
JP Morgan
Google
Deloitte
Accenture
Morgan Stanley
AT Kearney
Microsoft
Check: Difference between CAT and MAT Exam
CAT Exam Jobs: Average salary of MBA graduates
| | |
| --- | --- |
| MBA Specialization for CAT Exam Jobs | CAT Exam Jobs: Average MBA salary per month in India |
| MBA Marketing Salary in India per month | Rs 65,000 |
| MBA in Digital Marketing | Rs 45,000 |
| MBA in Finance | Rs 60,000 |
| MBA in HR | Rs 43,000 |
| MBA in Business Analytics | Rs 45,000 |
| MBA in Entrepreneurship | Rs 45,000 |
| MBA in Operations | Rs 63,000 |
| MBA in IT | Rs 48,000 |
| MBA in Event Management | Rs 50,000 |
| MBA in Healthcare | Rs 50,000 |
Check: CAT Exam Cut Off Trends
CAT Exam Jobs: MBA Facilitates Entrepreneurial Pursuits
The knowledge, skills, and network acquired during an MBA can prove invaluable in successfully launching and managing a startup. Here are some ways in which MBA facilitates entrepreneurial endeavours:
Comprehensive Business Education: MBA programs provide a comprehensive understanding of various business aspects, including finance, marketing, operations, strategy, and human resources. Entrepreneurs need a well-rounded understanding of these domains to make informed decisions and create a sustainable business model.
Opportunity to Refine Business Ideas: MBA programs often involve courses on entrepreneurship and innovation, during which students can develop and refine their business ideas. They receive feedback from experienced faculty and peers, allowing them to iterate and enhance their startup concepts.
Access to Industry Experts and Mentors: Many MBA programs have tie-ups with successful entrepreneurs and industry experts who act as mentors. These mentors provide guidance, share practical experiences, and offer valuable insights into the entrepreneurial journey.
Networking Opportunities: MBA programs offer extensive networking opportunities through alumni events, entrepreneurship clubs, and industry-specific conferences. Building a strong network of peers, faculty, and industry professionals can help entrepreneurs access funding, partnerships, and potential customers.
Exposure to Startup Ecosystems: Many top B-schools are located in thriving startup ecosystems, such as Silicon Valley, Bangalore, or Singapore. Being part of such environments exposes MBA students to real-world entrepreneurial experiences, inspiring them to take the leap into entrepreneurship.
Access to Seed Funding and Venture Capital: Some B-schools have dedicated centres or funds that provide seed funding to promising startups founded by their students. Additionally, MBA programs attract venture capitalists and angel investors who actively scout for innovative ideas and potential investment opportunities.
Business Plan Competitions: MBA schools often organize business plan competitions where aspiring entrepreneurs can pitch their ideas to a panel of judges, including investors, industry experts, and successful entrepreneurs. These competitions provide valuable exposure and feedback to participants.
Internships and Entrepreneurial Projects: Many MBA programs encourage students to take up internships or entrepreneurial projects with startups or incubators. This hands-on experience gives them practical insights into running a business and managing challenges.
Understanding Legal and Regulatory Aspects: Starting a business involves navigating legal and regulatory frameworks. MBA programs offer courses on entrepreneurship law and regulations, equipping entrepreneurs with the knowledge to ensure compliance.
Risk Management and Decision-Making Skills: Entrepreneurs face numerous risks and uncertainties. Through case studies and real-world simulations, MBA programs hone students' risk management and decision-making abilities, crucial for successful entrepreneurship.
Brand and Credibility: An MBA degree from a reputable business school enhances the entrepreneur's credibility in the eyes of investors, partners, and customers. It signals that the entrepreneur has acquired a solid foundation in business principles and management practices.
Learn More: CAT Super-30 Course at SuperGrads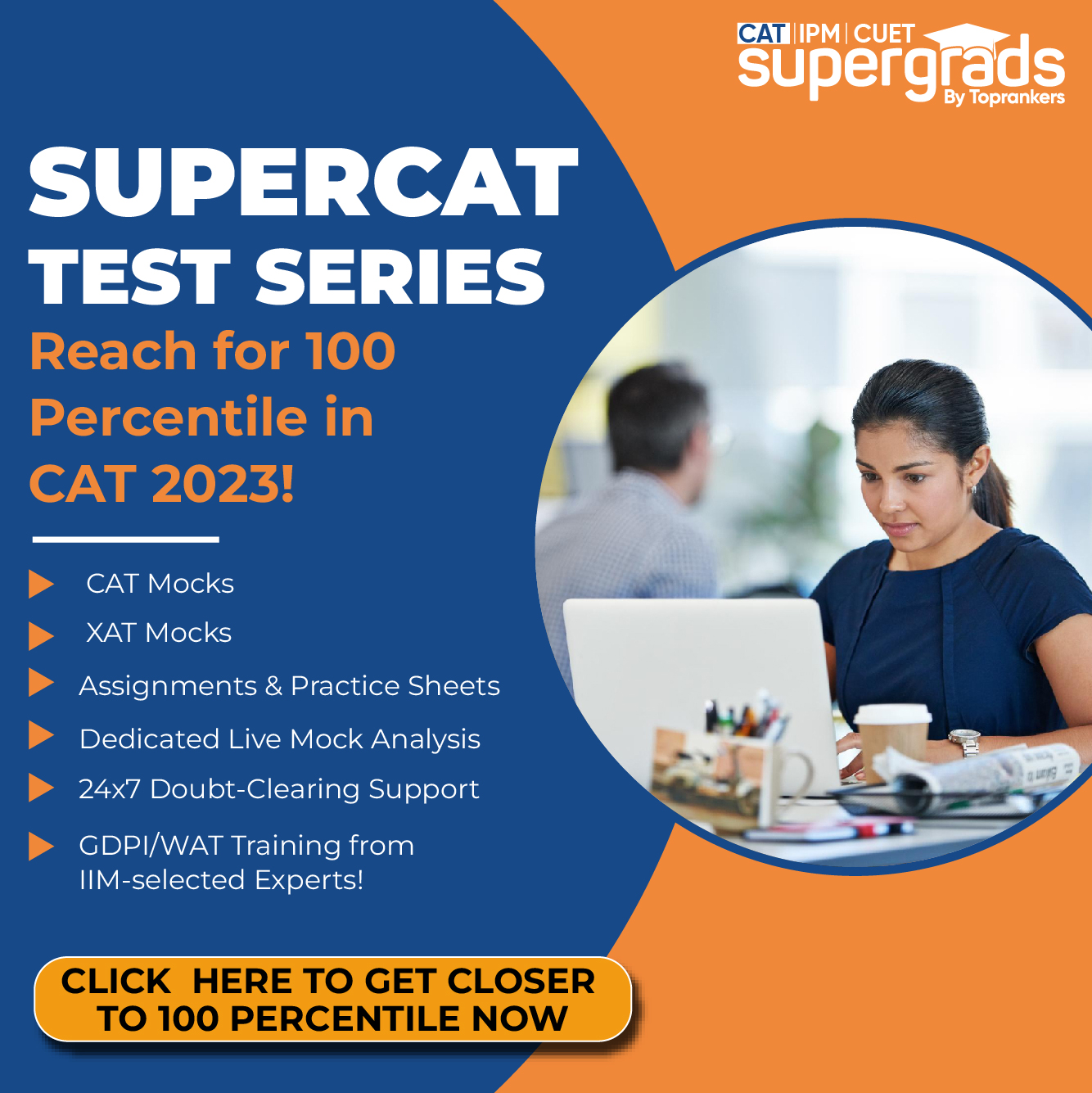 CAT Exam Jobs: Tips for a Successful Career After CAT
Passing the CAT and completing an MBA from a top B-school is just the first step towards a successful career. Here are some tips to ensure long-term success:
Continuous Learning: The business world is dynamic. Keeping yourself updated with the latest trends, technologies, and business practices is crucial. Attend workshops, webinars, and industry conferences, and continue to read widely.
Networking: Establishing a robust professional network can open doors to opportunities. Attend alumni meetings and industry events, and leverage platforms like LinkedIn to connect with industry professionals.
Soft Skills: While technical skills might get you a job, soft skills will help you excel and climb up the corporate ladder. Focus on developing skills like leadership, communication, team management, and emotional intelligence.
Adaptability: Be open to change and willing to step out of your comfort zone. The ability to adapt is an essential trait in today's ever-changing business environment.
Mentoring: As you climb up the professional ladder, seek out mentors who can guide you. Similarly, be willing to mentor those who are starting their professional journey.
Check: CAT Exam Top Colleges 2023
Conclusion
A high CAT score and an MBA from a prestigious institution can serve as a springboard to a successful and fulfilling career. It opens doors to lucrative and challenging roles in various sectors, including management consulting, investment banking, corporate leadership, and entrepreneurship. However, remember that the journey doesn't stop with CAT or an MBA degree. Continuous learning, networking, adaptability, honing soft skills, and mentoring are essential for long-term career success. The CAT Exam Jobs are endless; seize them, and shape the career you desire.
Check: CAT Exam Maths Syllabus 2023