The vice-chancellor has announced NTA CUET UG 2024 Exam is mandatory for getting admissions to the UG programs in Central Universities.
If you are a 12th graduate looking to get admission to a UG program at Delhi University through CUET, this article is sure to help!
Earlier, most of the Central universities had extremely high cut-off marks, leaving several students not even eligible to apply to these universities.
However, with the NTA CUET being introduced this year, make sure you take the most benefit of this opportunity to study at your desired college - The University of Delhi.
Reasons to choose Delhi University?
Here are a few reasons you should choose Delhi University through NTA CUET Exam 2024.
1. World Rankings
QS Ranking report gives 77th position Delhi university in Asia in 2021.
And 441st position in the world.
2. NIRF Rankings
Delhi University's several colleges belong to India's top 20 colleges.
3. Courses in various Streams
The college offers courses in various streams like Arts, Science, and Commerce.
The college offers nearly 74 UG courses admission through NTA CUET from this academic year 2024.
4. Most reputed Organizations
Reputed colleges usually have high academic standards to offer their students.
Their wont is any scarcity of resources and facilities.
A strong alumni network can help students find jobs, which leads to the next benefit of increasing employment opportunities.
5. Infrastructure
The importance of having a good infrastructure is a crucial element of learning environments in universities.
Separate facilities for the library, extracurricular activities, labs, hostels, placement cells, etc., are necessary.
Read more about NTA CUET/CUET Courses List 2024
6. Education Techniques
Modern teachings methods are implemented to prepare market-ready students.
With the latest technologies being adopted, coaching students have become more efficient.
Understanding the same, Delhi University introduces and implements the latest Education Techniques to educate students.
7. Internships and placements
The college provides excellent internship programs from top companies. If you prove yourself during this internship, you are likely to work full-time with the company.
Placements office and officers guide students and make sure to attain full placements every year, helping students find jobs immediately after college.
Students also receive great salary benefits.


List of other important Universities
The table below shows the steams and responding colleges for each:
Stream
Colleges
Arts
St . Stephens
Lady Sri Ram
Hindu College
Miranda House
Science
Hindu College
St . Stephens
Hans Raj
Miranda
Commerce
SRCC
Lady Sri Ram
Hans Raj
Hindhu
Check the list of CUET colleges
Nearly 69554 seats are made available for the participating college and 77 affiliated colleges.
Conventional like Arts, Science, Commerce and unconventional courses like Psychology, Cyber Security Engineering, Graphics Engineering, etc. are offered these years.
DU Admission Process through NTA CUET
Delhi university admissions are given based on NTA CUET 2024 exams.
The list of Subjects / Papers to be chosen in CUET 2024 for admission to Undergraduate Programs at the University of Delhi are as follows:
List A contains All Languages of Section IA and Section IB of CUET 2024. Candidates must appear in at least one language from the following:
Assamese
Hindi
Marathi
Spanish
Bengali
Italian
Nepali
Tamil
Bodo
Japanese
Odiya
Telugu
Chinese
Kannada
Persian
Tibetan
Dogri
Kashmiri
Punjabi
Urdu
English
Konkani
Russian
French
Maithili
Sanskrit
German
Malayalam
Santhali
List B: Subjects/ Test papers mentioned in Section II of CUET 2024 have been categorized under List B1 and List B2. Candidate must refer to Program-Specific Eligibility to choose the subjects in which s(he) should appear in CUET 2024 to be considered for admission to the selected program.
You must check the NTA CUET Exam Pattern to understand which domain and subjects to be chosen for each UG program.
Subjects in List B1
Subjects List B2
1
Accountancy/ Bookkeeping
1
Agriculture
2
Anthropology
2
Engineering Graphics
3
Biology/Biological Studies/ Biotechnology/Biochemistry
3
Entrepreneurship
4
Business Studies
4
Knowledge Tradition and Practices India
5
Chemistry
5
Fine Arts/ Visual Arts (Sculpture/ Painting)/ Commercial Arts
6
Computer Science/ Informatics Practices
6
Mass Media/ Mass Communication
7
Economics/ Business Economics
7
Physical Education/NCC/Yoga
8
Environmental Studies
8
Performing Arts – i) Dance (Kathak/Bharatnatyam/Kathakali/ Odissi/ Kuchipuri/ Manipuri (ii) Drama- Theatre (iii) Music General (Carnatic /Rabindra Sangeet/ Hindustani /Percussion/ Non-percussion
9
Geography/Geology
9
Teaching Aptitude
10
History
11
Home Science
12
Legal Studies
13
Mathematics
14
Physics
15
Political Science
16
Psychology
17
Sanskrit
18

Sociology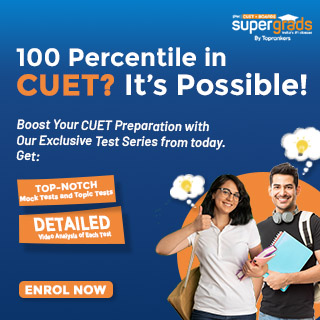 Further, check the NTA CUET Syllabus to prepare for the exam.
Only the papers mentioned in List B1 and List B2 will be considered subjects or sections for Program-Specific Eligibility.
The marks obtained by the candidate in CUET 2024 will be considered for computing the total marks according to the Program-Specific combinations of subjects for deciding merit and granting admissions in the undergraduate programs.
Merit will be based only on the combination of subjects in which a candidate has appeared in CUET 2024, as mentioned in the respective Program-Specific Eligibility.
Check out the NTA CUET Mock Tests 2024 to ace your preparations!