Summary: If you are aiming for Chinmaya Vishwavidyapeeth through CUET then, Do you know what is the exam pattern for the exam? The exam pattern for CUET Chinmaya Vishwavidyapeeth, along with the course-wise pattern, has been mentioned in the article. Go through the post to know the pattern in detail.
The Chinmaya Vishwa Vidyapeeth (CVV) is a Deemed-to-be - University in the 'de Novo category. The Chinmaya Vishwa Vidyapeeth deemed university was started in 2017. It was started in the centenary year of the motivational Visionary and Founder of Chinmaya Mission and renowned Vedantic master and teacher par excellence, Swami Chinmayananda.
This Deemed University was founded on principles of Purity, Spirituality, Practicality and Innovation. The CVV's core mission is to incorporate India's ancient and time-tested wisdom with the present-day knowledge fields.
The Chinmaya Vishwa Vidyapeeth has 2 campuses from where it functions. The 2 campuses are - The Chinmaya Eswar Gurukula campus in Kochi, Kerala, and The Chinmaya Naada Bindu Gurukula campus in Kolwan, near Pune.
In this article, you will get to know about the CUET 2023 Exam pattern of the Chinmaya Vishwavidyapeeth.
CUET Chinmaya Vishwavidyapeeth Exam Pattern - Course Wise
The course-wise exam pattern for the CUET Vishwavidyapeeth will clear your vision towards what you are going to study for the exam.
Chinmaya Vishwavidyapeeth
The table below shows the domain/general/optional languages required for different undergraduate courses offered by Chinmaya Vishwavidyapeeth.
| | | |
| --- | --- | --- |
| Degree | Programme/ Course offered | Domain / General / Optional Languages mapped to the Programmes |
| B.A. | B.A. in (Sanskrit) | |
| BBA | BBA | General Test |
| B.Sc. | B.Sc. (Hons) in Applied Psychology | General Test |
| B.A. B.Ed. | Four-Year Integrated B.A. B.Ed. In English | English |
| B.Sc. B.Ed. | Four-Year Integrated B.Sc. B.Ed. In Mathematics | |
| B.Com | B.Com (Hons) | General Test |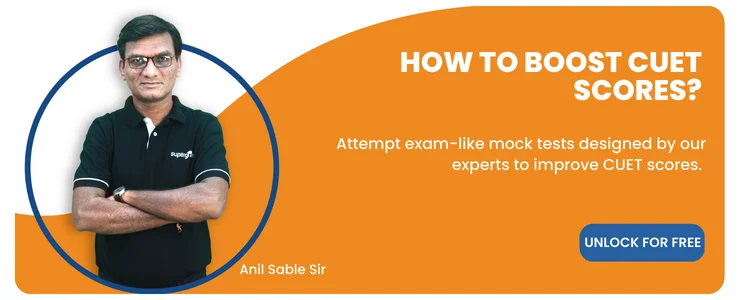 Conclusion: If you are seeking admission to Chinmaya Vishwa Vidyapeeth University, make sure to prepare well for the CUET 2023 exam.
If you are lagging behind in your preparations, make sure to enroll yourself on the SuperGrads Coaching. Expert faculties at SuperGrads will help you boost your scores and score higher.