CUET has caused quite a stir among students since its inception. Many doubts and confusion surrounding this examination have made it a matter of concern among the students. Introduced by NTA (National Test Agency), CUET aim to allocate admission to candidates across the Central Universities in India.
Also, 49 Universities volunteered to be a part of the first edition of the CUET examination in 2024. Also, CUET turned out to be a CBT, which was a new concept to the UG students who were accustomed to PPM.
Coming to the courses in which they will facilitate admission for students. Each University has drawn its criteria and opened admission to limited courses.
Some choose to accept students in humanities and language programs, while others open admission in all streams. However, our major discussion point is law aspirants should give CUET. Let's dive into the details.
Law Examination not covered under CUET
Breaking the good news to you, the major law examination, which is meant to facilitate admission in NLUs, still stands alone and has no involvement of CUET in it.
However, some Universities decided on taking admission in the Law Department through CUET. We are sharing a list of those examinations you must prepare for without worrying about the CUET.
CLAT
LSAT
ALERT
SLAT
MHCET
NM-LAT
COULEE
Download FREE Study Material for Law Entrance Exams by LegalEdge
These exams are independent of CUET and adhere to their previous eligibility criteria, Examination Pattern, and Seat allotment systems.
LAW Examination Covered under CUET (3 Years LLB)
Is CUET for law students? While the NLUs choose to select students through the previous Law Entrance Examination only. A few Universities have decided upon allotting admission to the law aspirants in UG (LLB) via CUET.
Amongst them, one of the famous Universities is BHU. Banaras Hindu University was previously known for organizing BLAT, a common law Entrance Examination. However, from now onwards, it will select its candidates through CUET only.
However, they have not limited their admission to 3 year LLB program only. For the 5 years of integrated LLB, BA/B. Com program, students might be expected to face BLAT, because no official notice has been released by BHU for complete elimination of BLAT.
In addition to BHU, other universities have opened admission to LLB through CUET.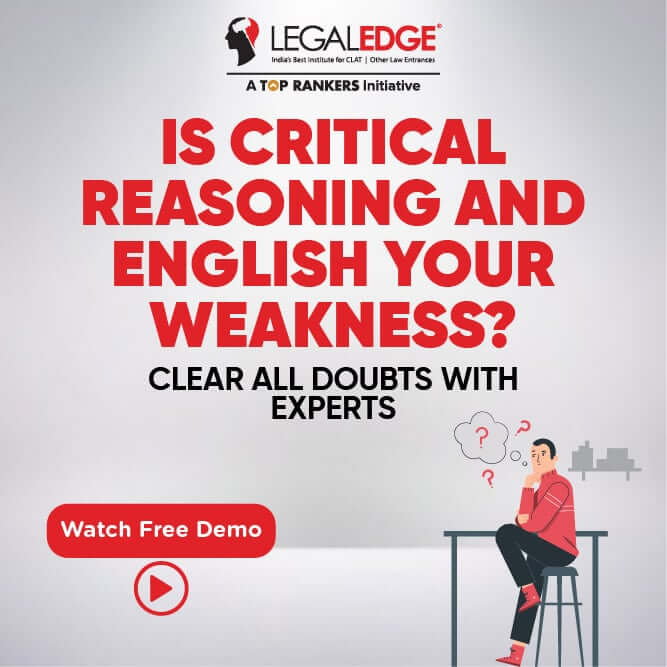 Universities offering 5 year LLB Integrated program through CUET
Moving forward, where some Universities have limited their Law program admission to 3 years only, some Universities have decided to take it a level up.
These Universities have opened their door to candidates who have freshly completed their 12th and are looking for a program to compensate for both their graduation and law aspirations.
A few universities offer a 5-year Integrated LLB program through CUET for such students. These are all top-notch Universities, so you need not worry about your career prospects. Let's look at the list of those Universities:
BML Munjal University
Jagannath University
IIMT MEERUT
The Central University of South Bihar.
The Central University of Kashmir.
Bhim Rao Ambedkar University Lucknow.
The University of Assam.
Dr. Harisingh Gour University.
Guru Ghasidas Central University.
North Eastern hill University.
Rajiv Gandhi University.
The University of Allahabad
All these Universities are known for their quality education and tremendous placement programs.
Admission criteria for BHU Law Colleges
Coming all the way, let's throw some light on the eligibility criteria to get selected by the BHU for their Law Program.
Let's quickly go through the list below to eliminate whatever doubts you are harboring in your mind.
Domain/General/Optional language mapped in the program.
Irrespective of the language, there will be one General Examination for all the applicants.
In Section I A, students must pick one language (English/ Hindi) as per their preference.
In Section II you have to pick Legal Studies, given you are looking for admission in LLB.
The merit list will be prepared based on the combined score of Sec I A (language) and Sec II (legal studies), based on which admission will be offered.
Students who have chosen to drop the Sections IA and II exams are not allowed to make admission claims.
Admission Criteria of BML Munjal University for Law program
BML Munjal has chosen not to restrict its admission to the CUET. It has other options open for students. So, Students are free to explore those options too.
However, before starting your research, we have it all here. Just go through this section, and you will find all your answers regarding admission eligibility to BML Munjal University.
Domain/General/Optional language mapped in the program.
Choose 1 language, either Hindi or English, based on your preference for Sec I A.
For Section II, students are supposed to choose legal studies.
The combined score of Sec I A and Sec II legal studies will help you rank in the merit lists.
Note:
Other examinations which are accepted by BML Munjal University are CLAT/SAT/LSAT/BMU SAT. So, if you have qualified for any of these, you are ready.
Universities not accepting admission in LLB Integrated program through CUET
Given a large number of Universities are accepting students through CUET in LLB 3 years program as well as 5 years program.
A few reputable Universities have decided to keep it limited to LLB 3 years program only. Amongst them, there are two Universities:
Jamia Millia Islamia
Aligarh Muslim University
These Universities have announced that they are going to organize the University level Entrance Examination for a 5-year Integrated program.
So if you want to enroll in the Integrated program at these Universities, then CUET serves no purpose to you.
Who can choose to go for admission in law through CUET?
Based on our Analysis, CUET is not for Everyone. Particularly not for those whose target is NLUs.
So, the candidates who have just completed their 12th are suggested to go for the All India level Law Entrance Examination like CLAT, AILET, SLAT, etc. because they have both time and opportunity to explore these examinations.
Also, you have a fair number of attempts left which you can use to land yourselves at the National Law University in India. On the other hand, students with a low score quotient in mock tests or those who have already attempted the CLAT, LSAT, etc., and have no hope for them; then they can go for CUET.
However, you have to cross the NLUs from your bucket list permanently because NLUs are not accepting admission through CUET.
Benefits of taking CUET for Law Aspirants
Here are a few listed benefits considering which you can choose CUET over other Law Entrance Examination:
The Examination difficulty level is moderate.
High probability of securing admission.
Enlist Universities with good placement records; hence your career is secure.
Instead of struggling with analytical reasoning, you can secure a good score if you have sound knowledge of language and grammar.
The best option for candidates who don't want to attempt CLAT is AILET again but seek admission to reputed universities.