If you have someone who has already been through that journey to guide you, then your path is going to become much easier than it is right now. You can go through what Aayush did in the past that helped him at that point in time so that you can use his findings in your journey ahead.
How to prepare for IPMAT Indore?
"So I believe in a very fluid structure of studying in which I decide what is best for me. You should make sure that when you're giving the IPMAT test, there isn't a what-if in your mind or you feel that there's just a nagging sense of doubt that you could have performed better if you had practiced more. So either you sit for three hours and study, or you plan like I have to do 50 questions today, doesn't matter what time it takes.
Just keep being consistent. You don't have to be erratic. You don't have to leave your preparation for a week and then come back to it because it breaks the flow, and the moment you are consistent is the moment you ensure that you know how to solve questions on the upcoming test. You know what you have done. You know that you've been practicing, and when you sit for your exam, you're confident that yes, I know how to solve this question and I'm going to do it efficiently. For that to happen, all you have to do is be consistent and just be true to yourself and stick to whatever part you are choosing."
Preparation for the IPMAT exam is one of the challenges that you will face while preparing for board exams and other post-12th level entrances. Therefore, it is very important to make a proper study plan, Write your everyday tasks, stick to them with full determination, check growth, check your improvements based on full-length mocks.
Make your own study plan according to your grasping capacity, there isn't any study plan that works for all.
To make your own study plan firstly analyze the syllabus, weightage, and difficulty level of the different topics of the exam.
Try to cover tough and major weightage holding topics in the beginning so that you have sufficient time for revising them.
Create a study plan based on your strengths and weaknesses to score well.
Practice as many mock and previous year's papers as possible to crack the exam comfortably.
Choose the best study material, such as supergrads study material, that covers all topics covered in the newly updated syllabus.
Apart from academic books, reference books like Word Power Made Easy by Normal Lewis and Martin English Grammar and Composition would definitely provide you a plus point in the English section.
How is life at IIM Indore?
"So the moment you step inside the campus and see the entire Indian Institute of Management in big bold letters stuck on the card block and you're standing in front of it, there is bound to be a sense of pride that hits you that yes, I must have been doing something right in my life"
Because you're in a respectable college and people look up to you, there is a particular way of living that you have been conformed to, and just because of the interactions and conversations you have, it makes you grow not just as a person who will, be good at their jobs but also individually.
IPM is very diverse, not just in terms of academics but also in terms of the people that study there. They have people from science, humanities, and commerce backgrounds. They have people from every nook and cranny of the world.
People come in and share their experiences with one another, it's bound to be different and you get to know how other people view the same things or were doing what you were doing
So, According to Aayush when you put all of that together and bring it to the same pedestal, there is a certain growth that occurs in terms of individuality that makes you a better person than you were when you first started.
How to prepare for the IPMAT Indore alongside the boards?
If you plan your schedule according to your school, take classes, prepare for your boards and save about 2-3 hours a day and a little more time during the weekend(plus some time to read the newspaper) then it's manageable.
Make short notes that provide key details and basic formulas while studying from lectures, study material, books, etc, on a daily basis.
Make sure you follow up on your study plan regularly, consistency and perseverance are of the utmost importance to excel in IPMAT.
Once you have completed your syllabus, pick up topics every week and go through them thoroughly by practicing questions from study material, previous year questions. Try to solve at least 2 to 3 mocks of that section in that week.
Opt for a mock test series that consists of Updated short answers questions based on the new examination pattern with a balance of the previous year's questions.
How to prepare for the Personal Interview and WAT section of IPMAT?
It is really important to understand that self-assessment holds a major weightage and should not be left to be prepared after the examination. Building self-confidence, personality, and a good academic record is a gradual process that requires time. PI and WAT cannot be prepared in 15 to 20 days.
Aayush started preparing for the PI and WAT section alongside the IPMAT preparation phase with Supergrads faculty.
You need to start preparing now by practicing to present yourself in front of a mirror. Watch Interviews, improve your presentation skills, prepare for all the expected questions, frame the finest answers, and write them.
We also encourage students to get two to three certifications which would help them improve their resumes.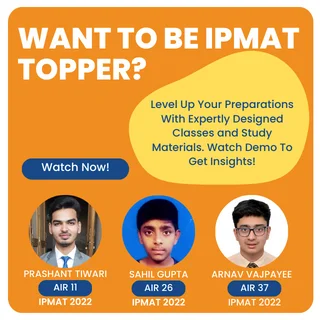 What is the preparation strategy adopted by toppers to crack IPMAT?
Aayush adopted the Supergrads strategy of completing the entire syllabus within 5-6 months and then focussing on rigorous practice sessions as syllabus completion is the first step, and the actual journey of practicing and building strategy for solving tough questions begins when you have completed your syllabus.
Just make sure you practice at least fifty questions per week for quantitative ability, ask doubts from your mentors about questions you are not able to solve, and for questions, you are able to easily find alternate approaches which can save time.
One of the most important aspects required to stand out in the competition is to think of ways to improve time management in the examination. While practicing you need to segregate and attempt questions based on their difficulty level.
Attempting mock tests regularly to build confidence, improve temperament and understand the type of questions asked in the examination. Now comes the most important thing which is to analyze your progress. Analyzing a mock will help you build new concepts, correct conceptual and silly mistakes.
Another critical element while preparing for the IPMAT Exam is choosing the right study material. You should select the best study material like supergrads study material that covers all the topics according to the newly updated syllabus.
After completing any topic or section make it mandatory to give sectional or topic-specific mock.
This will help you improve your concepts in a gradual manner by making mistakes and then learning from them which is the most important step. Analyze what went wrong, revisit everything that could be improved, find alternative methods to increase your speed and efficiency.
Make sure you follow up on your study plan regularly, consistency and perseverance are of the utmost importance to excel in IPMAT.