In the series of journeys of law experts, a new conversation comes along. The meet-up with the experts with Mr. Abhinav Kumar is held to encourage and guide you in a lawyer's journey. He shared his experience and guidelines for you.
It will help you refine yourself from other aspirants or in the journey of a lawyer. The facts and critical takeaways are mentioned here to provide you with assistance.
About Mr. Abhinav Kumar
Mr. Abhinav Kumar is a law and public policy expert. He belongs to Bihar. He pursued his BBA LLB honors from National law university Orissa and masters from Maharashtra national law university.
Abhinav has prior experience in the Supreme Court of India, Delhi High court, and various other renowned subunits. He is also one of the leading columnists and writes for various newspapers, magazines, etc. Such as The Hindu business line etc.
He also had teaching experience as he also taught in various national law universities and a few government law institutions. Such as the University of law (Delhi), East Mumbai, etc. Besides this, he also works in law and legal policies.
Read more: Law Entrance Exams other than CLAT
Conversation with Mr. Abhinav Kumar
In the conversation with Mr. Abhinav Kumar, the life of a lawyer gets explained by him. The journey of a lawyer consists of factors you may know of.
Let's dig into this conversation's salient point. His journey in life consists of opportunities to explore at national law university, which also helped him pursue his professional pursuits.
Download FREE Study Material for Law Entrance Exams by LegalEdge
Journey of him after pursuing CLAT. How does he proceed after clearing CLAT?
CLAT is just an exam. The real journey of a lawyer starts after entering law college. The journey of becoming a lawyer consists of environment, peers, batchmates, etc.
These all factors together and simultaneously provide Career Opportunities after Law to develop and nurture yourself.
In terms of a professional career, whatever journey you choose (litigation, corporate, joining law firms, or govt. Exams), the life of a lawyer is decided by the college environment and exposure. It helps choose the correct pathway where you want to go on.
What are the factors before choosing law as a career option?
The trend of the CLAT Entrance Exam nowadays is analyzing your comprehensive skills. Hence, if you can correlate yourself similarly, you must choose law as a career option. It's also up to particular interest whether you consider yourself a judge or a corporate lawyer.
The perception of your mental state is also an essential factor to consider. For example, if you are immensely enjoying the shows, movies are related and can correlate with it. Then, you may choose law as a career option.
The most crucial factor is how you naturally feel this career is appealing or are interested in reading a lot. Then, it is a parameter that you should go for law as a career option. Reading is a must.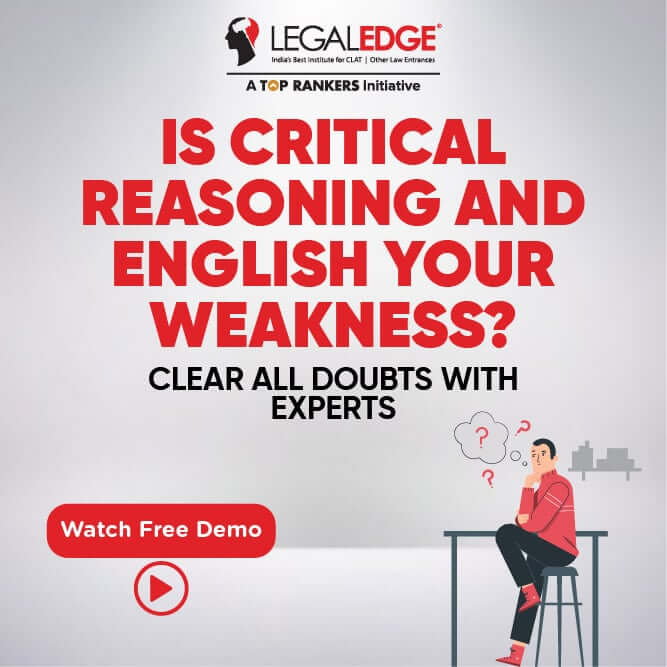 What kind of reading should students indulge in their comprehensive skills for cracking CLAT exams? Novels, newspapers, books, etc.?
While writing for CLAT, the exams expect short story knowledge, newspaper editorials, etc. You must indulge yourself in reading by starting with a newspaper editorial.
It also makes you aware of what's happening in the country, how things are going, and what's happening in legal threads—for example, Supreme Court sedition, orders, discussions, etc. In general, readings, novels, editorials, nonfiction, and autobiography are all kinds of writing helpful for CLAT.
Read more: Short tricks to prepare for Law Entrance Exams
After completing the law, what are the avenues available to proceed?
Several students are perplexed about what they should ultimately choose. Nowadays, Law schools are providing lots of avenues starting from corporate. Many students within them also stay determined about what they should go for. Corporate companies or firms require strong legal councils and serve as avenues in the corporate sector. Banking sectors have several avenues.
Besides this, some unexplored avenues are also there. Suppose you are interested in policies or want to work with the government. PRS legislature is there for fellowship. It is related to the parliament. You can pursue that. Judicial clerks are also part of unexplored avenues. You can go abroad, do academics, pursue a master's, join policies, etc. Our country had suffered from policy paralysis before.
But now, it has changed as India's vibrant democratic various people individually and thinks tanks collaborate with the government on various issues. For example, IT issues. Public policy is an emerging avenue. You can work firsthand with the government's various ministries and departments here. You can evolve yourself. It's not necessary to restrict yourself.
Read more: Placements at law colleges in India
What do public policies as opportunities entail? What is in public policy making?
Public policies are policy-making for the public where the problem exists. The first process is the identification of the problem. Then, committees and reports were made. In the US, public policy-related rules by think tanks are very effective.
They work with the government or private companies on public issues. According to CSR(corporate social responsibilities), sponsors or companies provide funds to organizations to work on a particular area.
When you work on a particular area, address a particular issue, and find a solution for a particular issue, then the mechanism regarding it is considered policy making. Policy making is the foundation stone. For example, NITI AAYOG in India was primarily a planning commission.
They are now working at a think tank form of government and states. Policy-related think tank work on that. Various senior or beginner law persons associate with think tanks for IT, corporate, or other legal issues.
How can students choose their subject? Whether they should pick BB LLB, BA LLB, etc. How should they decide?
As a student, everyone may face such a question. First of all, you should forget about BA or BBA LLB. It would help if you focused on the fact that you are going to pursue law. Tomorrow you will be placed based on knowledge gained on legal matters, whether BBA or BA LLB.
How much have you worked on the law? What's your grasp and understanding of the law that only matters? Or in which field of law, you worked? Such as IPR, corporate, litigation, and public policy with the government and constitution. Is the Determining factor what you have done in five years?
On the other hand, BBA LLB vs. BA LLB is a never-ending debate. Although, if you belong to humanity, political science background and commerce are not understandable, you may go for BA LLB. If you belong to the commerce subject or correlate yourself with accounts or management subjects, you may go for BBA LLB.
You are also comfortable if your parents are predetermined for BA LLB OR BBA LLB. You may go for any of them. Ultimately, you are pursuing law.
After deciding on a course, how can you decide which college to choose? How should one select the national law university?
Concerning this section, many terms decide it. There are two options if you appear for CLAT and AILET. Sincere students nowadays also appear for AILET. It would help if you targeted NLU first or other national law universities as well as doing well. Besides that, private universities are also doing well.
You can classify yourself by targeting the top 10 NLUs by visualizing their curriculum and evaluating other factors. Make periodic charts of particular colleges according to these factors. You can appear for MH CET. Then finalize according to the target.
NLUs Vs. Private Law university, which one is best?
Of course, NLUs are premier institutions that provide premier opportunities. But you can get a good placement and work at a premium law firm, even belonging to a private law university. It's a matter of one's caliber Symbiosis(Pune).
With time in college, the more you evolve, you can achieve the ultimate objective no matters belong to a private law university.
Every institute has followed the rules of BCI, whether you are in NLUs or private universities. BCI regulates the body of law. Questions arise regarding academics, exposure, internship, debate, etc. The main point is, How do you carry forward while writing a research paper? If you are trying to achieve, you can.
One thing NLUs provide is exposure. Although you are self-motivated and working on yourself in private law universities, you can also achieve from there.
Read more: Upcoming Law Entrance Exams
How much do your attained marks decide your career graph?
You cannot exclude grades; it is an essential and determining factor. The campus selection or whether some law firms fix grade criteria even appear for their selection process. It also helps in getting a good internship.
The visiting law firm committee chooses people for internships with higher CGPA. Grades had a role in the career graph. But marks are not everything. The evolution with the exposure in the law colleges makes you a good practitioner in the future. If you want to only restrict in a law firm or council, then grades matter. Otherwise, in the long run, the knowledge makes you professional. You need to know how to read law and write research.
Exposure to law colleges
It is an individual choice. You can pursue internships provided by Government Law Colleges or get good internships from other places. Usually, there are several students on LinkedIn searching and even getting remarkable workplaces. If you are activated enough, following the perspectives or the subsequent development for the sector, you aspire for, or following persons leading.
Trust yourself; you can get a good internship. Simultaneously, you can get contacts, follow them, or cold pitching mat leads to getting a great internship even by yourself. It is not exposure that may restrict you.
First generation lawyers
It hardly matters from where you started your journey of becoming a lawyer. Although, of course, in the beginning, you may get kicked but upscaling and surviving in the life of a lawyer only comes from yourself. Mr. Abhinav started his journey as a lawyer from Bihar and went to national law universities. If he can, you as well.
Even people who come from backgrounds not even able to speak English comfortably have been seen as cracking their judicial exams and being placed as judges in the very first attempt. They become able to produce great judgment and able to write several orders.
Hence, it doesn't depend on which background you came from. The life of a lawyer starts from clearing CLAT or any relevant law entrance exams and, after that, how you perform. The only thing that matters is commitment and determination. You have to work on your skills.