Reader's Digest: Curious what is CLAT PG? Wondering how it could shape your legal career? Delve into this article for a concise breakdown of what CLAT PG is all about and why it matters for aspiring legal professionals.
In the vast ocean of competitive examinations in India, Common Law Admission Test is one test that stands as a beacon for all those with a passion for legal studies and a desire to take their knowledge to the next level.
The CLAT PG 2024 exam serves as a key that opens the doors to India's top law schools for postgraduate studies.
If you've ever dreamed of delving deeper into the nuances of law, exploring intricate legal theories, and stepping into the realm of specialized legal practice, this is the exam that paves the way.
In the following sections, we'll unravel the details about what exactly CLAT PG is, its structure, its purpose, and why it plays such a pivotal role in shaping the future of law graduates.
So, let's embark on this journey and uncover the essence of CLAT PG together.
Know Here - How to Prepare for CLAT PG in One Month 2024
CLAT PG 2024 Overview
The Common Law Admission Test Postgraduate (CLAT PG) is a highly competitive, nationwide entrance examination conducted by the Consortium of National Law Universities in India. Let's understand a few basic details about CLAT PG:
Conducting Body: The CLAT PG is conducted by the Consortium of National Law Universities, a collective of India's premier law institutes. The consortium was established with the aim of improving the standard of legal education in India.

Frequency and Scale: The CLAT PG is conducted once a year, typically in the middle of the year. As a national-level examination, it witnesses participation from thousands of law aspirants across the country.

Purpose: The primary purpose of the CLAT PG is to evaluate and admit candidates into the postgraduate law programs (LL.M) offered by National Law Universities and other prestigious law institutes in India. The LL.M degree is a specialized course, designed to provide in-depth knowledge in various areas of law.

CLAT PG Eligibility: To appear for CLAT PG, candidates must have an LL.B degree or equivalent from a recognized university. Some universities may require a minimum percentage of marks in the qualifying exam.

Exam Pattern: The exam comprises two sections - an objective section with multiple-choice questions and a subjective section featuring essay-type questions. The questions cover areas like Constitutional Law, Jurisprudence, and other areas of law as per the specified syllabus.

Admission Procedure: Candidates who score above the specified cut-off in the CLAT PG are eligible for the counseling process. This involves the allotment of seats in different NLUs and other participating institutes based on the candidate's rank, category, and preferences.

International Recognition: Some foreign universities and institutes recognize the CLAT PG score for admission into their LL.M programs, underlining the exam's credibility and international standing.
What is the Use of CLAT PG 2024?
Pathway to Legal Education
The CLAT PG serves as a gateway to advanced legal studies in the following ways:
Admission to Premier Institutes: CLAT PG is used by the National Law Universities and other top law schools as a criteria for admitting students into their master's degree programs in Law (LL.M). This means if you score well, you could study at some of the most prestigious law institutions in India.

Standardized Assessment: The exam provides a fair and standardized platform for evaluating the knowledge, understanding, and aptitude of law graduates across the country. The test brings uniformity to the admission process, eliminating any potential bias or favoritism.

Specialization in Law: CLAT PG gives aspirants the opportunity to specialize in various branches of law. By allowing access to high-quality postgraduate programs, it empowers law graduates to deepen their understanding of particular legal areas, which is pivotal for their career progression.
Read: CLAT PG important topics
Opening Up Career Prospects
Securing a good score in CLAT PG can significantly influence a law graduate's career prospects:
Academia: A postgraduate degree in law can enable individuals to venture into the academic side of the legal profession. They could become law professors, researchers, or contribute to policy-making by joining think tanks.

Judicial Services: CLAT PG opens the door for roles in the judiciary. Many candidates aim for positions like judicial clerks or even pursue competitive examinations for higher judicial services.

Legal Consultation: With an LL.M degree, one could provide specialized legal consultation services. They could advise clients on intricate legal matters requiring deep knowledge and expertise.

Corporate Legal Affairs: Postgraduates in law are in demand in the corporate world. They can handle complex legal matters for companies, ensuring regulatory compliance, managing legal risks, and even leading in-house legal teams.

International Legal Careers: An LL.M degree from a recognized Indian university also offers opportunities to work with international law firms, NGOs, or global institutions like the UN. In such roles, they can address international legal issues and disputes.
What are the Key Differences Between CLAT PG and CLAT UG?
To better understand what is CLAT PG, its important to know how it differs from UG CLAT. Both the CLAT PG and CLAT UG examinations play significant roles in shaping a student's legal education in India. However, they are designed to meet different educational and career goals, and consequently, have various key differences.
| Aspect | CLAT UG 2024 | CLAT PG 2024 |
| --- | --- | --- |
| Purpose | Designed for students who have completed higher secondary education and aspire to pursue an undergraduate law degree (B.A LL.B or B.B.A LL.B). | Tailored for law graduates who wish to continue their legal education at the postgraduate level (LL.M). |
| Exam Content and Structure | Focuses on areas like general aptitude, legal reasoning, English comprehension, current affairs, and basic mathematics. | More specialized, with a significant focus on advanced legal concepts like Jurisprudence, Constitutional Law, and essay-type questions on contemporary legal issues. |
| Post-Exam Opportunities | Provides access to entry-level positions in law firms, legal departments of businesses, NGOs, or options to start own legal practice. | Opens doors to higher-level opportunities such as academic positions, senior roles in legal firms and corporate legal departments, or specialized fields of law practice. |
Check: CLAT PG Mocks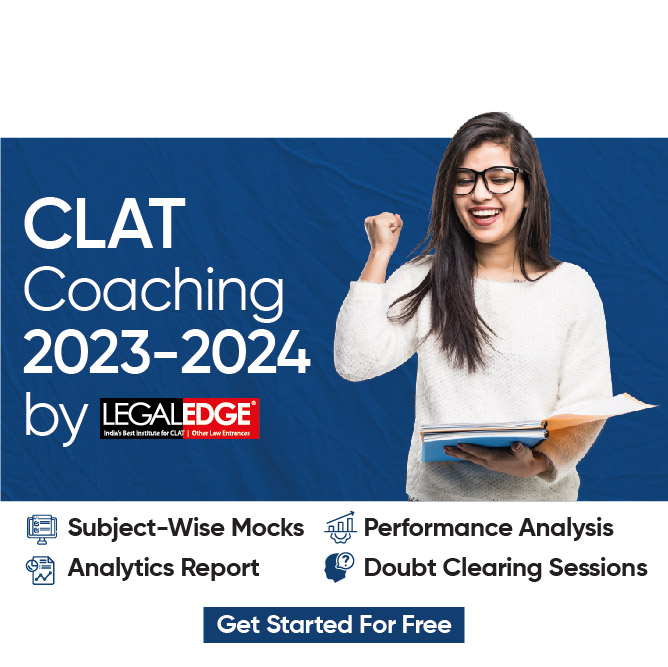 Key Takeaways
Hope you got an idea of what is CLAT PG. Follow this link to read more about the CLAT PG 2024 exam.
Here are the key takeaways from this article:
Definition and Purpose: The Common Law Admission Test Postgraduate (CLAT PG) is a competitive entrance exam conducted in India. It is specifically designed for law graduates seeking admission to postgraduate law programs (LL.M) in premier law schools and National Law Universities across the country.

Exam Structure: The CLAT PG examination consists of two sections. The objective section features multiple-choice questions on key areas of law, while the subjective section tests the candidates' ability to engage with, analyze, and articulate complex legal issues through essay-type questions.

Career Opportunities: Passing the CLAT PG paves the way for multiple career opportunities in the legal field. This includes roles in academia, judiciary services, corporate legal departments, legal consultation, as well as the possibility of pursuing a range of specialized legal careers at both the national and international levels.

Significance: The CLAT PG serves as an essential stepping stone for law graduates in India, allowing them to pursue higher legal education and opening doors to numerous career opportunities. It represents a benchmark of excellence in legal knowledge and understanding, ensuring that those who qualify are well-prepared for the rigors of advanced legal studies and the legal profession.