Summary: In recent times, there has been a rise in integrated programs offered in colleges and universities. If you want to study a 5-year integrated program in management at TAMPI, continue reading the article.
TAMPI offers a 5-year integrated program to eligible and interested candidates who wish to have a successful career in the field of business management.
The program aims to transform young students into business leaders with a multi-dimensional perspective towards creating value in tomorrow's world.
You must clear the IPMAT entrance exam with qualifying scores to get admission to this program. It is a national-level entrance test for admission to the five-year integrated program conducted by IIM Indore.
TAPMI IPM Admission 2023 Important Dates
While the important dates and events are given for MBA programs.
You can follow the IPMAT admission process for TAMPI IPM admission.
| | |
| --- | --- |
| Tapmi Admission Process | Dates |
| Release of advertisement and application form | To be announced |
| Last date for submission of online application for IPMAT 2023 | 6 March 2023 |
| Last date for submission of online application | April 14, 2023 |
| IPM Aptitude Test 2023 by IIM Indore | 16 June 2023 |
Visit the official website to learn about the latest updates related to the 5-year integrated programs.
Check: NIRMA University admissions through IPMAT
TAPMI IPM Admissions 2023
TAPMI admission 2023 is offered based on the scores obtained in the IPMAT exam.
The examination is a two-hour written exercise meant to gauge your aptitude. The exam is fiercely competitive, and the selection procedure is strict!
The online registration process for the IPMAT exam will begin shortly. Ensure you check the official website to keep yourself updated with the latest information.
Let's check the eligibility process to complete the TAMPI IPM registration.
There is no "Management Quota" for admissions at TAPMI.
TAPMI IPM 2023 Eligibility Requirements
Qualification:
You must have completed (HSC)/(10+2) examinations or any equivalent examination from a recognised board.
Candidates should have English as a compulsory HSC/(10+2) Examination subject.
Check: IIM IPM Admissions 2023
Marks:
You must have a minimum of 60% aggregated marks, passed in 2021, 2022 or appearing in 2023.
You must have valid scores in the IPMAT exam 2023.
Note: Students appearing for these exams in the year 2023 are also eligible to apply. They will be shortlisted if they obtain the minimum marks.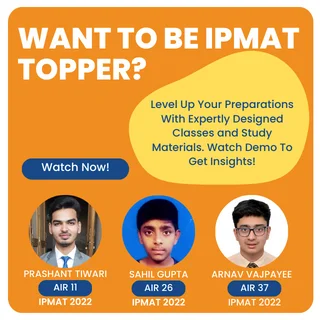 Check: IIM IPM Interview Questions with Answers
TAPMI IPM 2023 Application Process
Online applications are required for all requests compulsorily.
Applicants can use the online banking payment option, UPI, a credit card, a debit card, or a combination of these to pay for their applications. You can submit an application and pay online using our website, which will walk you through both processes.
The process could be modified based on potential future advancements.
There is no reimbursement for the application cost.
TAMPI uses scores from IPMAT, JEE, and SAT to narrow the pool of applicants for our BBA (Hons.) Program.
However, neither the selection procedure nor the program's operation is impacted by the conducting bodies for these exams.
Check: Preparation Story of an IPM Aspirant
Application Fees:
The application process will require you to pay an application fee of Rs. 600 (inclusive of all taxes)
Candidates may have to incur, in addition, the processing fees applicable as per the rules of banks and other payment gateways.
NRI Applicants
Applicants for the NRI quota must be citizens of India and meet one of the following requirements (with enough proof).
Own an Indian passport and be an Indian citizen residing outside India regularly.
Sons and daughters of NRI-sponsored candidates who are non-resident Indians (NRIs) must be sponsored by either their NRI parents, their NRI brother or sister, their NRI grandparents, or their NRI spouse.
TAPMI IPM Integrated 5-year BBA – MBA Course Details
The T. A. Pai Management Institute (TAPMI), Bengaluru, develops young students into business leaders with a multidimensional view towards producing value in tomorrow's world through its Bachelor of Business Administration Honors (BBA Honors) curriculum.
The graduates possess exceptional intellectual prowess, a multidisciplinary attitude, and substantial functional knowledge with the IPM degree.
The specialisations offered in the TAMPI IPM program are as follows:
Finance
IT
Analytics
Marketing
Operations
Design and Human Resources
Check: Idioms and Phrases for Management Exams
Selection Process and Seat Matrix 2023
Your selection process is based on IPMAT scores, followed by the micro presentation and online interview.
Candidates must attend a micro-presentation and online interview of 20-25 minutes overall.
Other factors of the final selection for admission to the program would be based on the following:
Academic profile (Xth & XIIth) & English proficiency.
Entrance Test (IPMAT/ JEE/ SAT)
Personal Interview
Micro-presentation
Extra-curricular achievements
Gender diversity considerations
TAPMI IPM Fee Structure 2023
The fee structure at TAMPI for IPM integrated program is as follows:
Regular: INR 3.75 Lakhs per year
(Refundable Caution deposit of INR 10,000)
NRI: USD 9000 per year
(Refundable Caution deposit of USD 500)
Alumni Society Life Time Membership Fee:
Regular: INR 20000 (to be paid along with tuition fees for Year 3)
NRI: INR 10000 (to be paid along with tuition fees for Year 3)
Check: Why Should You Choose Management as Career?
Conclusion
Other institutions accepting the IPMAT 2023 scores for admissions into their integrated programs are the Indian Institute of Management Ranchi, Institute of Management, Nirma University, Department of Management Studies, NALSAR University of Law and Indian Institute of Foreign Trade.