If you are preparing to write the CLAT entrance exam, you must also be prepared for Indian Polity Questions. Indian Polity includes a wide range of topics like the Constitution, Citizenship, Directive Principles, Judiciary, State Governments, Local Government, Election system, Executive, President, Prime Minister & Council of Ministers, Fundamental Rights and more.
The most important topic of Indian polity is The Constitution which also includes sub-topics like government, center-state relations, new bills, laws, governance issues, social justice, etc.
List of Indian Polity Questions
Here is a list of sample Indian Polity questions to refer to.
Which part of the Constitution of India deals with the Emergency provisions?
Part XVIII
Part XV
Part XVI
Part XXI
Answer - Part XVIII
Download FREE Study Material for CLAT Exam by LegalEdge
Who is currently serving as the Speaker of Lok Sabha?
Om Birla
Meira Kumar
Sumitra Mahajan
Somnath Chatterji
Answer - Om Birla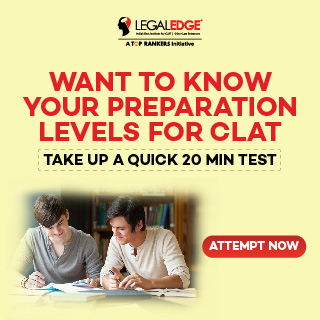 The Vice President of India also holds the position of
Ex officio Chairman of Rajya Sabha
Head of the Armed Forces
Speaker of Lok Sabha
Chairman of Rajya Sabha
Read more: Short tricks to enhance your preparation for Law entrance exams in India
Answer - Ex officio Chairman of Rajya Sabha
What is the maximum strength of Lok Sabha i.e. House of the people?
Answer - 552
In India, a three-tier Panchayat is envisaged for states which have a population of
15 Lakhs
20 Lakhs
25 Lakhs
30 Lakhs
Answer - 20 Lakhs
The number of Judges can be altered in the Supreme Court By
Presidential Order
Central Government by Notification
Supreme Court by Notification
Parliament by Law
Answer - Parliament by Law
The jurisdiction covering the Andaman and Nicobar islands falls under the supervision of
A circuit bench of the Bombay High court at Port Blair
A circuit bench of the Madras High Court at Port Blair
A circuit bench of the Calcutta High Court at Port Blair
A circuit bench of the Supreme Court of India at Port Blair
Answer - A circuit bench of the Calcutta High Court at Port Blair
Supreme Court has made Right to Free Education as the part of which among the following rights?
Right to life
Right against Exploitation
Right to freedom of speech and expression
Cultural and Educational Rights
Answer - Right to life
The Ordinance passed remains in force for how long after the Parliament is reconvened?
Six months
Six weeks
Six days
Sixty days
Answer - Six days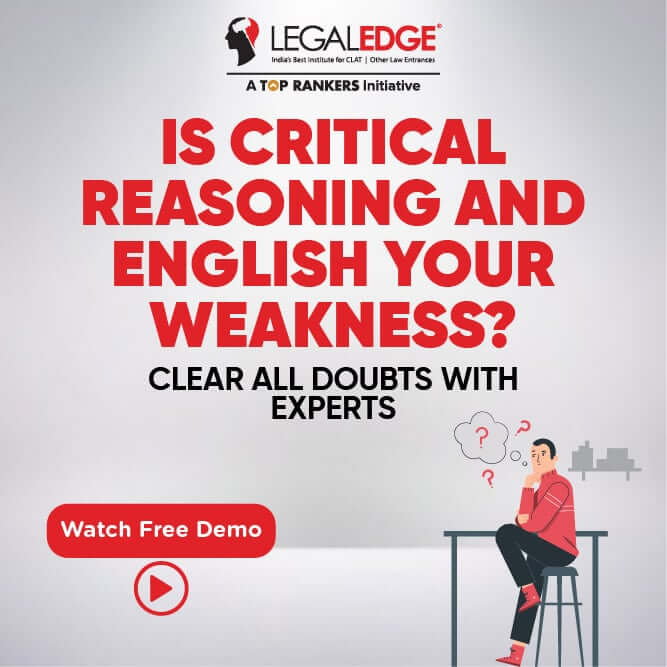 Which case laid down the basic structure doctrine of the Constitution of India?
A K Kraipak v Union of India
Kesavananda Bharti v State of Kerala
A K Gopalan v State of Madras
None of these
Answer - Kesavananda Bharti v State of Kerala
Preparation Strategy for CLAT 2023
Cracking the exam on the first attempt is not a difficult task if you are committed and dedicated to your goal. the following are a few tips to enhance your CLAT exam preparation.
An hour of planning can save you 10 hours of doing.
Decide the year you wish to take the CLAT exams. Plan a timesheet that you can follow every day. Knowing the exam date can help with the preparations in advance. Therefore keep a tab on the official website for any new notifications.
Where's my syllabus to guide me through my CLAT preparations?
Exam pattern and exam-related details are of extreme significance. Understand the concepts thoroughly and know the weightage for each section to prioritize your time learning those concepts. Keep yourself updated with any changes in the syllabus or exam pattern.
It's Okay to ask for Help!
Apart from the online material, sample papers, reference books, check leged institutes that provide CLAT coaching. We have our experts at LegalEdge helping students crack their CLAT exams.
Begin your day with a positive mindset
There is no better way to approach your exams than with a calm and confident mindset.