Readers' digest: Looking for the best Business Management School for your MBA journey but finding none? Here we have IFMR for you to get you through your MBA journey. Check the blog below for details related to IFRM IPM Admission Process 2023.
Are you ready for some quick information about one of the top Business Schools? IFMR Chennai is one of the leading Business Schools in India, which has been active since the 1970s.
The college is known for its quality education, and Industry acquainted curriculum. This Institution is affiliated with Krea University, strengthening its reputation as the best business college in India. 
The MBA program at IFRM is available with multiple Exit Options of 3, 4, and 5 years. You can drop your degree after 3 years (BBA) or 4 years (BBA Hons).
However, you must complete the 5 years course for an MBA degree.
Let's understand the IFRM IPM Admission Process 2023.
IFRM IPM Admission Process 2023
IFMR can be conferred as an institution with comparatively high fees (INR 5 lakh per annum for 3 years & 7.28 lakhs for the last two years). Also, the seat is limited in number (60 seats) hence acquiring admission at this college becomes highly competitive. 
No College can be efficient if it doesn't offer placement; IFMR recorded the highest placement at 19.25 lakhs per annum last year. Leading companies like Deloitte, EY, KPMG, JP Morgan & Chase, etc, hired most students.
To acquire admission, you have to clear CAT/ MAT or XAT. If you have qualified for these exams, you must appear for the Krea University Common Entrance Test. Now, let's dive into the details of IFMR to ensure your admission in the upcoming academic year.
The selection process at IFRM includes application, Online Test, Immersive Case analysis, and The Personal Interview Round.
Check: IIM IPM Syllabus
IFRM IPM Application Process 2023
The first step towards your IFRM IPM Admission Process 2023 is the application process.
Let's check the brief account for each step:
You must begin the registration process by signing up on the official website. 
Next, you have to move to an application, which you can begin by recording a personal story that shouldn't be more than 750 words long. 
Proceed by adding all your academic documents (Class 10th and 12th). Also, you must maintain 60% in both academic examinations. 
Attach your SAT/ACT score. (it is optional)
You can also add an Extra Curricular activities certificate alongside your other documents. 
Once verified and Valid ID.
Rs. 100 as an application fee. (Only 1 application/ person is allowed)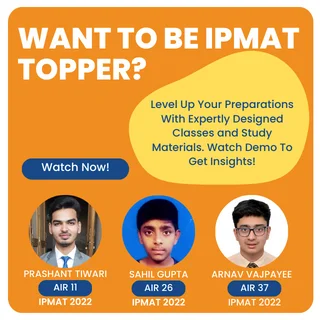 IFRM IPM Online Exam 2023
Once your application gets selected after verification, you must appear for a 75 min online entrance test. IFRM IPM Admission Process 2023 requires you to clear the online exam.
You must solve questions from
Logical and Numerical Reasoning
Verbal ability
Essay Writing
The core objective of this test is to prowess to organize, summarize, and cogent opinions on various aspects of a specific topic, as well as comprehend the aspirant's well-rounded perspectives
Check: IPMAT Exam Pattern
IFRM IPM Immersive Case Analysis 2023
A team of candidates and panelists will participate in the case dialogue.
The Immersive Case Analysis is merely a tool that allows candidates to express themselves more freely and clearly.
Check: IPMAT Best Books
IFRM IPM Personal Interview 2023
The Personal Interview round is to gain more insight into the candidates like you applying for admission at IFMR.
Once you crack the interview round, your admission is promised. Here, you will be asked questions based on contemporary events to analyze your awareness and understanding of certain topics. 
IFRM IPM Criteria of Eligibility 2023
IFMR has different admission criteria for both Indian and International candidates. We have listed them all for your reference. 
Indian Candidates
You must have 12th or Equivalent from a recognized board (Central or State) with a 60% aggregate score. 
Your age must not exceed the limit of 21 years by August 1, 2023.
Check: IPMAT 2023 Eligibility criteria
IB & Cambridge International A-level applicants
If you have IB Diploma and IB Certificate, hold a minimum of 24 Credits, and have cleared 3 subjects at the Senior School level. Then you can apply.
If you need to have Cambridge International A levels, you must have completed a minimum of three subjects to apply. 
IFRM IPM Important Dates
The IFRM has a predetermined schedule for all its events. From admission application, there are certain deadlines to which you need to adhere to. We have enclosed the details below:
Opening of Admission portal 
Last date of submission 
Examination 
Case Discussion and Personal Interview 
Admission letter dispatch 
Admission closure 
Stage 1
10, Oct 2022
Dec 05, 2022
Dec 18, 2022
Jan 4-8, 2023
Jan 23, 2023
Feb 13, 2023
Stage 2
Jan 23, 2023
Feb 05, 2023
Feb 22-28, 2023
Mar 12, 2023
April 17, 2023
Stage 3
Apr 30, 2023
May 14, 2023
May 20-26, 2023
Jun 2, 2023
June 20, 2023
Check: IPMAT preparations
IFRM IPM Fees Structure 2023
Fees are one of the most crucial aspects of admission to any Institute.
The Institute needs to fit into your financial planning. Hence, before you proceed with the admission, you must have complete information about the Fee structure and payable amount. 
Criteria 
Amount payable 
Total 
Application fees
100


10,80,100
Tuition fees/ Course fees
8,15,000
Lodging fees
1,80,000
Admission Charges 
35,000
Security deposit (refundable) 
50,000
Notes: Fees can increase by 5% - 8% given to inflation or other economic development within the Economy. 
Check: IPMAT admit cards
Summary
IFRM IPM is one of the top Business schools and the most sought-after Institute for MBA aspirants. We have ensembled all the details on this Institution. We hope you achieve tremendous academic and professional endeavours
Check: IPMAT Exam Centres