The legal aptitude section plays a very important role in the Common Law Admission Test (CLAT), as it checks your ability to solve the questions based on aptitude.
If you aim to secure a good rank in the exam, you must be well-versed in both legal aptitude and current affairs.
The questions in the legal aptitude section will have comprehension passage-based questions designed to test your critical thinking and analytical skills.
Are you wondering about how to get a good score in the CLAT Legal Aptitude section? Well, this post will give you a complete insight into how to score 42+ in the CLAT Legal Aptitude section.
So, why late? Try to follow all the tips given in the post below and perform well in the upcoming exam.
Sections of CLAT Legal Aptitude 2024
According to the CLAT Exam Pattern, the Legal Aptitude section is divided into three sections:
Legal Reasoning: This section tests your legal aptitude skills, and you must apply legal principles to the factual situation. Also, your knowledge in the study of law, research aptitude, and problem-solving ability is judged through this section. Important topics in this section include the Indian Penal Code, Law of Torts, and Law of Contract.
Legal Facts: This section is based on knowledge of judgments and amendments. Some of the essential topics in this section are Fundamental Rights, Directive Principles, Preamble, Important Amendments, Important Judgments, Recommendations & Chairpersons of law commissions.
Legal GK: This is wholly based on general awareness and current affairs. One of the best ways to prepare for Legal GK is to read newspapers regularly.
Tips to Score 42+ Marks in CLAT 2024 Exam
Reading is the key to scoring 42+ marks in the CLAT since the question paper consists of comprehensive-based questions.
Also, you have to be a speedy reader to analyze the meaning of comprehension and derive answers. The primary focus of the CLAT exam will be English, Legal Aptitude, and GK. However, to get a good rank, you must brush up on your legal and logical aptitude skills.
Solve as many Question Papers for CLAT as possible to improve your time management skills and problem-solving skills.
You must make sure to manage time and dictate yourself in improving your English vocabulary to the best of your capability.
Stick to a schedule
Remember, most of the time, some topics may look very complex and go over your head at first glance, but if you put your head together and start with the basics of the topic first, you can eventually dismantle even the most difficult of topics.
No war could be won without discipline. The first thing you need to do is to create the best CLAT Study Plan and work accordingly.
Also, note that we all have different reading habits, which must be accounted for. For example, some of us are night owls, but others may be comfortable reading during the day and evening hours.
So, you must create the study plan accordingly.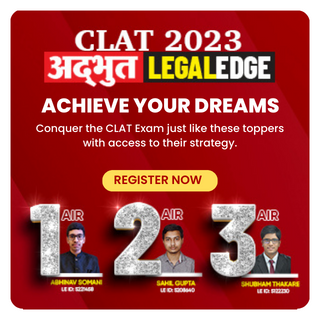 Reading Habit
If you are interested in making your career in Law, you should develop a reading habit, which helps to be updated with the latest news related to the legal and judgemental.
Read the daily newspaper, magazines, legal journals, books pertaining to the laws (like- polity, constitution, etc.), etc.
While Reading a Newspaper for CLAT, you should try to understand the fundamental theme, arguments, counter-arguments, and legal appearances given in the section.
Incorporate Revision in Your Routine
The continuous revision could not only help you keep the acquired Information fresh but will also help in rectifying the information in case you haven't accessed the correct source previously.
You must allocate at least 1 hour in your timetable to revise all the topics you have prepared for the particular day.
Practice Previous Question Papers
Questions from last year are something that can give you the best practice ground. These questions don't only serve as a guide but provide you with a clear outlook of what you can expect in your examination.
Also, it will help improve your time management skills and problem-solving skills in the final exam.
Try to solve as many legal aptitude questions as possible to enhance both these skills. Also, it will help improve your speed and accuracy in the final exam.
Read more: Short tricks to crack the CLAT exam on the first attempt
Attempt Mocks Tests
Most of the questions are asked in the passage form. So, it is important to have the speed to reading and understand, which helps solve the problems within the time limit.
So, solving CLAT Mock Tests daily will help you get an idea about how much time you are taking to solve each question.
Also, it will help analyze your preparation levels and help improve in weaker areas.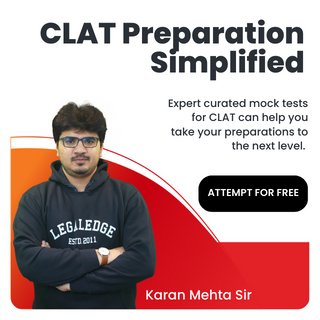 How to Answer CLAT Legal Aptitude Questions 2024?
Stick to the Principle" is the Golden Rule. Take the Principle as law. Read the facts carefully. Apply the facts to the Principles and draw out your best answer. This will apply to 80% of the questions.
Only some of the questions would be there where you have to go out of the Principle. The following are some of the best CLAT Legal Aptitude Preparation Tips that you can inculcate while solving the questions in the exam.
While answering any question, try to match that option's language with the Principle's language. If it is matchable, then there is a high chance your answer is correct. And if it is not matchable, then it is not correct. Apply this cheat code while attempting all the questions of Legal Aptitude.
While answering assertion reason questions, read the question carefully. If the Assertion itself is wrong, then your answer would be A is False and R is true. Then read the reason; if the reason is wrong, then the answer would be A is True, and R is False. If both the Assertion and the Reason are correct, then the answer would still be from A or B. Do a little trick here.
Also, you have to work on your time management skills for CLAT, which makes a huge difference in the final exam.
You have to concentrate on a List of all the Prominent Judgements, study all the recent bills passed by a parliament or in case they are about to be passed and recent appointments in law commission or election commission or change in any other authoritative.