The English section or reading comprehension is essential for the Common Law Admission Test (CLAT). In CLAT Exam, you can easily score 15-20 marks with a good knowledge of English Language Concepts.
Most of you preparing for the entrance exam might think that English does not require much practice. But this is not true. Just like other sections, you must give equal importance to the English subject.
Scoring more than 25+ in English can be challenging if you refer to too many books. Therefore, you can prefer anyone good book like Objective General English by SP Bakshi to enhance your grammar and vocabulary skills.
You can make the most of this time by taking your preparations from good to the best. Yes! Read through the post that will give you a complete insight into tips to score 25+ in English for CLAT 2024 Exam.
How Many Questions are Asked in CLAT English 2024?
There will be about 28-32 questions under the English section, meaning around 20% of the CLAT Question Paper comprises English questions.
The important topics for the English section are comprehension, the transformation of sentences, subject-verb agreement, synonyms, antonyms, one-word substitution, spotting of common errors, and idioms.
It is crucial to manage time and dictate yourself in improving your English vocabulary to the best of your capability.
Important Topics for CLAT English 2024
As per the latest pattern, the English section includes 450 words passages followed by 4-5 questions. These passages will be taken from historically or contemporarily important non-fiction and fiction works.
It would be of the standard of a Class 12 student. Also, there is a negative marking of 0.25 marks for each wrong answer.
The following are some of the important topics for CLAT 2024 that need to be prepared for the English section and plan your preparation accordingly.
Sentence Correction
Fill in the Blanks
Sentence Rearrangement
Idioms and Phrases
Comprehension-Based Questions
Foreign Language Words
Spelling Check
How to score 25+ in English for CLAT 2022:
Do you read every day to enhance your English speaking skills? When we say reading, it does not imply study material or any textbooks. Instead, it could be anything like reading novels or English newspapers.
For the last three years, there have been 30 questions asked in the English section. Let us assume the same number for this year and learn the guidelines that will help you score 25+ in English in the upcoming CLAT 2024 Entrance Exam.
1. Pay attention to small this:
While preparing for the exam, you cover all the topics, right? You must have done it for English too. But you still make mistakes?
Have you ever wondered why?
It happens because of the small things, the English grammar rules, and the exceptions you miss. Hence, focus on filling the gap in the CLAT English Section small and key concepts.
You can identify it through practicing mock tests, previous year's question papers, and quizzes.
Do a thorough analysis of your performance to introspect it.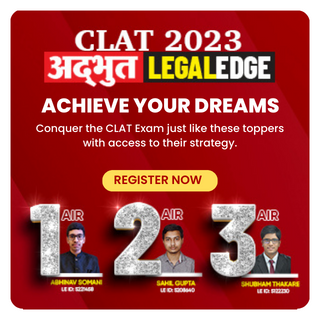 2. Learn Vocabulary
The English language relies heavily on vocabulary. The majority of the questions in the vocabulary part are about synonyms, antonyms, idioms, spellcheck, fill-in-the-blanks, and other related subjects.
Hence work up vocabulary and practice Important CLAT English Vocabulary Questions to brush it up. It will help you to score 25+ in English for CLAT 2022.
3. Keep Looking
Keep looking for the pain points where you are most likely to commit mistakes.
Analyze your pattern of committing mistakes through the mocks.
Pay special attention to all the knowledge gaps, if any.
4. Avoid Fatigue error
CLAT Exam is a very reading-intensive exam where you will read continuously in all sections like Reading comprehension-based passage, CLAT reasoning, Legal section
So you spend most of the time reading. You are more likely to commit mistakes that you usually will not make while practicing at home in such a situation.
You can resolve this issue significantly by increasing your sitting hours. As you devote more and more time practicing the mock tests in a single sitting, you gradually increase the stamina of taking exam pressure. This habit will help you combat fatigue errors.
CLAT Schoalrship Test 2024 by LegalEdge - Get up to 100% Off
5. Understand the trap
The experts set the exam paper to evaluate your analyzing skills. That is why typically, you get to see very close options in the question paper.
Many students get carried away with the close options and mark the wrong answer.
Read more: Short tricks to enhance your English speaking skills for CLAT
Do not get trapped in this. The solution is to brush up on your concepts and make your understanding precise.
Try to sharpen your understanding of language. This way, you will be easily able to differentiate between close options.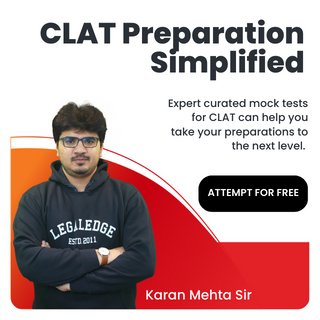 6. Be prepared, Always
To score 25+ in English for CLAT 2024, always be prepared for something new!
Yes, CLAT is an exam where you can expect the unexpected. So be mentally prepared to expect something new in the exam.
For example, this year, there are some questions on the figure of speech topic. It haunted many aspirants who were not ready for the surprise.
Do not let such things affect your performance. Focus on what you have learned and prepared so far, and be confident about it.
Do not let the exam hall pressure haunt your confidence level. Practice CLAT Mock Tests 2024 curated by the Subject Matter Experts of Legal Edge.
7. Focus on slow, mindful reading
One of the prevalent mistakes is speedy reading; when you skip some options, a part of a sentence is while reading.
So in a hurry to complete the paper, the speedy reading backfires.
How to Attempt CLAT English Questions 2024?
The English questions for CLAT can be attempted in several ways. Some of them are given below.
Following these tips will help enhance your CLAT English Preparation 2024 and score well in the upcoming exam.
Each passage will mainly have one main point that you need to discern. Then, you need to identify the statements that are either for or against them in the passage. Most of these passages will be something that you don't require prior knowledge to solve.
After detecting the main point, it is important to remember several questions about the passage. Questions like who, why, what, where, etc., will help you to analyze and understand the passage better.
It is crucial to pay attention when a new paragraph changes. Usage of words like however, nevertheless, etc., can be used to present the counter-argument. You have to read it minutely to find out the fine details.
Vocabulary questions are mainly of two kinds. One asks the meaning of a specific word, and the other asks the meaning of the word in reference to the passage. It is advisable to read two lines before and after the mentioned word. Just by reading these lines, you can ascertain the meaning of the word even if you are not explicitly aware of it.
It is wise to approach the questions only after you have understood the passage as best as you can. This will help you to solve it quickly.
It is essential to be absolutely concentrated while reading the questions. Minor additions of words can change the entire meaning of the question and, thereby, the answer.