A strong mind, determination, and hard work are needed to crack the Judicial Services examination to live a noteworthy life as a Civil Judge.
It's a known fact that there is a limited number of seats, cut-offs were too high, and several other problems faced while preparing for exams, etc but remember that on being selected the end result is rewarding.
There are several preparation tips online, however, this article sheds light on important preparation methods offered by our experts from the SuperGrads team who have been training students for several years from now.
You can also go through a complete video in the article discussing preparations strategies and more.
Download Free Study Material for Judiciary Exams by Judiciary Gold
When to Start Preparing for Judicial Services Exam?
Each of you may have a different studying style, and it also depends on how quickly you grasp things.
Here are a few suggestions on when to begin Judiciary Exam Preparation:
Generally, it is suggested to begin the preparation at least 2 years to 1 year before the exam. This depends on your ability. Some may require just 3-4 months, while others require more time.
Make sure to prepare a proper study plan and follow it accordingly.
Try to complete the planned task for each day without fail!
Check and decide the states you would like to take up the Judiciary exams and go through their respective

Judiciary Exam Syllabus

.
Refer to the recent edition and recommended books or materials during your preparations.
Allot at least 2 hours for each subject as per your convenience and try to study at least 4 subjects per day.
How to Start Preparing for Judiciary Exams 2022?
Our expert Shubham Upadhyaya has given the following suggestions for the preparation:
The first and basic step to starting civil judge exam preparation is that you should start the preparation "reverse". Begin with main exam preparation, and then automatically, you will be preparing for the prelims examination.
Read the syllabus for your respective state to know the subjects involved. The subjects vary for each state.
The judiciary exam syllabus for the mains exam is vast. Thus, when you start preparing for the mains, it will be beneficial for you to crack prelims easily.
Go through the respective state-wise

Judiciary Exam Pattern

to know the number of questions asked and the marking scheme.
Prepare a question bank for every major and minor subject for the prelims and mains.
The major part of the syllabus includes the Constitution of India, Code of Criminal Procedure, Code of Civil Procedure, Indian Penal Code, and Indian Evidence Act.
Prepare a question bank of 50 questions from each major topic of your state judiciary and create 50 HOTs questions. So this question bank will help you during revision.
The minor subjects of the syllabus are the Indian Contract Act, Specific Relief Act, and Transfer of Property Act, prepare a question bank of 25 questions from each topic of your respective state judiciary and create 25 HOTs questions.
After preparing the question bank, immediately start preparing for the main exam and do not wait for the release of the vacancies. Start the civil judge exam preparation and make conceptual notes in advance before the arrival of the vacancies.
How to Make Notes for Judicial Services Examination?
From the day you start preparing for the

Judiciary Exam

note all the important terms and definitions.
You can use play cards for making them look attractive and interesting to read.
Use bookmarks for easy identification of topics to study.
Also, noting down questions from each topic can help in getting a cumulation of hundreds of questions. This can be used during revision to solve questions, and you need not read the entire syllabus once again.
Along with the mock tests and question papers, these notes will be of great help.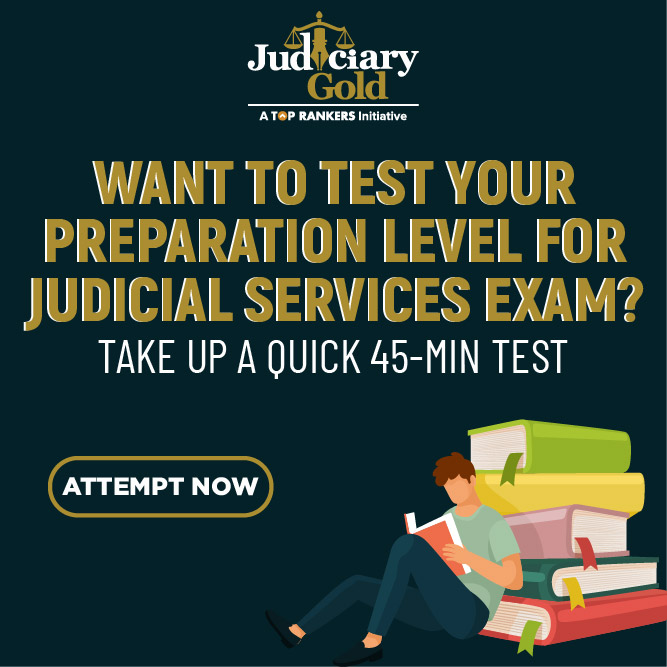 How to Prepare for Judiciary Prelims Exam?
It would help if you prepared for the prelims examination on the basics of reverse engineering technique, i.e. start from solving MCQs and shiftily move to solve Bare Act questions like the long answer questions. This is because you have already prepared a question bank of both major and minor topics.
A preliminary examination is a qualifying exam; you should give as many speed tests as you can from test series and other practice books. This will help you to enhance your speed and accuracy to solve the preliminary examination.
Refer to the highly recommended

Judiciary Exam Books

that are recommended as per the latest syllabus and pattern.
Start practicing comprehensive test series through which your ability to complete the test and your speed will increase.
It would help if you were thorough with the arrangement of the Bare Act. Prepare the index and structure of the topics of the prelims examination. By preparing this index and structure for each chapter for prelims becomes easy to identify from which topic the question is being asked.
You should practice judiciary exam question papers online to enhance your speed and accuracy.
How to prepare for Judiciary Mains Exam?
It would help if you practiced answering writing in a time-bound manner. The authorities do not accept long answers of 10 pages. They accept comprehensive answers with correct points.
You need to practice at least 2 to 3 answers a day with a timer. By using a timer, you know how much time you take to solve one question.
Also, practice at least 2-3 questions from the question bank prepared.
The main key to a clear the mains is to practice answers and write them in a comprehensive answer.
You should practice

Judiciary Examination Question Papers

to enhance your speed and accuracy.
It would help if you were thorough with the contemporary legal and socio-legal issues for Essay writing. Because in essay writing, you are asked to write an essay on current social issues, so you should know all the detail about current social issues. Also, know how to relate this essay topic to the law by knowing the legal information also.
In any case, your both the exams of procedure Law or Substantial law don't go well, you still have a chance to recover by scoring good marks in Judgment writing and Translation.
You may have scored fewer marks in procedure or substantial law than in judgment writing and translation. But, it would help if you remembered that the marks of judgment writing and translation would be replaced by the marks of the procedure and substantial law.
Don't wait for the prelims exam result to start studying from the main 50% of the aspirants follow reverse preparation wisely.
English and Essay Writing preparation Tips
English is one such subject in which students can score more marks. There are many cases where the overall score has been increased due to the marks gained in English.
So, here are a few expert tips and suggestions to help enhance your English preparation for Judiciary Exams.
Improve your General Knowledge and English Vocabulary by reading news and watching any news channel for at least 30-35 minutes a day. This improves your vocabulary.
Read editorials of any newspaper and find at least 5-6 new words in the article. Check out their meaning and know their usage.
Ensure to begin the preparation well in advance by preserving at least 1-2 hours every day for English.
Follow any one book which explains the entire syllabus and grammar. Understand the basic grammar well so that you are well versed in words and tenses.
Write an essay by picking any random topic and know your errors.
How to Prepare for Civil Judge Exam Interview?
Remember that interview is not to test your knowledge but your personality, manners, behavior, and more.
When you are going for the interview, you must be confident. Your attitude must be right.
Prepare Bare Act. thoroughly and check expert tips on

how to read Bare Acts for Judiciary

.
You must be clear with all the concepts as it will help you to answer any tricky question.
The most important topics to be studied are the recent legal issues and developments in the country. Around 50% of questions will be asked on these topics.
Take up as many mock interviews online by doing so you can which type of questions appear and you have a real-time interview environment expirence.
Read about: MP Civil Judge Examination Preparation
Judiciary Examination Preparation Tips from Toppers
Here is the list of tips and tricks suggested by Judiciary Exam Topper. You can watch the video of one of the toppers for the Chattisgarh Civil Judge Examination 2019.
Prepare a schedule for studying all the topics as per the syllabus every day.
Along with dedication, a minimum of 10-12 hours of study is required. Allot 2-3 hours for reading general knowledge, recent judgments, and newspaper.
Practice more English and Hindi Langauge papers.
Focusing more on major Acts like CrPC, CPC, IPC, Evidence Act, Constitution, Personal Laws, Mercantile Laws, etc., would reduce your workload and last moment's anxiety.
Do an internship that is offered to all students in Law schools. A good internship experience adds a lot to the personality. It provides a way to apply the concepts and principles learned to situations in the real world.
An interview is basically an assessment for a suitable judge. The interview board assesses your confidence, ability, and commitment to the position.
The interview is a mix of legal and personal questions. If you wish to

become a Civil Judge

, it is important to be well prepared and focus on reaching the target.
One should have a clear conception of all the law subjects, your background, home town, academics, work experience, recent legal developments, etc. Questions asked were mostly from procedural laws like CrPC, CPC, Domestic Violence Act, family background, general knowledge, especially hometown, and why choose Judiciary?
Best Books for Judiciary Exams 2022
The following are some of the Best Books for Judiciary Exams that you can include during your preparation. These books cover all the topics as per the latest syllabus.
| | | |
| --- | --- | --- |
| Subject | Book Name | Author |
| Jurisprudence | A textbook of Jurisprudence | Avtar Krishen Koul |
| Constitution | Indian Constitutional Law | Prof. M.P. Jain |
| Hindu Law | Modern Hindu Law | Dr U.P.D Kesari |
| Muslim Law | Outlines of Mohammedan Law | Asaf A.A. Fyzee |
| Contract | Textbook on Law of Contract and Specific Relief | Avtar Singh |
| Law of Torts | The Law of Torts | Rattan Lal and Dhiraj Lal |
| Property Law & Easement | Property Law | Poonam Pradhan Saxena |
| Crpc | Criminal Procedure Code | R.V. Kelkar |