The pressure for preparing for competitive entrance exams like Common Universities Entrance Test (CUET) is quite overwhelming because the competition is very high. But remember, you cannot determine what the ultimate result of the exam is going to be just by worrying about it.
Instead, it would be best to try to work out what is in your control and let all other things fall in place as they are supposed to.
In the CUET exam, you are mainly tested on your language skills, domain knowledge, and aptitude. Therefore, solving previous year's papers is one of the best preparation methods to enhance your skills and perform well in the upcoming exam.
This post shall walk you through previous year's CUEt Question Papers PDF. You can download the pdf and start practicing from today for better results.
Sample Questions for CUET Exam 2023
As the exam is pretty new, most of you might be worried about the type of questions asked in the CUET Entrance Exam.
To make it easier, we have provided a few sample questions for your reference in the post below. Try to solve all the questions given below, as it will help you analyze the difficulty level and the type of questions asked in the exam.
According to the experts, solving question papers is one of the best methods to improve your speed and accuracy in the final exam.
Download Sample Question Paper for NTA CUET Exam 2023 by Super Grads
Question: Read the passage carefully and answer the following questions.
1) What is peace of mind
A) Feeling happy and excited
B) Attaining mental serenity
C) Achieving one's goals
D) To be free from all worries and tensions
Read more: Last week preparation strategy for CUET exam
2) Peace of mind is not easy to attain because
A) Ideal peace does not exists
B) Peace does not come overnight
C) Peace exists along with a non-peace item
D) Peace comes with calm and stillness
3) Analogy in para 2 means
A) Integral
B) Likeness
C) Comfort
D) Luxury
Read more: Short tricks to prepare for CUET exam in 20 days
4) Choose the synonym of the word "Affluence" given in para 4
A) Extreme
B) Heavy
C) Royal
D) Opulence
Question: Match List I with List II
Choose the most appropriate answer form the options given below:
1) A ii, B iii, C iv, D i
2) A i, B iv, C iii, D ii
3) A ii, B i, C iv, D iii
4) A iii, B ii, C i, D iv
Read more: Short tricks to enhance your CUET Geography preparation
How Do CUET Previous Year's Papers help in my Preparation?
As we all know, the CUET exam is the second largest examination conducted in the country across 554 cities and 13 other cities outside the country.
The phrase "practice markets man perfect" can be correlated with question papers in the CUET Exam Preparation.
The following are some od the benefits of solving previous year's CUET question papers.
Identify weaknesses and strengths: Question papers will help you identify your weak areas, work on them, and give you an idea of your strengths.
Understand paper pattern and syllabus: According to the toppers, knowing the paper pattern and syllabus is the first step during your preparation. If you do not have an exact idea about the pattern, it isn't easy to plan your preparation better. Previous year's papers will provide you with a better understanding of the essential topics for the CUET exam and paper pattern.
Accuracy: Solving the previous year's question papers will increase your efficiency and accuracy on exam day.
Time Management: Practicing Question papers in a time-bound manner will increase your speed of solving questions in a matter of seconds.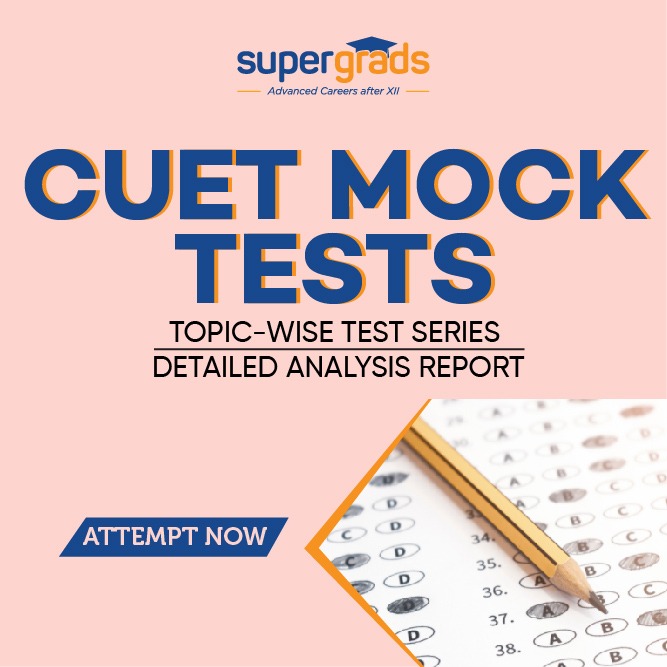 Predict Expected Questions: Checking the previous papers will also help you predict the expected questions in the upcoming exam.
Preparation Level in Check: It keeps your preparation level in check and helps improve in weaker sections.
Boost Confidence: Solving CUET Question Papers in an exam-like environment will decrease your exam fear and fill you with the confidence you need to clear the entrance exam.
Read more: Best study timetable to crack the CUET exam on the first attempt
How to Utilize Previous Year CUET Question Papers PDF?
It is common that after downloading all the question papers, you might wonder how to solve these many papers and when to solve them.
Here are a few tips for utilizing the previous year's papers efficiently and perform well in the entrance exam.
After studying all the topics according to the syllabus, begin your revision.
During the revision period, solve CUET Previous Year Question Papers regularly.
Solve at least 3 question papers weekly so that you can have time to improve on weak areas or wherever you go wrong.
Make it a habit to regularly solve the question papers so that you are perfect in each topic.
Take up each question paper and solve it by keeping a timer to experience the real-time exam environment.
After solving, check all your answers, and allot marks yourself for each question.
Also, take up

CUET Mock Tests

every week to test your preparation levels and improve your time management skills.
Note down where you go wrong and improve in those areas.