Summary: The CAT Exam Application Form 2023 is an online request for applying to the Common Admission Test. Let's understand the details of CAT Online Application Form 2023!
Indian Institutes of Management (IIMs) are some of the country's most sought-after centres for post-graduate education in management. Their singular and highly competitive entry point is the CAT Exam!
To be able to appear in the exam, the primary step is to fill out the CAT Exam Application Form 2023.
We're going to be exploring:
What is the start and end date for the CAT Application Process?
How do you fill out the form correctly?
What is the CAT application form fees?
Are you eligible to apply for this exam or not?
Read the CAT Exam Notification's significant entries right away to know what you're getting yourself into!
Important Dates for CAT Exam Application Form 2023
The exam and application timeline for the CAT Exam 2023 is listed below -
| | |
| --- | --- |
| CAT Exam Application Form 2023 - Details | CAT Exam Application Form 2023 - Information |
| CAT Registration Begins | August 2, 2023 (ANNOUNCED) |
| Time for Opening of the Process | 10:00 am |
| CAT Application Form 2023 Last Date / CAT Registration Last Date | September 20, 2023 (ANNOUNCED) |
| Time for Closing of the Process | 5:00 pm |
| CAT Correction Window 2023 | *New* September 25, 2023, to September 28, 2023, 05:00 PM (ANNOUNCED) |
| CAT Exam Admit Card 2023 becomes available | October 25, 2023 (ANNOUNCED) |
| CAT Exam Date 2023 | November 26, 2023 (ANNOUNCED) |
Check: Why CAT Exam is Important?
NOTE: It is prudent to avoid waiting for the CAT exam 2023 application form's last date before registering for the exam. To avoid last-minute mistakes while filling in your details, make sure you're prepared in advance with all the CAT application form requirements. Familiarize yourself with the process now to make this go much more smoothly!
Keeping this timeline in mind, you need to get an overview of the CAT Exam syllabus for 2023 to begin studying at the earliest!
CAT Exam Application Form 2023: CAT Exam Eligibility Criteria 2023
The basic requirements needed to be able to appear for the CAT exam are as follows:
You can apply if you have completed your Bachelor's degree or equivalent from a recognized university with a minimum of 50% marks (with 5% relaxation for SC/ ST/ PwD).
You can apply during your final year of UG. In this case, you must submit a certificate from your college or university stating you meet the desired requirements.
You can apply at any age to take the CAT exam.
If you're a candidate without work experience, you need not worry! Lack of work experience does not lead to disqualification. However, this may play a role during selection and impact your ability to join the IIM of your choice.
You will also be eligible if you've completed a professional degree like CS, CA or ICWA.
Every single IIM can set their own eligibility criteria (including academic cut-offs & weightage for various considerations beyond the CAT exam) to follow different selection processes. Before starting the CAT application online form process, check where your preferred IIM stands on these requirements.
Ultimately, performance in the CAT exam is important, but IIMs can use previous academic performance, relevant work experience, etc., to short-list candidates during selection.
Interested in getting all the details regarding eligibility? Explore the CAT eligibility criteria for various IIMs in detail here.
Trends observed in CAT Exam
Overall, about 2.22 lakh candidates appeared for the exam. In total, 2.55 lakh candidates had registered and were eligible.

Why does this number matter?
The number of registrations for the CAT exam have seen a remarkable increase of 11% since 2021. For category candidates, this increase stood at 6%.
It must be noted that this is the highest number seen since 2008, when 2.9 lakh candidates signed up to take the CAT exam.
Check: CAT Exam Pattern 2023
How did this record hike come about?
There are 2 reasons why more students filled out the CAT Exam application form for 2022 -
1. A digital campaign was carried out by IIM Bangalore to spread awareness about the opening date for the application process.
2. The CAT registration form filling dates were extended to get more students to register.
Therefore, while the increased participation may alarm you, it should not be a cause for concern. The one-time record does not signal a change in the overall competition level in the exam beyond 2022 unless new campaigns are carried out, and further student-centric changes are included in the conduction of the CAT exam for 2023.
Check: Participating institutes of IIM
CAT Exam Application Form 2023 - 6 Steps to Apply
The CAT application form filling will be carried out on the official website. Bright and early at 10 am on August 3, 2023 (tentatively), you can launch into the first step of registering in this manner:
STEP 1 - CAT Exam Registration and OTP Verification
Share your primary details like name, date of birth, email address and phone number to generate a unique ID and corresponding password on the website.
NOTE: For the first registration step, you will need an email address and phone number to be successfully verified through an OTP. After being successfully vetted through this mechanism, you can start filling out your form.
Subsequently, all official communication about the CAT exam 2023 will be carried out on this number and by email only.
Once logged in, you can complete the CAT application form details in the next step.
Check: CAT Admit Card
STEP 2 - Access the Form & Fill Details
Log in using the credentials you receive on your registered email address and via SMS on your phone.
The application form is divided into 6 sections, namely,
Personal Details
Academics
Work Experience
Programs
Test City
Payment
Each of them contains mandatory sections which cannot be left unfilled. In addition, you must check the information you provide here since inaccurate information can disqualify your candidature in the CAT exam.
Once your basic CAT application form details have been entered, you can upload your signature, photograph and category certificates.
Check: CAT Preparation Books 2023
STEP 3 - Instructions for CAT Application Form Photo Size & Signature
The CAT application form photo size must be within 1200 pixels x 1200 pixels. Additionally, the scanned image of your signature must lie within 80mm X 35mm.
These documents must not exceed 80KB and must be in .jpg or .jpeg format. The image should be clear and not less than 150px/inch.
In the Academic details, you'll be required to share a document which certifies each level of qualification:
SSC/10th/Equivalent Details
HSC/12th/Equivalent/Diploma Course Details
Bachelor's Degree Details
Master's Degree Details
Other Professional Degree Details
All the CGPAs and marks obtained at all these levels will need to be converted into percentages based on the formulas adopted by these institutions.
Ensure you know it and make the accurate equivalence not to be disqualified even after clearing the exam.
NOTE: The original mark sheets will be required during the interview. Obtain them in advance to avoid anxiety at the next exam stage.
Check: CAT Mock Test Series
STEP 4 - Enter your Work Experience
Only full-time work experience is counted. Enter it in the form of days calculated up to 31 July 2023. In case of breaks in work, make sure to mention it under "Break in Experience (In days)".
Now, make your program selection from all the options mentioned.
You can click 'Select All' to include all the various programs across IIMs here. Make your 'Interview City' selections for each of your choices before clicking on 'Save & Next'.
Now you're close to completion. The application form will demand your picks for the city you want to attempt the test in.
You can make up to 6 selections without repeating any of the cities.
Finally, you're close to the end. You can pay by using a Debit Card, Credit Card, NetBanking or UPI.
Check: CAT Cut off 2023
STEP 5 - Pay the CAT Exam Application Form Fees
The fees for CAT exam application form as they apply to various categories of students are different. You will be required to pay one of the two -
₹1150 for SC, ST and PwD candidates
₹2300 for all other candidates
Preview the information entered by you before paying the CAT exam registration fees and confirm your CAT exam registration form 2023 by making the payment.
Check: CAT Exam Subjects 2023
STEP 6 - Submission & Confirmation Message
All your CAT exam details have been filled in at this stage, and the form is complete.
You will receive a confirmation mail of completing the successful CAT exam 2023 application form.
As soon as the process begins, sign up by filling in the CAT Exam Application Form.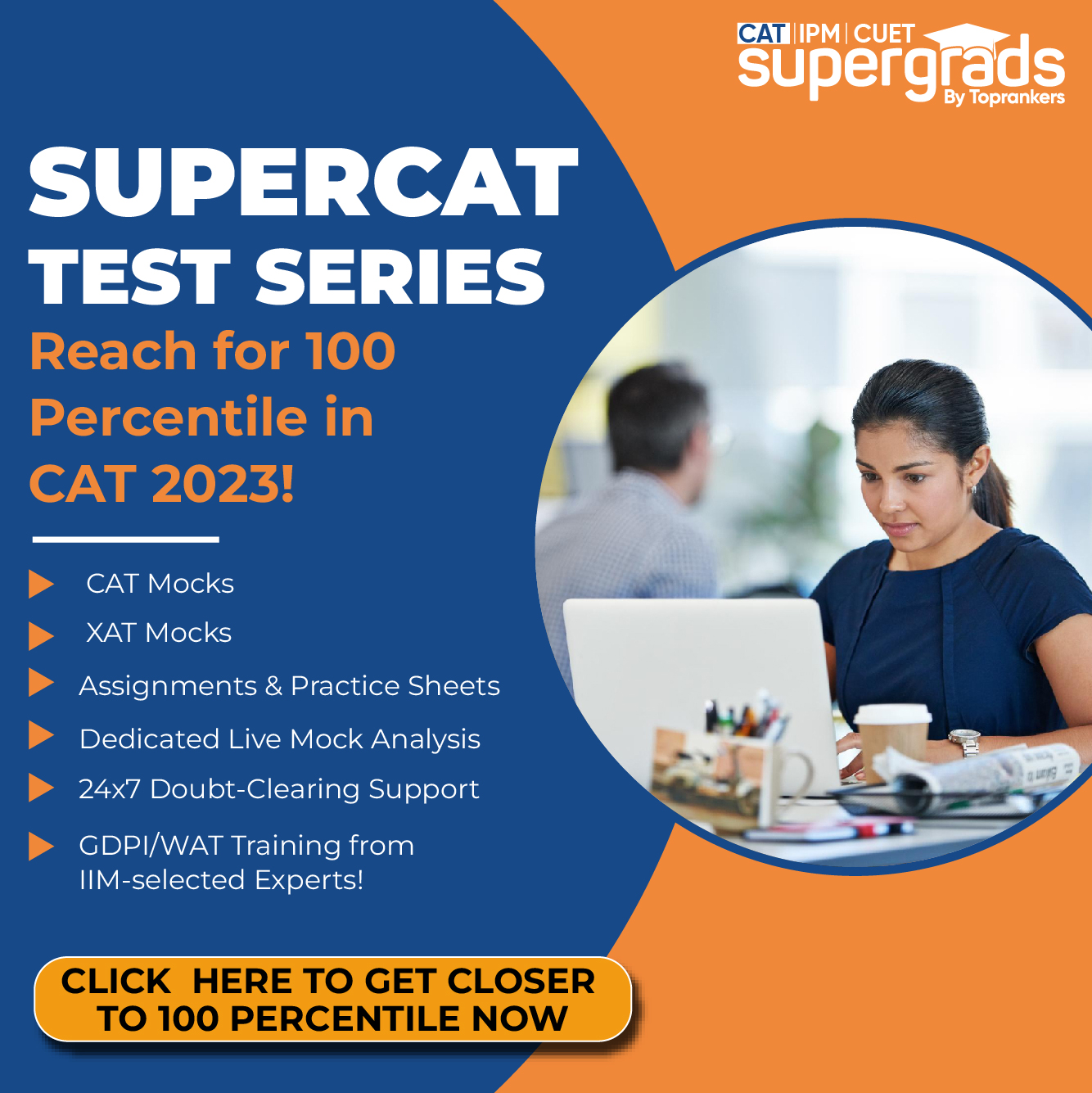 Need more assistance or facing any difficulties?
Get in touch with the Candidate Help Desk for issues related to registration, application and payment processing and document uploading by e-mail (cathelpdesk@iimcat.co.in) or call 1800 210 8720 (Toll-Free) from Monday to Saturday, 9:00 AM to 6:00 PM (excluding National holidays).
If you need help regarding eligibility, category and PwD certificate, don't hesitate to contact the CAT Centre office by e-mail (cat2022@iimb.ac.in) or call +91-080-26993388 / 3017 / 3013.
Check: Documents to Carry for CAT Exam
4 Errors to Avoid while Filling the CAT Exam Registration Details
Making a mistake while filling in the form is a major setback in an annual exam! Not only do you not get to test yourself after working so hard, but you will also have to wait for another 365 days before trying again.
Here's what you should be watching out for:
Instructions for Photograph – The image used should not be more than 6 months old from the time of filling the form. It should have a white background, and a printed copy of the same will be required on the exam day.
While converting your grade or CGPA to a percentage in a situation where your university or college does not have a scheme for the same, the equivalence will be established by dividing your CGPA by the maximum possible CGPA and multiplying the result with 100.
Enter your CAT exam details regarding eligibility carefully. No changes can be made once the form has been submitted.
Ensure you have the original certificates, degrees and mark sheets for all the details you submit on the form. They will be required at the time of admission, and failure to produce them could affect your candidacy.
Check: CAT Exam Question Paper 2023
Can we edit CAT application form after submission?
Yes, but once the CAT application is submitted, changes are limited. A brief "CAT Form Correction Window" might be offered for certain corrections. Not all fields may be editable. Check the official CAT guidelines for details. If mistakes are spotted after this window, contact the CAT helpdesk.
How to Edit CAT Exam Application Form 2023?
How to edit CAT application form 2023 after submission? The authorities had provided the correction window for CAT Application form from 5 PM on September 25, 2023 - 5 PM on September 28, 2023.
A small window is given to students to fix a limited number of errors made while filling in the form. The areas where corrections can be made are as follows.
Please make use of this period if you wish to edit the following:
Photo of candidate
Signature of candidate
Test City preferences
The 3-day period allotted for this task cannot be used to edit anything else. This is why filling out the form carefully and with utmost attention is essential!
Steps to edit CAT application 2023
In order to edit your application form, log in by using your user ID and password.
After login, click on go to application to start the editing process
Please read all the instructions carefully while editing the form.
Check: CAT Online Coaching
Key Takeaways:
The most important aspect of tough exams like CAT 2023 is preparation, strategy and hard work.
The level of competition is worth nothing; therefore, if you meet the requirements to join the MBA programs offered through the CAT Exam, there's no better time than now to begin preparing!
Get into the thick of CAT exam preparation for 2023 with the assistance of strategies outlined by faculty from SuperGrads.