Reader's Digest: Are you planning to pursue a career in law? Wondering about the eligibility criteria for the All India Bar Examination (AIBE) in 2023? Look no further! In this article, we'll break down the AIBE eligibility requirements, giving you all the information you need to know.
If you are one of those candidates who wish to take AIBE 18 to become attorneys in India, you will need to prepare thoroughly for the AIBE 2023 entrance examination. The admit card for AIBE 18 is available on the website.
The Bar Council of India (BCI) is the entity that is responsible for organizing AIBE on a regular basis and publishing the AIBE Eligibility Criteria 2023 requirements. For writing most entrance exams in the country, you must have good merit scores and satisfy eligibility requirements.
Likewise, for AIBE 2023 exam, you must demonstrate that they have completed and successfully earned a law degree.
Because the AIBE Exam is exceedingly competitive and gives all legal aspirants a "Certificate of Practice," which is required to practice law, a thorough preparation approach is essential to pass the AIBE 2023.
The AIBE 2023 will be administered online and offline in 40 cities and in 11 different languages.
Let us check if you satisfy the AIBE Exam Eligibility Criteria 2023 to take the exam.
AIBE Eligibility Criteria 2023
In order to get a certificate to practice law, a candidate must submit an application to take the AIBE test within two years of completing their law degree.
Many students ask whether final-year students can apply for AIBE? which is answered below.
Therefore, let us check the AIBE eligibility criteria:
Candidates for AIBE must hold Indian citizenship as their country of origin.
AIBE Age limit: There is no bar council of India age limit set required to take the AIBE test.
Bar Council of India LLB Eligibility: Candidates must possess a Bachelor of Laws (LLB) degree to meet the educational requirement (either 3 years or 5 years).
In order to fulfil the requirements for qualifying for AIBE 2023, the candidate must be a registered advocate professional with any state's bar council. This requirement must be met in order to qualify.
Candidates interested in taking the AIBE Exam test must provide documentation before they may register for the exam. Candidates are entitled to apply for the position if they have enrolled as an advocate per Section 24 of the Advocates Act 1961.
Number of Attempts: There are no limits placed on the number of times a candidate can take the All India Bar examination, and candidates are permitted to take the AIBE 2023 examination an unlimited number of times.
Note that the candidate's admission will be revoked even though they have met or finished all of the requirements associated with the application; if it is discovered that they do not meet the eligibility criteria, then their admission will be cancelled.
With AIBE 18 examinations to be conducted shortly, take a look at the attached video, where our experts describe the details of the AIBE Syllabus, Exam Pattern, and AIBE eligibility criteria 2023.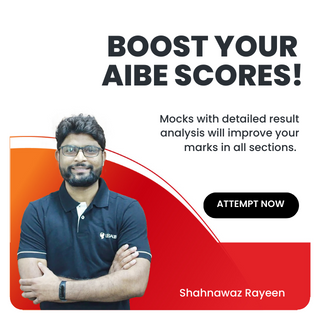 AIBE Results Minimum Cut-off marks (Expected)
AIBE Qualifying Marks: The All India Bar Examination is a test based on qualifications. AIBE tests applicants' ability to comprehend the fundamental legal information and abilities necessary for practising law. Make sure you practice AIBE Previous Year Question Paper for thorough preparations.
Consequently, applicants who score over a particular level are deemed competent for receiving a Certificate of Practice (CoP) from the main legal organization in India, the Bar Council of India.
The minimal qualifying score for the AIBE results is listed below.
| | | |
| --- | --- | --- |
| Category | Minimum marks (Out of 100) | Minimum passing percentage |
| General | 40 | 40% |
| SC and ST | 35 | 35% |
Check: Best AIBE Mock Test Series 2023